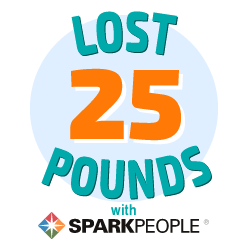 I have 3 pics in my gallery

Awards

~ One Pound at a Time ~
Weight loss and food addiction has been a lifelong battle for me. I have started more times than I can count and tried every gimmick, diet, and lose it fast pitch under the sun. It is time to begin my weight loss journey for REAL and not just lose all these pounds that are weighing me down but to really change my life and relationship with food!

Eat less, make healthier choices, move more, think positive, take it slow and enjoy the ride!

I have wasted too much time ...
Weight loss and food addiction has been a lifelong battle for me. I have started more times than I can count and tried every gimmick, diet, and lose it fast pitch under the sun. It is time to begin my weight loss journey for REAL and not just lose all these pounds that are weighing me down but to really change my life and relationship with food!

Eat less, make healthier choices, move more, think positive, take it slow and enjoy the ride!

I have wasted too much time already on the negative I am ready to throw it all out the window start soaking up the positive vibes and see where it takes me! This time it's about ME!!

Date / Monday Weigh in / Total Pounds lost (Notes)

01/01/13 - 310.0 - (Heaviest Weight)

06/17/13 - 295.0 - 15 Lbs Lost (Refocusing)
06/24/13 - 292.0 - 18 Lbs Lost
07/01/13 - 290.0 - 20 Lbs Lost
07/08/13 - 290.0
07/15/13 - 290.0
07/22/13 - 290.0 - (Started new meds for PCOS)
07/29/13 - 287.0 - 23 Lbs Lost
08/05/13 - 285.0 - 25 Lbs Lost
08/12/13 -
SparkFriends

SparkTeams

My Ticker:
Pounds lost: 25.0

Interact with -GETNFIT4ME-





Recent Blogs:

Profile


Member Since: 1/1/2013

My Goals:
---------------

-Lose 8-10 lbs a month

-Be more active

-Feel more confident

-Learn to run

-Be STRONG!



My Program:
-------------------

-Drink 64 oz Water everyday

-Stay in spark ranges

-Sleep 8 hours

-Take Walks, Get Moving

-Learn about weight loss

-Learn Healthy Cooking

-Go SLOW and be OK with it

-Listen to my body

-Set achievable goals

-Embrace a NEW lifestyle


Other Information:
--------------------------

BMI Tracker / Goal BMI 26.6

01/01/13 - 51.6
06/01/13 - 49.1
07/01/13 - 48.3
08/01/13 -
09/01/13 -
10/01/13 -
11/01/13 -
12/01/13 -

Profile Image