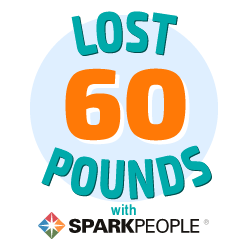 I have 22 pics in my gallery

Awards


EVERY day is Tuesday's!
Every day is MY day to choose.

I choose to make them all "Tuesdays" --- that day when the bloom's off the rose, yet when you still have to get out of bed to lace up those running shoes, pull on those exercise shorts or put that workout t-shirt over your head for one more day. I'm trying to be an "all Tuesdays girl" as I work through this weight loss.

I welcome your encouragement --- and your friendship. After all, we're in this thing together...
...
Every day is MY day to choose.

I choose to make them all "Tuesdays" --- that day when the bloom's off the rose, yet when you still have to get out of bed to lace up those running shoes, pull on those exercise shorts or put that workout t-shirt over your head for one more day. I'm trying to be an "all Tuesdays girl" as I work through this weight loss.

I welcome your encouragement --- and your friendship. After all, we're in this thing together...
***************

I'm posting my progress here to encourage myself during my 2nd year on SP. I'm shooting to lose 30 more pounds this year. I've seen others do it, so I know IT CAN HAPPEN.

05-26-08 Ground Zero
05-26-09 60 Pounds DONE


"A year from now you may wish you had started today." ~ Karen Lamb

SparkFriends

SparkTeams



My Ticker:
Pounds lost: 60.5


Recent Blogs:

Profile


Member Since: 5/26/2008

SparkPoints: 0

Fitness Minutes: 7,795

My Goals:
To "like" exercise.

My Program:
I'm sticking with the Spark recommended 1200-1500 calories/day.

My program? "You can do anything for 15 minutes. Just do it."

"Last is just the slowest winner."-C Hunter Boyd

Personal Information:
I've lost 60 pounds during my first year on SP. My goal for Year #2 is to add another 30 pounds to that. "Let's get this thing done!"

Other Information:
"We are ever being born, or dying, and the thrill of choosing which is ours. Only once must we be born without our own consent. Only once must we die without our own permission." ~Calvin Miller





Profile Image