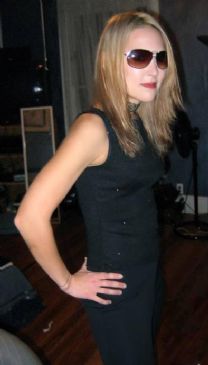 I have 10 pics in my gallery

Awards

Welcome!!
It's time to Live in the Now!! LET'S GET EXCITED ABOUT LIFE!!! Welcome to my page!

Current Goals:

Weigh 125, bodyfat to 18%, optimize training condition, maintain size 4 jeans.
Run half marathon in 1:40's, Winter 2012/13
Half-Ironman, 2013.

Mind/Body/Spirit Balance!
Peaceful and beautiful environment!
Fantastic relationships!
CONTINUE TO BE HEALTHY AND HAPPY :)

"Tri-babe" means:

Tri- for triathlon, ...
It's time to Live in the Now!! LET'S GET EXCITED ABOUT LIFE!!! Welcome to my page!

Current Goals:

Weigh 125, bodyfat to 18%, optimize training condition, maintain size 4 jeans.
Run half marathon in 1:40's, Winter 2012/13
Half-Ironman, 2013.

Mind/Body/Spirit Balance!
Peaceful and beautiful environment!
Fantastic relationships!
CONTINUE TO BE HEALTHY AND HAPPY :)

"Tri-babe" means:

Tri- for triathlon, of course! I have been an athlete since I was a kid... I love endurance sports of all types, especially running, snowsports, and multi-sport.

Tri- for the triad of Mind/Body/Spirit. I am incorporating balance into my life!

Tri - for the homonym "Try", in strengthening my life, if I encounter an obstacle or something new that I want to do but have fears, I will take the first step and TRY!!

And "babe" for, well... "focus and become" :)




Current Status:


SparkFriends

SparkTeams



My Ticker:
Pounds lost: 16.2


Recent Blogs:

Profile


Member Since: 12/31/2001

SparkPoints: 15,468

Fitness Minutes: 6,640

My Goals:
I will return to top fitness and achieve pro-triathlete status. Weight back in the low 120's and bodyfat back in the teens, through careful training, proper and adequate nutrition, and rest.

I am also in the process of finding an environment and life of happiness, great relationships and personal satisfaction, placing a value on my own needs as well as those of others.

I am renovating a house, it is my third. It has been at times overwhelming. I'd like to have it completed in mid-2012.

I was laid off in 2011 as a newspaper photojournalist. In a way it was a gift, as I wasn't satisfied with my work. I'd like time to create some personal projects, decide on my next steps, move back west or abroad, and start my own photo/multimedia business.

My Program:
Putting a priority on taking care of myself. I stay active and also workout 6 days a week.

I am a strong believer in the mind-body connection, so I would like to begin meditating more again, as well as attending or starting to teach group ex and Yoga again.

Eating ENOUGH to fuel all my training and activities is a challenge for me, but I'm doing it!!

Other Information:
Find happiness from within, let it radiate out to others and attract positivity into your life.

Profile Image