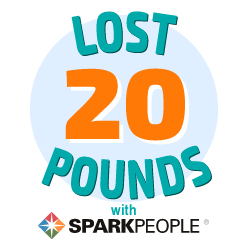 I have 8 pics in my gallery

Awards

This time Im doing it for keeps !....
A couple of years ago I managed, with the help of SparkPeople support, to lose 40lbs !!!
Oh Yes, I was very proud of myself, but I didnt keep up the good habits that I learned along the way, nor did I keep up with this page. Consequently I gained it all back, and more besides. Last week I stepped on the scale and weighed in at 159lbs !! Considering I am only 4ft 11 thats rather a lot !!!
So I`ve started again and week one saw a loss of 6lbs... great start. This time I promise myself ...
A couple of years ago I managed, with the help of SparkPeople support, to lose 40lbs !!!
Oh Yes, I was very proud of myself, but I didnt keep up the good habits that I learned along the way, nor did I keep up with this page. Consequently I gained it all back, and more besides. Last week I stepped on the scale and weighed in at 159lbs !! Considering I am only 4ft 11 thats rather a lot !!!
So I`ve started again and week one saw a loss of 6lbs... great start. This time I promise myself will my last battle. It is SO BLOODY HARD to get the weight off and get healthy that I find myself really angry at myself for the lack of willpower. Where it went is a mystery to me, and Im sure I`m not alone in wondering.
BUT...it`s back !!! YaY !!! With the help and support of my wondeful hubby who has promised to buy me a piece of jewellery for each 10lb loss, and you guys, I just KNOW I am back on track.
Thanks in anticipation of the support xxx
SparkFriends

SparkTeams



My Ticker:
current weight: 149.6


Recent Blogs:

Profile


Member Since: 6/3/2012

SparkPoints: 6,811

Fitness Minutes: 4,261

My Goals:
Well I want to get to my goal weight of 112 lbs, which is what I was when I got married and have never seen since !!

To incorporate exercise into my daily routine and find ways to make it fun instead of a chore.

To look good in clothes instead of feeling frumpy, and to hopefully gain in confidence what I`m losing in excess pounds. !

I don`t want to be shy and embarrased anymore..I`ve had too many years of hiding in corners..now its time to shine...

My Program:
I`m going to use the community pool, buy a bike (hubby`s getting one too !),
do SOMETHING every day to increase my activity.

Join Sparkteams that will help and support me as I support them.

Share my journey with family and friends.

Reward my efforts with treats - manicure, pedicure, pretty underwear.

The biggest thing for me is to look at this differently..I am not on a diet, I`m changing my whole lifestyle..this is permanent, diets are temporary

Personal Information:
My name is Michelle, although everyone calls me Shell
(& my family call me Shellie).
I`m originally from Manchester, England but now live in Florida. We`ve been in the USA for 12 years and I miss my family terribly at times, which in the past has caused me to comfort eat. happily I recognise this, so it is something I can deal with.
I have a wonderfully supportive hubby who is helping me - which is great coz he does all the cooking !!

I`m a night nurse, a job I adore most of the time.

I`m lucky to be surrounded by fabulous friends, all of whom are very encouraging.

Other Information:
I love, love, LOVE music...all kinds of music, from classical to rock.
"I got the Music in me"
Kiki Dee.

I enjoy reading and could read Harry Potter & Lord of the Rings over and over !!

Profile Image