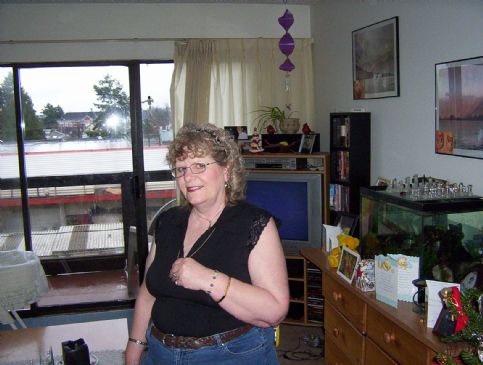 I have 40 pics in my gallery

Awards


2014 - NO MORE BACK SLIDING !!!
2014 - its now mid April and I am only just updating this information. I am now at my beginning wieght of when I started with Spark and have to work to get it off and keep it off, NO MORE BACK SLIDING - I really can't afford this. I will make a plan of action and then action the plan. Stay tuned for more !!

Jan 03/13 - A lot has happened this year to change how my journey will go for the next few month. A heart condition has put a lot of things into a better perspective then all ...
2014 - its now mid April and I am only just updating this information. I am now at my beginning wieght of when I started with Spark and have to work to get it off and keep it off, NO MORE BACK SLIDING - I really can't afford this. I will make a plan of action and then action the plan. Stay tuned for more !!

Jan 03/13 - A lot has happened this year to change how my journey will go for the next few month. A heart condition has put a lot of things into a better perspective then all other health issues I've encountered. I have taken this "to heart" because my mom and her dad both had serious heart conditions that ended their earthly journey for them.

For me this year will be about good intentions - things I plan to do to be healthy and fit and also heart smart.

I am enrolled in an excellent Cardio Rehab Program and I am using it to its fullest potential. I have access to fitness counselors as well as a Cardiologist, and other services as needed.

I am learning to cook again, healthy and meals that will strengthen my heart and put my cholesterol in the right range.

There is a lot of work ahead of me but I am up to the challenge. I am also working on a way to change or create 12 new habits to replace 12 not so good habits. So far I have succeed in 3 and have 9 more to go !!

Come join me if you can, I always like someone to talk to along the way.

JAN 03/12 - IT IS TIME TO UPDATE THIS AND TO SET MY GOALS FOR THE UP COMMING YEAR - TO BE SUCCESSFUL ONE MUST MAKE A PLAN OF ACTION - TO SUCCEED IN THAT PLAN ONE MUST ACTION IT. I ENDEAVOR TO ACTION MY PLAN OF ACTION AND WORK IT - I AM DETERMINED TO SUCCEED AND NOT FALL BACK INTO OLD HABITS. JOIN ME ON THIS JOURNEY TO HEALTH, FOR YOU, A GIFT THAT ONLY YOU CAN GIFT YOU.

I HAVE ENDEAVORED TO SPRUCE UP MY RELATIONSHIP WITH MY HEALTH BY PUTTING MORE FOCUS AND THOUGHT INTO THIS RELATIONSHIP. LIKE ANY OTHER RELASTIONSHIP, YOU GET OUT OF IT WHAT YOU PUT INTO IT. ITS TIME I PUT SOMETHING INTO IT SO THAT I CAN REAP THE REWARDS OF THAT ACTION - YES ACTION - TIME FOR ACTION. JOIN ME IF YOU WISH TO IMPROVE YOUR RELATIONSHIP WITH YOUR HEALTH !!

SHORTLY I WILL BE CELEBRATING MY THIRD YEAR ON SPARK AND ALTHOUGH I NEVER REACHED MY UNREALISTIC GOAL OF LOOSING 50 LBS IN THE FIRST YEAR, ITS STILL BEEN AND CONTINUES TO BE A REMARKABLE JOURNEY.

THROUGH THE LAST 3 YEARS I HAVE LEARNT A LOT ABOUT MYSELF THAT I NEVER THOUGHT POSSIBLE. I HAVE LEARNT THAT I CAN EXERICSE FOR MORE THEN 30 MINUTES A DAY AND THAT THE EXERCISE CAN CONSIST OF MORE THEN JUST GETTING UP OUT OF THE EASY BOY CHAIR.

I HAVE EMBRASSED THE FACT THAT I EAT FOR A REASON AND THE REASON TO EAT IS TO FUEL THE BODY, THAT I CAN FIND OTHER MEANS FOR COMFORT AND EMOTIONAL SATICFACTION BESIDES FOOD. I AM BEING AWARE OF WHAT I EAT, WHY I EAT IT AND HOW I EAT WHAT I DO.

I AM LEARNING TO MANAGE HIGH BAD CHOLESTEROL AND LEARNING TO EMBRACE WHAT EXERCISE I CAN DO WITH THE LIMITATION PLACED UPON ME BY OSTEOPOROSIS.

I AM LEARNING THAT OSTEOPOROSIS IS JUST ANOTHER CONDITION IN LIFE I AM LEARNING TO LIVE WITH AND THAT YES THERE IS LIVING , I JUST HAVE TO BE MORE CAREFUL.

IN 2010 I PLAN TO EMBRACE ALL THAT I CAN LEARN ABOUT ME, THIS WONDERFUL BODY THAT I HAVE BEEN GIVEN AND BE OPEN MINDED ENOUGH FOR CHANGE THAT MUST TAKE PLACE, I WILL BE A WILLOW AND BEND WITH THE WIND AND STILL BE AS MAJESTIC AS AN OAK YET FLEXIBLE.

I ENCOURAGE YOU ONE AND ALL TO JOIN ME, EITHER ON ONE OF MY TEAM, OR WHAT EVER TEAM YOU ARE ON, EMBRACE THE SPARK SPIRIT AND KEEP THAT GOING AND SPARKING IT UP TO HELP OTHERS AS WELL. ENCOURAGE YOUR TEAM MATES, JOIN THE TEAM GOALS, GET INVOLVED AND REACH OUT TO THOSE WHO NEED A HELPING HAND.

IN THE END, IT IS REALLY ALL UP TO ME, WITH A LIL HELP FROM MY FRIENDS, IN MY CORNER, WATCHING MY BACK. I INTEND TO MAKE 2010 MINE, I WILL MAKE IT SO, YES I CAN DO THIS !! HERE'S TO SUCCESS IN EVERY MEASURABLE WAY, HERE'S TO FAILURE WHICH CAN LEAD TO ULTIMATE SUCCESS BECAUSE HERE THERE IS NO FAILURE ESPECIALLY WHEN YOU LEARN FROM YOUR MISTAKES.


A "LEADERSHIP" ELECTED BY POPULAR VOTE IS NOT LEADERSHIPBUT THE RULE OF THE AVERAGE, THE MEDIOCRE. REAL LEADERS ARE PIONEERS. THEY GO AHEAD, IN FRONT, ON THE BASIS OF UNDERSTANDING AND INNER CONVICTIONS, EVEN IF THEY HAVE TO GO ALONE. - EDU ERASMUS


Current Status:


SparkFriends

SparkTeams



My Ticker:
current weight: 204.0


Recent Blogs:

Profile


Member Since: 1/3/2008

SparkPoints: 105,098

Fitness Minutes: 151,099

My Goals:
TO REACH AND MAINTAIN OPTIMUM HEALTH SO THAT I CAN BE ALL I CAN BE WITHOUT BEING A BURDEN ON ANYONE ELSE, OR HAVE TO DEPEND ON ANYONE FOR WHAT I SHOUDL BE ABLE TO DO ON MY OWN.

I WILL REACH THESE GOALS BY BEING AWARE OF WHAT I PUT IN MY BODY, TO EAT TO FUEL MY BODY

I WILL EXERCISE MY BODY SO THAT I CAN BUILD STRONG HEALTHY MUSCLE THAT WILL BURN FAT AND CALORIES AND IN TURN AID ME IN FENDING OFF VARIOUS VIRUSES THAT ARE AROUND

I WILL SPARK TO AID OTHERS AND WILL KEEP AN OPEN MIND SO THAT I CAN BE ALL I CAN BE IN 2010


My Program:
WEIGH AND MEASURE MY FOODS

EXERCISE AT LEAST 30 MINUTES A DAY AND STRENGTH EXERCISES TWICE A WEEK TO BUILD STRONG HEALTHY MUSCLE

JOIN IN ON TEAM GOALS AND PERSONAL GOALS AS MY HEALTH CONDITIONS WILL ALLOW AND ENCOURAGE OTHERS TO BE THE VERY BEST THEY WANT TO BE AS WELL.

Personal Information:
My name is Lindie and Im from Vancouver BC Canada.

I live alone with my kat Kartmen who is a bundle of fun at times..

I read a lot, and love any British author, especially about past Royalty..my fav book there is The Bastard King, (not being vulgar, btw) watch only tv programs that inspire me or lift me up such as comedies or good health programs.


Other Information:
Lindie Mae -Vancouver BC

Mentra for 2014 - " The only time you can coast in life is when you are going downhill" - A. Roger Merrill


Many of the truths we cling to depends on our point of view ... Obi Wan-Kenobi


Profile Image