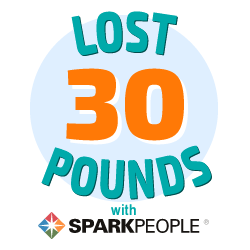 I have 1 pics in my gallery

Awards

6 Kids Later...
Pregnancy, depression and comfort-recreational eating have brought me face to face with an obese, tired lady in the mirror. Rather than break all the mirrors, I guess I'll have to change that person from the inside-out!
****************************************

My trip to obesity seemed to happen so quickly, but itís the years of staying heavy that have really affected me and put me into a rut. It has been easier to tell myself that this is just how Iím going to be from now ...
Pregnancy, depression and comfort-recreational eating have brought me face to face with an obese, tired lady in the mirror. Rather than break all the mirrors, I guess I'll have to change that person from the inside-out!
****************************************

My trip to obesity seemed to happen so quickly, but itís the years of staying heavy that have really affected me and put me into a rut. It has been easier to tell myself that this is just how Iím going to be from now on, that Iíll never get close to my pre-babies weight or figure and so why bother?

But as my husband has grown obese right along with me, Iíve realized that Iím terrified. Iím scared of leaving my children without parents and Iím mad at myself for not giving them the energetic mom that I really though Iíd be as I dreamed of growing our family.

We got married when dh was 20 and I was 21 and within 3 months I was pregnant. (Iíd been on the pill a few months before our wedding and it was awful on my moods and my body so I stopped taking them and, well, a back-up just didnít really happen. LOL)

My pregnancy was difficult and so tiring, not at all like Iíd imagined the wonders of pregnancy! I had gestational diabetes which inflated me like a balloon, there was a tumor on the placenta which put me on bed rest for the last 3 months and caused me anxiety about the health of our baby boy, and near the end, preterm labor threatened.

When we finally had our son, I was prepared to rest a long time and enjoy him. And, Iíd gained about 30-35 extra pounds. But 2.5 months later, I discovered that I was pregnant again! Iím still actually dumbfounded all these years later even though I know the facts of life. LOL This pregnancy resulted in bed rest because of preterm labor and the exhaustion from having just been pregnant sent me into depression. I gained a little bit more.

We had 4 more children after our first two, who are 11 months apart, and other than the last 2 pregnancies I gained extra weight *every time*. (During my last, I had crazy high blood pressure and bloated unbelievably from water retention. Preeclampsia was a concern most of the time.) I went from a size 8 at marriage to a size 18, sometimes even 20, and from 132 pounds or so to 231 at my heaviest after the birth of our last baby.

Iíve always loved eating and Iíve always had a big appetite! However, through all my school years, even college, I was athletic and physically active enough that I burned off everything I ate. I only gained 5 pounds in the years between high school and getting married; no ďfreshmen 15Ē for me. I truly thought I was immune to ever becoming overweight. I rarely weighed myselfóI donít remember ever bothering in high school and think I stepped on a scale once before our wedding. I knew about healthy foods and enjoyed many of them, but would take a meal of meat and potatoes any day!

So my weight gain was something of a shock to me and even something that I ignored whenever I couldóexcept when I went shopping for clothes and then Iíd spiral into the blues for a while. I stopped allowing myself to be photographed except for really important family events. I never bothered to replace our broken full-length mirror. Who wants to see that fat person hanging around whenever Iím trying to put on my makeup??

For many, many reasons, Iím really ready to be thin again. More importantly, Iím ready to be ME again. Underneath all of this padding, I am a healthy, strong, energetic person at heart. Iíve lived in denial and defeat for so long and I just canít do it anymore. I have to become me again before my children are all grown! I have to be a better role model of health and joy for my family.

Back at SparkPeopleóafter a false start, so to speak, last year in 2007óIíve made several goals for myself and have been doing well. My first step was to get into logging my food daily and now Iíve moved into adding fitness tracking, too. Weíre changing our eating habits and shopping habits all together so that I donít have to feel singled out and my dh is starting to lose weight as well.

GO ME!!! I feel so good that I canít believe Iíve waited so long. It has been difficult making time in my busy life (homeschooling 5 of our 6 kids, active at church, youth leader, etc.) but now that I am, the way I take care of myself is becoming more reward than work! I intend to tackle this challenge like no other in my life beforeóbecause my life depends on it!

Here are my goals and the dates that Iíve achieved them! Iím relying on God for the inner strength to meet them all and I know He delivers! With my family behind me, too, I can do this.

*Goal: Run 5k
*Goal: 169
*Goal: Size 14 pants
*Goal: Get under 180, which will bring me out of Obese BMI range
*Goal: Size 16 pants
*Goal: Reach my halfway-to-140 point at 184
*Goal: Run a full 2 miles MET: MONDAY, JUNE 16, '08
*Goal: Get under 200 pounds MET: FRIDAY, MAY 30th, Ď08

SparkFriends

SparkTeams



My Ticker:
current weight: 177.0


Recent Blogs:

Profile


Member Since: 1/7/2007

SparkPoints: 3,764

Fitness Minutes: 772

My Goals:
My first goal is to create small, bi-weekly (or so) goals for myself! There are many habits I'd like to change or adapt and all together they overwhelm me. Some of these goals are:

-Drink more water daily
-Limit myself to ONE can of pop per day--or none
-Eat breakfast every day
-Walk or get some other kind of cardio 3-4x a week to start
-Get my kids moving with me!
-Work out at the Y when my kids have class there instead of sitting on my butt
-Create weekly meal plans to make prep easier AND reduce on-the-fly eating

My Program:
I don't want to have a program. LOL I simply want to eat healthy foods that I enjoy, in moderation, keeping track of calories and fat grams without going berserk about it, AND making strenuous activity and exercise a regular part of my life again.

Profile Image