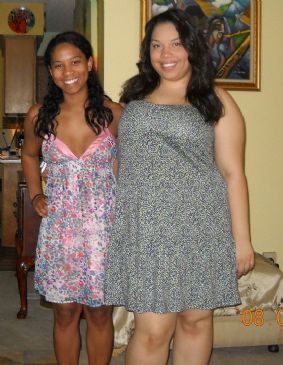 I have 13 pics in my gallery

Awards

Kerissa's journey to 160!
Hellloooo, I'm Kerissa. 22 years old. Self-proclaimed foodaholic.

For the better part of my young life, I have been overweight. I can't tell you how many times I've fallen off of the wagon, got back on, fallen off, stayed off, and gained more weight while I was down - furthering me from the goal I had in the first place. I remember there was a time when I first signed up for SP and I was 224. I visited the site once after signing up and not again for another few months. I typed in ...
Hellloooo, I'm Kerissa. 22 years old. Self-proclaimed foodaholic.

For the better part of my young life, I have been overweight. I can't tell you how many times I've fallen off of the wagon, got back on, fallen off, stayed off, and gained more weight while I was down - furthering me from the goal I had in the first place. I remember there was a time when I first signed up for SP and I was 224. I visited the site once after signing up and not again for another few months. I typed in my weight update upon my return, and I had gained ten pounds. That was five years ago. No more. From living in Florida and now LA, I can't escape the year-round bathing suit season. I don't WANT to! I finally want to revel in said season for once. My ultimate goal is to be at my first big goal weight of 160 pounds by May 2014 (my graduation). Very possible if I stay on TRACK every week!

More than that, I want to be a healthier and happier me, as cliche as that sounds. I don't want to be the girl who has a "pretty face but could lose some weight" (and yes, that's a direct quote). And of course I want to stop avoiding body shots on the camera, but begin to look forward to them :). Overall, I want to drop the weight to feel comfortable in my skin and enjoy being young. I need to create a new lifestyle so I can teach my future kids what I never learned growing up. This isn't just for today, this week or this month - this is FOR LIFE. I'll be updating the section below once a week to show my progress!


Week 1 - 10/12/11 - 243
Week 2ish - 10/22/11 - 238.4
[Waaaaay behind] Week 13 - 1/7/12 - 233.4
Week 15 - 1/21/12 - 232
Week 16 - 1/28/12 - 229.8
Week 17 - 2/4/12 - 229.4 :(
Week 18 - 2/11/12 - 226.4
Week 19 - 2/18/12 -222.6
Week 20 - 2/25/12 - 220.8
Week 21 - 3/3/12 - 217.2
Week 22 - 3/10/12 - 215.8
Week 23 - 3/17/12 - 213
Week 24 - 3/24/12 - 211
Week 25 - 3/31/12 - 207.4
Week 26 - 4/8/12 - 205.8
Week 27 - 4/14/12 - 203
Week 28 - 4/21/12 - 201
Week 29 - 4/28/12 - 196.8 (ONEderland!!!!!!!!)
Week 30 - 5/5/12 - 194.7
Week 31 - 5/11/12 (early weigh, moving craziness) - 192.2
Week 32 - 5/19/12 - 195.2

NOTE: I fell off the wagon for a long while. Now starting clean in LA...

Week 1 - 3/8/14 - 205.8

SparkFriends

SparkTeams



My Ticker:
Pounds lost: 12.0


Recent Blogs:

Profile


Member Since: 1/1/2011

SparkPoints: 12,311

Fitness Minutes: 11,345

My Goals:
Aside from my weekly goals, my long term goal is to maintain a healthy lifestyle that I create, and make it so that I never end up anywhere near 200 again. I want to make this a mindless, daily practice.


My Program:
I workout 5 times a week - no questions asked. It's usually for about 35 minutes to an hour, mainly stationary biking and running/walking on the track. Just focused on finding new ways to torch calories and not get bored.

I also incorporate weights 3 out of those 5 days (every other workout for healing). Each of those sessions are usually devoted to a different "third" of my body. Top third (arms), core, and lower third (legs).

I follow the SparkPeople eating plan calories, not the actual food suggestions, though. Following that strictly is key to losing weight when I workout.

Personal Information:
I'm a transplant from Jamaica to Florida, Florida to Boston; now, Bahhhston to LA!

Profile Image