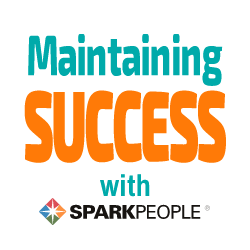 I have 7 pics in my gallery

Awards


When you see a person on a mountain top, just remember they did not fall there!
"If hungry ain't the problem, food won't fix it. Sucks...but it's true." (Well said, CARTOONB)

Thanks SparkPeople for getting me off the endless yo-yo rollercoaster. 7+ years and counting.

I started my SparkJourney in March 2007 when I was 10 lbs away from my goal weight.

Prior to finding SP I had lost 30 lbs doing WW online but was unable to lose the last 10.

After 6 years of fine-tuning, trial and error I finally reached my ultimate weight ...
"If hungry ain't the problem, food won't fix it. Sucks...but it's true." (Well said, CARTOONB)

Thanks SparkPeople for getting me off the endless yo-yo rollercoaster. 7+ years and counting.

I started my SparkJourney in March 2007 when I was 10 lbs away from my goal weight.

Prior to finding SP I had lost 30 lbs doing WW online but was unable to lose the last 10.

After 6 years of fine-tuning, trial and error I finally reached my ultimate weight goal in early 2013, and am now maintaining within a +/- 3% radius.

I'm hanging out and hanging in, still fine-tuning as I go. Maintenance does not mean you have it all figured out...

In the spring of 2012 I rediscovered hiking. It has become my passion. Okay, I'm obsessed. There is peace on the trail. It soothes my soul. And it builds some really mean leg muscle :)







Current Status:


SparkFriends

SparkTeams

My Ticker:
6 Days until: 2015

Interact with KENDRACARROLL






Recent Blogs:

Profile


Member Since: 3/5/2007

SparkPoints: 44,342

Fitness Minutes: 69,680

My Goals:
1. Better nutrition: More veggies, more fruit, more whole foods, more water. It continues to be a challenge.

2. Improving my strength, endurance, and flexibility with continued regular workouts.

3. Achieving balance: Mind, body, and soul.

My Program:
1. Nutrition:
Focus will be on HYDRATION.
I'm terrible with water. Goal is 40 oz. a day. That's 5 cups. Even I should be able to do this.

2. Fitness:
Love to hike. You'll find me on the trail somewhere every weekend.

My favorite workout during the week is Zumba.

I also enjoy yoga to balance it all out.

3. Balance:
Aiming for at least 7 hours of sleep every night.




Other Information:

"Between stimulus and response there is a space. In that space is our power to choose our response. In our response lies our growth and our freedom."
~ Viktor Frankl in "Man's Search for Meaning" ~

*Thanks for sharing this quote, SparkGuy*

~~~~~~~~~~~~~~

Life isn't about waiting for the storm to pass, it's about learning to dance in the rain!!
~ author unknown

Profile Image