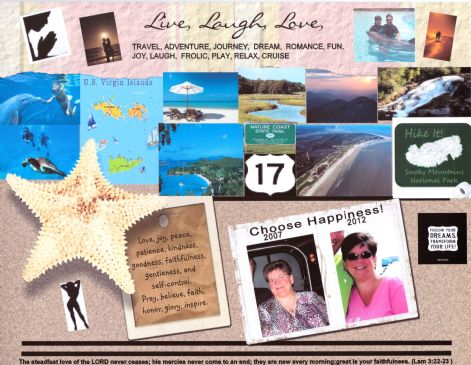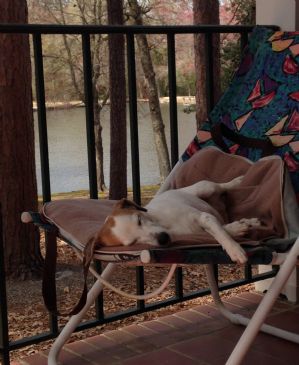 I have 32 pics in my gallery

Awards

Pray, Eat, Move!
FALL GOALS (SEP-DEC)

Activity: Stop the schedule, enjoy spontaneity!!

Choose according to what my body needs each day. With a stressful job, and sitting all day behind a desk, I need to shift some of my workouts toward stress relieving workouts, stretching exercises (including at my desk throughout the day), and more beneficial full body exercise. Also, continue experimenting with a variety of exercise genre's. Enjoy some relaxing "feel good" workouts, and focus ...
FALL GOALS (SEP-DEC)

Activity: Stop the schedule, enjoy spontaneity!!

Choose according to what my body needs each day. With a stressful job, and sitting all day behind a desk, I need to shift some of my workouts toward stress relieving workouts, stretching exercises (including at my desk throughout the day), and more beneficial full body exercise. Also, continue experimenting with a variety of exercise genre's. Enjoy some relaxing "feel good" workouts, and focus on the benefits of gentler movement for balance of Mind, Body, and Soul!

Continue to enjoy outside activities as well, just being outside in nature with my camera, taking nature walks, gardening, relaxing on the porch enjoying nature, and hunting too.

Cooking:

With hunting season upon us, it's time for batch cooking experiments to have quick meals on hand through hunting season and winter. My goal here is to experiment, and provide fresh, clean, natural, whole foods whenever possible, but plan for quick alternatives on occasion as well.

Other:

Devotions: Strive for devotions and spiritual growth on a daily basis.

Stress mgmt(work): Maintain regular work schedule, no OT, leave work at work, me-time to relax, and try yoga, stretching, etc, to de-stress.

Have fun too!

Maintain a balanced, healthy, lifestyle an keeping life simple.














































June Goals:
1. Increase my Fitbit "Active Minutes" to 20+, min 3 times/wk, by 6/30.
2. Try 1 different Fitness dvd each week, by June 30th.
3. Continue the Rise and Shine Challenge: 5+ min exercise first thing each am. I will incorporate at least 1 different exercise weekly, focusing on trouble spots, by June 30th.

In addition:
I will complete my 100 day challenge on June 21. These goals are now part of my daily routine.

I will continue to experiment with recipes and batch cooking according to the garden yield through the summer crop.



May Goals:

1. Continue the Rise and Shine Challenge.
2. Focus on toning trouble spots.
3. Increase endurance and experiment with different exercise genres/dvd's.
4. Enjoy the outdoors, gardening, walking, and photography.
5. Enjoy Vacation. :):):)

*******************
March-June:
100+ days Challenge (March 1 - June 21)
1. Move daily..... Cardio/ST 3x/wk and 3x my choice (fun,nature walks, different genres)
2. Daily devotions.......Focus on 1 Devotional at a time.
3. Computer daily.......Productive purposes, less surfing/shopping
4. More cooking/experiments............less convenience
5. Just Do IT.................Just get my projects done and purge!

5. Revision: Exercise at least 5 min each morning, first thing! Rise and Shine Challenge.





















♥♥¸.•*´¨`*•. ¸♥¨`*•.¸♥.•*´¨`*•.¸♥
Each new day is a blessing!
♥♥¸.•*´¨`*•. ¸♥¨`*•.¸♥.•*´¨`*•.¸♥



















Short term goals January:

#RockYourResolution: Keepin' life simple, and keepin' exercise consistent with beneficial cardio and ST, 4+ days per week.

January Jumpstart Challenge


Long term goals (Jan-May): Improve endurance and tone trouble spots in preparation for our next adventure.


♥♥¸.•*´¨`*•. ¸♥¨`*•.¸♥.•*´¨`*•.¸♥
Each new day is a blessing!
♥♥¸.•*´¨`*•. ¸♥¨`*•.¸♥.•*´¨`*•.¸♥
















(DECEMBER):

1. #SparkTheSeason Challenge: Goals:
Consistent dedicated exercise 4x per week, min. 20 min.
2 days DVD's, cardio/st/full body
2 days home circuit, with emphasis on middle/core/belly/bat wings (arms).
3 days nature walks or my choice.

2. Santa's Trip around the World (JDI Team)
Log fitness minutes/25bonus miles: Track water and food daily.

3. The no Jiggle to the Jingle Holiday Challenge! (JDI Team)
Lose 3 lbs in December.




♥♥¸.•*´¨`*•. ¸♥¨`*•.¸♥.•*´¨`*•.¸♥
Each new day is a blessing!
♥♥¸.•*´¨`*•. ¸♥¨`*•.¸♥.•*´¨`*•.¸♥


















term goal (SEP-MAY): Improve endurance and tone trouble spots in preparation for our next adventure.

MOVE IT!




































WASH DAY....

Monday WashDay
Lord, help me wash away all my selfishness and vanity, so I may serve you with perfect humility through the week ahead.

Tuesday Ironing Day
Dear Lord, help me iron out all the wrinkles of prejudice I have collected through the years so that I may see the beauty in others.

Wednesday Mending Day
O God, help me mend my ways so I will not set a bad example for others.

Thursday Cleaning Day
Lord Jesus, help me to dust out all the many faults I have been hiding in the secret corners of my heart.

Friday Shopping Day
O God, give me the grace to shop wisely so I may purchase eternal happiness for myself and all others in need of love.

Saturday Cooking Day
Help me, my Savior, to brew a big kettle of brotherly love and serve it with clean, sweet bread of human kindness.

Sunday The Lord's Day
O God, I have prepared my house for you. Please help me so I may spend the day and the rest of my life in your presence.

Jesus is Love

♥♥¸.•*´¨`*•. ¸♥¨`*•.¸♥.•*´¨`*•.¸♥
Each new day is a blessing!
♥♥¸.•*´¨`*•. ¸♥¨`*•.¸♥.•*´¨`*•.¸♥

***********************
2013 Re-affirmations: Live Simply, Love Generously, Care Deeply, Speak Kindly...Leave The Rest to God!

Balance - Maintain a balanced, healthy lifestyle: Spiritually, Physically, Mentally, Nutritionally, and Financially

Activity - Remain active and continually seek new/fun activities. Just enjoy what I'm doing and keep on moving!

Live simply - "living in a way that is outwardly simple and inwardly rich." Being satisfied with needs, not wants.

Adjust - Daily computer time. Reduce time and increase productivity.

No! - Just say no, if it doesn't fit into my lifestyle and goals.

Challenges - Personal mini challenges to enhance my Spiritual, Physical, Mental, Nutritional, and Financial aspects of healthy living.

Expand on whole foods living, clean eating, label reading, and continue learning and understanding what we eat.

Ongoing:

Enjoy life! I love my peaceful, laid back life!

Maintain a balanced, healthy lifestyle.

Pantry challenge - eating from the pantry first, limited trips to the store, reducing costs and waste, increasing creativity.

Cooking, experimenting with new recipes, grains, beans and legumes, and batch cooking.

Living my dreamboard/vision collage.

De-clutter, purge, organize.






Monday WashDay
Lord, help me wash away all my selfishness and vanity, so I may serve you with perfect humility through the week ahead.

Tuesday Ironing Day
Dear Lord, help me iron out all the wrinkles of prejudice I have collected through the years so that I may see the beauty in others.

Wednesday Mending Day
O God, help me mend my ways so I will not set a bad example for others.

Thursday Cleaning Day
Lord Jesus, help me to dust out all the many faults I have been hiding in the secret corners of my heart.

Friday Shopping Day
O God, give me the grace to shop wisely so I may purchase eternal happiness for myself and all others in need of love.

Saturday Cooking Day
Help me, my Savior, to brew a big kettle of brotherly love and serve it with clean, sweet bread of human kindness.

Sunday The Lord's Day
O God, I have prepared my house for you. Please help me so I may spend the day and the rest of my life in your presence.

Jesus is Love
Holy Spirit,
Deliver us from just going through the motions
and help us heed your call.
Breathe into us the restlessness and courage
to do something new,
something saving,
and something true,
that we may be agents of your love and grace
and know in our bones what it means to be your people.
Through Jesus Christ our Lord. Amen.

♥♥¸.•*´¨`*•. ¸♥¨`*•.¸♥.•*´¨`*•.¸♥
Each new day is a blessing!
♥♥¸.•*´¨`*•. ¸♥¨`*•.¸♥.•*´¨`*•.¸♥
SparkFriends

SparkTeams



My Ticker:
246 Maintenance Weeks

Interact with KEEPITSIMPLE_






Recent Blogs:

Profile


Member Since: 12/12/2009

SparkPoints: 62,776

Fitness Minutes: 91,985

My Goals:
PRAY, EAT, MOVE !!

*Live Simply
*Spiritual Growth
*Maintain a balanced, healthy lifestyle!
*Live my vision collage/dream board.
*Min 10 min fitness daily
*Move down a size


My Program:
I've been maintaining for over 4 years now, I'm living a balanced, healthy lifestyle, and I feel great.

Life keys for me:

Consistency

Challenges

Moderation

Spiritual Growth

Live, laugh, love.

Move it, move it, even if it's just 10 minutes.

Each new day is a clean slate, a chance to be all I can be, right what's wrong, and do the best I can.

Love, accept and respect yourself.

Above all: Have fun!







Personal Information:
I live in SC, and I'm married to the sweetest man on earth. We have 2 fur-buds named Abi and Jesse, who keep us entertained with their funny antics.

We live in the country where we enjoy the peace, quiet, beauty and awesomeness of God's creation.

I enjoy photographing it all and the critters too.

Mostly, I love to just sit, be still, and enjoy His presence!

Other Information:
I enjoy reading spiritual, inspirational, and motivational books and devotionals.

I love photography, traveling, being outdoors walking, gardening, and just relaxing, enjoying the peace and beauty of God's creation.

I love spending time with my husband doing anything or nothing at all. Just being together is enough for me!

Profile Image