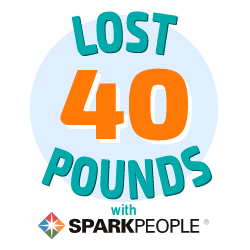 I have 18 pics in my gallery

Awards

A return to fitness!
I'm 26 years old (5'7") and I'm ready for change! When I was in high school, I was the skinny lanky teen, but due to the freshman 15 (and sophomore 15, and junior 10) I gained extra weight. This was due to poor eating habits (fast food, desserts) and not participating in high school track and cross country anymore.

I first joined SP in April of 2009, and followed a strict program. I lost 9 pounds within 5 weeks and quit SP for the summer. I quickly gained it all back, plus an ...
I'm 26 years old (5'7") and I'm ready for change! When I was in high school, I was the skinny lanky teen, but due to the freshman 15 (and sophomore 15, and junior 10) I gained extra weight. This was due to poor eating habits (fast food, desserts) and not participating in high school track and cross country anymore.

I first joined SP in April of 2009, and followed a strict program. I lost 9 pounds within 5 weeks and quit SP for the summer. I quickly gained it all back, plus an additional 18 pounds! I made a decision in November 2010 that I was going to lose this weight once and for all--and that I need to take a less drastic approach. I now lose about 1/2 pound a week...this is a lifestyle change & I am a firm believer in "Slow and Steady Wins the Race!" I eat dessert almost every day, I drink alcohol on occasion, I don't deprive myself of any food!

(1/7/12 edit) My initial goal was to lose 40 pounds in 13 months, in time for my family''s vacation to Kauai, Hawaii. :) I ended up losing 29 pounds, which I was happy about. However, that still means I have 11 pounds to go, and I'd like to wrap that up in 2012. 2011 was a great year for weight loss, and I think that will continue on into 2012 as well if I keep doing what I'm doing and working hard!

(4/20/12 edit) Moved my goal weight from 150 to 145!
(6/19/12 edit) Moved my goal weight from 145 to 140!

*GOALS*
Starting Weight: 190.0 lbs at 11/20/10
Final Goal: 140 by 9/01/15


*RESULTS* ----Weigh-Ins---
190 (11/20/10)
188 (12/3/10)
187 (12/21/10)
186 (1/20/11)
185 (2/28/11)
184 (4/22/11)
182 (6/8/11)
173 (7/13/11) [lost weight quickly in the summer]
171 (7/28/11)
169 (8/30/11)
162 (9/28/11) [had mono & strep throat]
166 (10/16/11) [recovered from mono & strep throat]
165 (10/20/11)
164.7 (11/6/11)
164.0 (11/18/11)
163.5 (11/27/11)
162.2 (12/14/11)
161.0 (12/17/11)
161.8 (1/7/12) [slight gain from vacation to Hawaii]
160.6 (1/21/12)
159.6 (2/4/12)
158.6 (2/29/12)
157.4 (3/10/12)
156.8 (4/1/12)
155.6 (4/20/12)
154.8 (4/25/12)
152.4 (5/2/12)
151.0 (5/21/12)
147.2 (6/19/12)
145.0 (7/28/12)
153.6 (8/22/12) ["celebrated" hitting 145]
152.0 (9/23/12)
152.8 (11/24/12)
151.8 (12/4/12)
150.6 (12/19/12)
153.2 (1/19/13)
151.6 (1/21/13)
150.6 (1/28/13)
156.0 (4/23/13)
154.8 (4/30/13)
154.0 (5/7/13)
161.2 (1/11/14)
159.5 (1/13/14)
157.8 (1/15/14)
157.1 (1/20/14)
156.2 (1/31/14)
155.3 (2/4/14)
154.5 (2/7/14)
152.5 (2/14/14)
151.6 (2/18/14)
158.0 (9/8/14)
155.8 (10/12/14)
147.0 (2/5/15)
145.9 (2/11/15)
144.8 (2/13/15)
144.2 (2/25/15)
150.8 (7/7/15)


Starting BMI = 29.8
Current BMI = 23.6
Goal BMI = 21.9
SparkFriends

SparkTeams



My Ticker:
current weight: 156.6

Interact with JUSTDOIT011







Recent Blogs:

Profile


Member Since: 4/12/2009

SparkPoints: 40,579

Fitness Minutes: 32,836

My Goals:
-Fit back into size 6 jeans.

-Feel confident running just in a sports bra & shorts.

-Legs no longer rub together when running

-Lower total cholesterol below 200 (was 272, then 248, 233, 201, 190....now 248 again :( )

-Be a good example & inspiration for my friends & family.

-Run a 5k every year.

My Program:
--I try to eat 3 balanced meals per day, with 1-2 low-calorie snacks when needed. My current range is 1200-1550 calories/day.

--I try to do cardio (jogging, elliptical, biking) for 45+ minutes, 3-4x/week

--Strength-training (upper body/core/back focus) for 10 minutes 6x/week. Sometimes a Sparkvideo, or a series of planks/ab work.

--I try to track what I eat on SP, at least 3 days a week...I find I have the most success when I am tracking food consistently.

Personal Information:
My Rewards:
(190=starting weight)

180= Pedicure (7/18/11)
170= Magazine Subscription (8/30/11)
160= new sports bra/tank (2/4/12)
150= Victoria's Secret black yoga pants (6/3/12)
145= New haircut (7/28/12)
...
(Re-Do...)
150 = ??
145 = ??
140 = My goal weight is reward enough!!

I'm not sure what my ultimate goal weight is, it all depends on how I feel and what my body composition and fat % is. I'd like to have a lean and athletic body, so I'm thinking that'll be somewhere between 135-140 lbs. I'll figure out when I get there!

Other Information:
"There are no shortcuts to any place worth going." - Beverly Sills

"One may walk over the highest mountain one step at a time." - Barbara Walters

There are no "bad" foods, only bad dietary patterns!

Profile Image