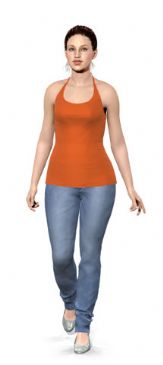 I have 18 pics in my gallery

Awards

Julabelle's Journey
Hi - I'm Julie. Welcome!

Julabelle comes from an old nickname that one of my crazy aunts called me when I was little (and...well... it's a lot better than the other nickname I had when I was little - think of a toddler trying to say Julie and see what you come up with).

I'm a happily married, mother of two, looking to lose weight and maintain a healthy lifestyle. Easily said, right? It is such a challenge for me. Maybe because I view it as a challenge, it is a ...
Hi - I'm Julie. Welcome!

Julabelle comes from an old nickname that one of my crazy aunts called me when I was little (and...well... it's a lot better than the other nickname I had when I was little - think of a toddler trying to say Julie and see what you come up with).

I'm a happily married, mother of two, looking to lose weight and maintain a healthy lifestyle. Easily said, right? It is such a challenge for me. Maybe because I view it as a challenge, it is a challenge. Hmmmm....

My goal is to be healthy, active and athletic, and to ultimately reach 135-140.

"May today there be peace within.
May you trust that you are exactly where you are meant to be.
May you not forget the infinite possibilities that are born of faith in yourself and others.
May you use the gifts that you have received, and pass on the love that has been given to you.
May you be content with yourself just the way you are.
Let this knowledge settle into your bones, and allow your soul the freedom to sing, dance, praise and love. It is there for each and every one of us. "

I used to work out regularly at the gym offered through my work, but since I no longer work there, I've had to change up my routine. I am restarting the Couch to 5K program and strength training. I want to have FUN with my workouts.

I've had my metabolism tested, and it tested low (1300 calories per day resting metabolic rate). I'm needing to have labs drawn to have my hormones tested again, including my thyroid. (these ended up OK)

My intention: To lose 45 pounds healthfully, easily and consistently, while having fun!

I have not failed; I have just found 10,000 ways that don't work.
- Thomas Edison (I LOVE this quote!!)
SparkFriends

SparkTeams



My Ticker:
current weight: 173.5


Recent Blogs:

Profile


Member Since: 3/16/2008

SparkPoints: 43,462

Fitness Minutes: 24,366

My Goals:
To become a healthier and fit me... to be the best ME possible. To NOT GIVE UP!

1 pound per week.
Cheer when I've lost 5. Celebrate when I've lost 10.
Purchase jeans when I've lost 15.

Couch to 5k.
Workout! Get off my patootie and get off the computer.

My Program:
Enjoy working out.
Wog 3x per week
gym class 2x per week
walk dog 7x per week

Personal Information:
A 5'2", green eyed transplanted Minneapolis girl. I'm married to a wonderful man (we were lucky enough to meet on a blind date). We have a son (10) and a daughter (9).

I'm so very lucky to have the life that I have, I just have the desire to be the best ME possible. honestly, I don't want my kids to think I'm fat... as a bonus, I want to be eye candy to my hubby!

Other Information:
"It is good to have an end to journey toward; but it is the journey that matters, in the end."
*****************************
"Finish each day and be done with it. You have done what you could. Some blunders and absurdities have crept in. Forget them as soon as you can."

-Ralph Waldo Emerson


Profile Image