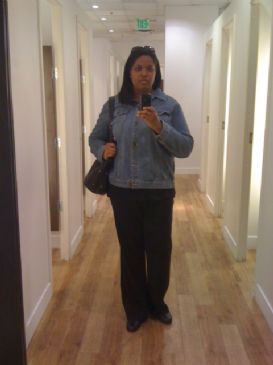 I have 5 pics in my gallery

Awards

It is a lifestyle. Deal with it!
I tell myself this every day.

2/21/12: I kind of drove myself crazy last Spring watching the scale. I'm over it now. If I'm eating right and working out on a regular basis, it will all fall in place.

I am still following Eat to Live, but not as strict as I should. The foundation is there and that's what matters the most to me right now. As for fitness, I'm training for a 10K in June using a Couch to 10K app on my iPhone. See the sidebar for more info about the app. ...
I tell myself this every day.

2/21/12: I kind of drove myself crazy last Spring watching the scale. I'm over it now. If I'm eating right and working out on a regular basis, it will all fall in place.

I am still following Eat to Live, but not as strict as I should. The foundation is there and that's what matters the most to me right now. As for fitness, I'm training for a 10K in June using a Couch to 10K app on my iPhone. See the sidebar for more info about the app. Also, I've taken up yoga and am enjoying the challenge. Most of all I'm glad to have found a fitness routine that doesn't leave me feeling beat up and in recovery mode for several days at a time before I can workout again. I've learned taking off too many days between workouts contributed to my falling off track.

I choose not to be on Spark everyday, but I make an effort to log on a few times a week to see how everyone is doing and to share my interests or what's going on in my world. The community here is the most supporting and the best resource SP has to offer.

The tools on SparkPeople are amazing and I recommend them to anyone just getting started with weight loss or need to jump start a new program. Having said that, after years of being on SP while having moderate success and returning multiple times when it all falls apart, I now know that every day tracking does not work well for me in the long-term. In fact, I realized the pressure to track and record everything related to nutrition and fitness contributed to my burnout. It's a challenge to eat right daily and workout out on a regular basis, but the added task of tracking it all here to keep various streaks alive became too tedious to maintain. Kudos to anyone who can do it and do it consistently for more than a few months at a time. I AM ENVIOUS!

**********************
3/19/11: I started the Eat to Live plan by Dr. Joel Fuhrman. Reading "Eat to Live" has changed my mind about what I thought was good food and nutrition. It was an education and wake-up call that I desperately needed to make a change in my life.

About Eat to Live:
www.drfuhrman.com/weightloss/about.aspx

Progress to date (2011):
3/01 - 266.6
3/18 - 257.2 (-9.4) day before starting Eat to Live
3/27 - 248.2 (-9.0)
4/03 - 244.6 (-3.6)
4/10 - 242.2 (-2.4)
4/17 - 240.2 (-2.0)
4/24 - 236.2 (-4.0) 6th week on ETL
5/01 - 234.0 (-2.2) 23.2 lbs lost after 6 weeks on ETL
5/08 - 232.6 (-1.4)
5/15 - 230.2 (-2.4)
5/22 - 230.2 (0.0)
5/29 - 228.6 (-1.6)
6/05 - 227.2 (-1.4)

SparkFriends

SparkTeams




Recent Blogs:

Profile


Member Since: 6/3/2007

My Goals:
To get under 200 lbs. Still.

My Program:
Eating a plant-based diet using the principles outlined in the book "Eat to Live" by Dr. Joel Fuhrman.

Yoga two times a week.

Couch to 10K training three days a week.
http://felttip.com/run10k/

Personal Information:
I'm 38 and live in a suburb of Baltimore.

Other Information:
COMPLETED RACES:
1. United Way 5K 10/13/07 (my first 5K) - 43:34 minutes
2. Turkey Trot 5K 11/22/07 - 42:56 minutes
3. Shamrock 5K 3/16/08 - 39:38 minutes
4. Orioles Advocate 5K 4/13/08 38:26 minutes
5. Frederick Twilight 5K 5/3/08 38:50 minutes
6. Bloomin' 5K Run 5/17/08 42:09
7. Zooma Annapolis 10K 6/1/08 1:24:32
8. United Way 5K 10/11/08 42:24
9. Turkey Trot 5K 11/27/08 46:25 (sigh... I'm slower than ever)
10. MD Half Marathon 5/31/09 - I FINISHED! (Truth be told, I hated training for this race and I had a terrible race experience. I will never have the desire to do another half marathon ever again.)
11. Zooma Annapolis 10K 6/5/11 1:28:57 (first race in 2 years)

Profile Image