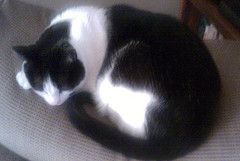 I have 2 pics in my gallery

Awards

I Am Strong
I never had to worry about weight until I was in my 20's, but I sure do now! I can't believe I've allowed myself to get to this point - needing to lose 140 pounds. Back and hip difficulties make it even more of a challenge, but I'm determined to make it happen! One step at a time! Just a few months until I'm 50 - 50!

My Weight-Loss Journey
2009/09/01 274 (my scale was 258 had to adjust per new scale)
2010/01/31 266 (250 adjusted per new scale)
2010/02/28 261 ...
I never had to worry about weight until I was in my 20's, but I sure do now! I can't believe I've allowed myself to get to this point - needing to lose 140 pounds. Back and hip difficulties make it even more of a challenge, but I'm determined to make it happen! One step at a time! Just a few months until I'm 50 - 50!

My Weight-Loss Journey
2009/09/01 274 (my scale was 258 had to adjust per new scale)
2010/01/31 266 (250 adjusted per new scale)
2010/02/28 261 (on new scale!) -5.0 pounds
2010/03/31 257.8 -3.2 pounds
2010/04/30 252.8 -5.0 pounds - good considering a week of vacation where I did bad!:-)
2010/05/31 252.0 -0.8 pound
2010/06/30 248.4 -3.6 pounds
2010/08/31 249.6 Time to get serious!
2010/09/30 242.2 -7.4 best month on SP!
2010/10/31 238.6 -3.6
2010/11/30 236.4 -2.2
2010/12/31 231.4 -5.0
2011/04/19 239.2 Yikes! So I begin again...
2011/07/28 Total hip replacement surgery - new life!
2011/08/15 243.4
2012/03/09 262.0 I have to face it to change it!
2012/06/30 268.4
2012/07/30 267.5

2013/01/14 274.0
2013/05/15 271.4 I will NOT give up!
2013/12/01 262.0
SparkFriends

SparkTeams

My Ticker:
current weight: 262.0


Recent Blogs:

Profile


Member Since: 3/9/2009

My Goals:
2013 - OK, so I don't think I'll lose 50 pounds this year - let's aim for 3 per month, which will get me to 250 by the end of the year.

5/15 start 271.4
6/30 268
7/28 265
8/26 262
9/30 259
10/28 256
11/24 253
12/30 250

My Program:
Baby steps - they DO work!

Personal Information:
I love to quilt, target shoot, and do genealogy research. I also love to hike - but can't do so much with this extra weight. Motivation to work hard to get it off!:-) And I have no excuse now since I had my hip replaced!

Other Information:
Roll, Tide, Roll!

"In Him I live and move and have my being."

"I am strong"



Profile Image