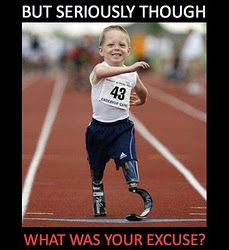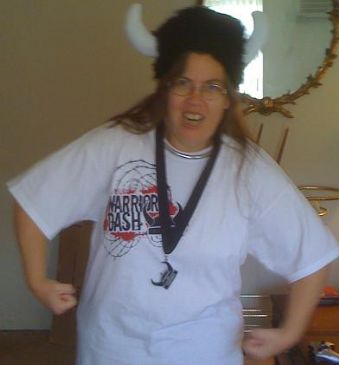 I have 41 pics in my gallery

Awards


What do you get when you cross a BAMF & a MILF?
ME! Muhahahaha!

''Life''s journey is not to arrive at the grave safely in a well-preserved body, but rather to skid in sideways, totally worn out, shouting, ''Holy sh*t... What a ride!''

When I made my first SparkPeople profile in 2003, I'd lost 60lbs and was training to walk a half-marathon. 6 years later, all the weight was back on and then some, and I decided I was tired of being simply tired of it - and having shed the bad marriage, toxic friends and ...
ME! Muhahahaha!

''Life''s journey is not to arrive at the grave safely in a well-preserved body, but rather to skid in sideways, totally worn out, shouting, ''Holy sh*t... What a ride!''

When I made my first SparkPeople profile in 2003, I'd lost 60lbs and was training to walk a half-marathon. 6 years later, all the weight was back on and then some, and I decided I was tired of being simply tired of it - and having shed the bad marriage, toxic friends and spirit-crushing responsibilities, and with the support of my mate and my family (and my Sparkfriends), I decided it's time to really DO this! Eighteen months and 75 pounds later, I'm well on my way to being the amazing bombshell I was MEANT to be!

*Specific goals*
(As of 1/27/2013)

*Weigh under 200 lbs by the end of BLC16 (7/6/2011)
Goal met on May 26, 2011

*Weigh in the 180s by my 30th high school reunion on September 1, 2012
Goal met on September 1, 2012 (weight 189 lbs)


*Reach my (current) goal weight of 150 lbs by my 50th birthday (December 15, 2013)

* Complete a full (26.2 miles) marathon before my 50th birthday (DONE! Completed the Flying Pig on May 6, 2012, beating my original goal by a full year and a half)

* Do the Warrior Dash in 2014 and make it through EVERY OBSTACLE!

Weight Goals -
*Get out of the morbidly obese category (under 220 -- DONE 11/03/10)
*Get out of the obese category (under 160 lbs)
*Get out of the overweight category (under 130 lbs)

How am I going to get there?

- I will track my food EVERY day
- Cardio: At least 3 days EVERY week
- Strength Training: work back up to at least 3 days EVERY week
- E25K (Euphrates to 5K) at least 2 times per week, building distance back up on the weekends



Events in 2010

Cheetah Run 5K - 9/5/2010 - completed!
Walk to Stop AIDS (5 miles) - 9/26/2010 - completed!

Events in 2011

AHA Heartwalk 5K - 3/20/2011 - completed!
Glen Helen Earth Day 5K - 4/23/2011 - completed!
Warrior Dash in Carrolton, OH - 9/10/2011 - completed! RAWR!

Events in 2012

Cincinnati AHA Heart Mini Marathon 15K 3/18/2012
Flying Pig Marathon (yep, the full 26.2 miles) May 6, 2012

Events in 2013

Cincinnati AHA HeartWalk (3/17/2013)
The Biggest Loser RunWalk Indiana 5K Off-Road Challenge
(April 27, 2013 - Laurel IN)
Flying Pig Marathon - RUNNING the 5K (May 4, 2013)
MuckFest MS (July 27, 2013)
SparkFriends

SparkTeams



My Ticker:
current weight: 228.5


Recent Blogs:

Profile


Member Since: 12/22/2003

SparkPoints: 63,723

Fitness Minutes: 33,551

My Goals:
*General goals*
I want to be active and healthy, feel good physically and emotionally, and be able to buy sexy clothes that I like without having to find specialty stores or "bigger girl sizes" online.

Be a SparkPeople Motivator! (Goal Met November 2010! And again January 2013!)

Earn a Popular Blog Post!

My Program:
Primarily trying to watch portion sizes and eat a balanced healthy diet, incorporating as much organic and/or locally grown foods as possible.

Being ACTIVE - utilizing the gym at my school (Cincinnati State), walking in my neighborhood, and finding fun ACTIVE activities to enjoy with my mate and my kids.

Personal Information:
Doula, wannabe-midwife, Qadishtu, Priestess of Venus and Vulcan. Completely bisexual, utterly polyamorous - I just love.
---------------------
Granny Wendy: So Peter, your adventures are over.

Peter Banning: Oh, no. To live... to live would be an awfully big adventure.

- Final lines from the movie "Hook"
-----------------------
From the movie "Parenthood" 1989:
[Gil has been complaining about his complicated life; Grandma wanders into the room]
Grandma: You know, when I was nineteen, Grandpa took me on a roller coaster.
Gil: Oh?
Grandma: Up, down, up, down. Oh, what a ride!
Gil: [sarcastically] What a great story.
Grandma: I always wanted to go again. You know, it was just so interesting to me that a ride could make me so frightened, so scared, so sick, so excited, and so thrilled all together! Some didn't like it. They went on the merry-go-round. That just goes around. Nothing. I like the roller coaster. You get more out of it.

Other Information:
My primary online presence is my blog at livejournal.com - http://mseuphrates.livejournal.com - that's the best place to get to know me. My motto is "Ask me a direct question and I'll give you a direct answer - so be sure you really want to know."

Profile Image