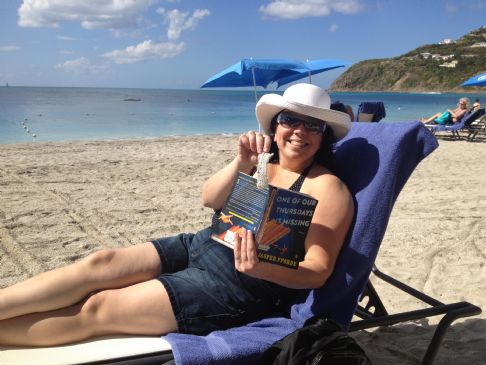 I have 42 pics in my gallery

Awards


Fight Song
Hi Spark Peeps! My name is April and I am here and ready to fight for a long, healthy, happy life!

This song by Rachel Platten really hit home for me, it states so well how I feel about this fight (and yes it is a fight) to be the healthiest me I can be! What about you? Are you ready to fight for your life?

"Fight Song"

Like a small boat
On the ocean
Sending big waves
Into motion
Like how a single word
Can make a heart open ...
Hi Spark Peeps! My name is April and I am here and ready to fight for a long, healthy, happy life!

This song by Rachel Platten really hit home for me, it states so well how I feel about this fight (and yes it is a fight) to be the healthiest me I can be! What about you? Are you ready to fight for your life?

"Fight Song"

Like a small boat
On the ocean
Sending big waves
Into motion
Like how a single word
Can make a heart open
I might only have one match
but I can make an explosion

And all those things I didn't say
Wrecking balls inside my brain
I will scream them loud tonight
Can you hear my voice this time

This is my fight song
Take back my life song
Prove I'm alright song
My power's turned on
Starting right now I'll be strong
I'll play my fight song
And I don't really care if nobody else believes
Cause I've still got a lot of fight left in me

Losing friends and I'm chasing sleep
Everybody's worried about me
In too deep
Say I'm in too deep
And it's been two years
I miss my home
But there's a fire burning in my bones
And I still believe
Yeah I still believe

And all those things I didn't say
Wrecking balls inside my brain
I will scream them loud tonight
Can you hear my voice this time

This is my fight song
Take back my life song
Prove I'm alright song
My power's turned on
Starting right now I'll be strong
I'll play my fight song
And I don't really care if nobody else believes
Cause I've still got a lot of fight left in me

A lot of fight left in me

Like a small boat
On the ocean
Sending big waves
Into motion
Like how a single word
Can make a heart open
I might only have one match
but I can make an explosion

This is my fight song
Take back my life song
Prove I'm alright song
My power's turned on
Starting right now I'll be strong
I'll play my fight song
And I don't really care if nobody else believes
Cause I've still got a lot of fight left in me

Now I've still got a lot of fight left in me


Current Status:


SparkFriends

SparkTeams

My Ticker:
Pounds lost: 63.0


Recent Blogs:

Profile


Member Since: 12/27/2008

SparkPoints: 65,512

Fitness Minutes: 40,501

My Goals:
To get to a healthy weight and maintain it.

To live a long, healthy, active, fun, happy life with my husband.

My Program:
Plant based whole foods

Walking every day

I like to shake things up and try new workouts. Currently working the Bob Harper Black Fire program on the Daily Burn site.

Daily tracking calories - the key to success!


Profile Image