SparkPeople Guest Blogger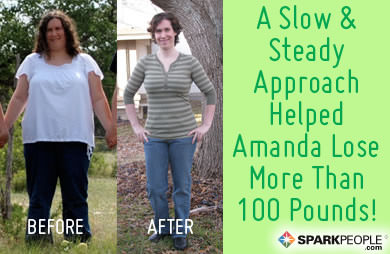 Name: Amanda
Username: POOKASLUAGH
Amount of weight lost: 105 lbs
Hometown: San Antonio, TX
Occupation: Stay at home mom
Age: 34

Amanda gained weight while dealing with years of medications and illness. Although she would eat healthy portion sizes and exercised regularly, she kept getting sick and kept gaining weight. The larger she got, the more shame she felt because of her size. She avoided photos and going to public places. She found it especially difficult to face people she had known before her illness, when she was more than a hundred pounds lighter. Amanda's body hurt all the time and she was extremely depressed.

Once she had fully healed from her illness, Amanda admits that she only tried halfheartedly to lose weight. She was angry, depressed and overwhelmed, and didn't really want to face the long journey ahead of her. Many people dealing with illness find themselves in the exact same situation. Learn how a dream and a slow and steady approach helped Amanda reclaim her life and her health.
Read More ›