John McGran
SparkPeople guest blogger

John McGran has been a writer and editor for national diet/weight loss companies since January 2000. And yet, at age 51, the man known as "Mr. Bad Food" is still trying to master the art of eating sensibly and living a healthy lifestyle. Follow John's blog and you just might learn how to ward off the bad habits that derail many "diets."
Read More of John's Blogs:
Choosing the 10 worst foods of the year is like shooting beer-battered deep-fried fish in a barrel of boiling oil. Everywhere you aim, you're bound to hit one.

This year, we scoped out a few fast food joints and a couple of America's favorite sit-down restaurant chains.

A number of popular restaurants (Cheesecake Factory, anyone?) do not post their nutritional values online. While most restaurants we researched do share info with consumer, not all are so open with the numbers. And that always raises a red flag for the diner looking to take control of his or her health.

Some of the following "worst 10" are special meals that are rolled out "for a limited time only"; others are standard menu fare at some of our most-visited eateries. Check out our list of the worst of the worst, then be sure to forward it to your friends!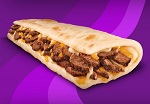 Taco Bell Triple Steak Stack
690 calories
30g fat
13g saturated fat
1,950mg sodium

They say: "A warm, soft flatbread layered with a triple portion of 100% USDA Select marinated, grilled steak and a delicious, melted three-cheese blend."

Mr. Bad Food says: Despite a cool TV campaign that had a guy who looked part-chef, part-ninja concoct one of these "sandwiches," I wouldn't stake my diet on this fast-food meal. I must say Taco Bell has done an amazing job using the same basic ingredients to construct "new" offerings – menu choices that traditionally run fatty and salty.

The damage: A 155-pound person would have to spend 90 minutes of vigorous stationary rowing to sail away from the caloric damage. (Instead, try Food on the Run: Taco Bell.)

Read More ›