All Entries For
worst foods
Each year many people make food-related New Year's resolutions or goals. Figuring out how to make dining out fit in with those goals can be a big challenge. Over the years, we've highlighted many of the healthier options in our
Diet Friendly Dining
series. Last year we were encouraged by the increased number of
nutrition conscious restaurant options
that were available.
This year, we've seen all sorts of new foods hit the market. Some, like the recently invented
Cronut
, throw nutrition caution to the wind. Others, like
Satisfries
, are an attempt to create tasty lower-calorie favorites. We scoured restaurant menus to find the biggest nutrition disasters so you'll know what to avoid when eating out in the new year.
Read More ›
Fast food and chain restaurants have evolved significantly over the last few years. Burgers, fries and sodas are still the status quo for many diners, but those who seek healthier foods have plenty of options, from
fruit and yogurt parfaits
and
baked potatoes
, to
apples cut like fries
and
grilled chicken
. Trans fats have been reduced and eliminated; lowfat milk, fresh fruits and vegetables grace the menus at even the most ubiquitous roadside eateries; and more companies are disclosing nutritional information.
Despite those changes, fast foods menus remain dichotomous: Healthy choices reside next to triple-stacked burgers and extra large fries.
We've rounded up 11 of the worst foods we've seen this year.
Stay far, far away from the foods listed below, and instead select from the plentiful healthy choices at each of the restaurants included in this article.
Read More ›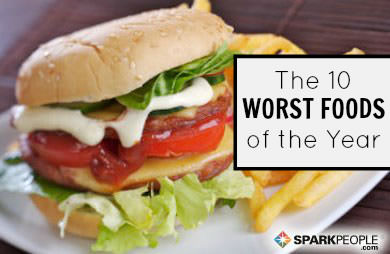 If 2009 was the year of cutting back, 2010 was the year of adding on, at least when it came to food. The year's top catch phrase: More cheese, please!
On menus from Taco Bell to the Cheesecake Factory, cheese was piled on, in several varieties. Melted, fried, sandwiched, stuffed and slathered on anything and everything, it's safe to say that, if you're eating these foods, you're meeting your dairy quota.
We've rounded up the worst new foods of the year and compiled some fun fitness facts to help put these caloric monstrosities in perspective!
Read More ›
Choosing the 10 worst foods of the year is like shooting beer-battered deep-fried fish in a barrel of boiling oil. Everywhere you aim, you're bound to hit one.

This year, we scoped out a few fast food joints and a couple of America's favorite sit-down restaurant chains.

A number of popular restaurants (Cheesecake Factory, anyone?) do not post their nutritional values online. While most restaurants we researched do share info with consumer, not all are so open with the numbers. And that always raises a red flag for the diner looking to take control of his or her health.

Some of the following "worst 10" are special meals that are rolled out "for a limited time only"; others are standard menu fare at some of our most-visited eateries. Check out our list of the worst of the worst, then be sure to forward it to your friends!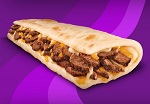 Taco Bell Triple Steak Stack
690 calories
30g fat
13g saturated fat
1,950mg sodium

They say: "A warm, soft flatbread layered with a triple portion of 100% USDA Select marinated, grilled steak and a delicious, melted three-cheese blend."

Mr. Bad Food says: Despite a cool TV campaign that had a guy who looked part-chef, part-ninja concoct one of these "sandwiches," I wouldn't stake my diet on this fast-food meal. I must say Taco Bell has done an amazing job using the same basic ingredients to construct "new" offerings – menu choices that traditionally run fatty and salty.

The damage: A 155-pound person would have to spend 90 minutes of vigorous stationary rowing to sail away from the caloric damage. (Instead, try Food on the Run: Taco Bell.)

Read More ›