All Entries For
weight loss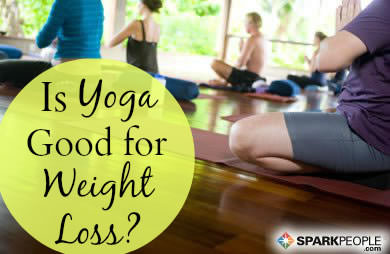 Over the past decade alone,
yoga has exploded
into a multi-million dollar industry. Nearly 21 million Americans actively participate in yoga, spending more than $10 billion a year on classes and products (including equipment, clothing, retreats and videos), with the majority of novice practitioners citing general wellness, stress management or weight loss as one of their primary motivations for taking up the practice.
However, the roots of yoga are spiritual, not physical, which is the way we think of yoga today. Body-focused yoga styles (that focus on toning, weight loss and physical transformations) are a modern, Western phenomenon. There's no doubt that the benefits yoga offers for the physical body appeals to Americans, even though yoga can be so much more than a physical fitness regimen.
So can yoga really help you lose weight? Is there any truth or science to claims that any set of yoga postures can boost your metabolism, help you slim down, or give you that coveted "yoga body"?
Read More ›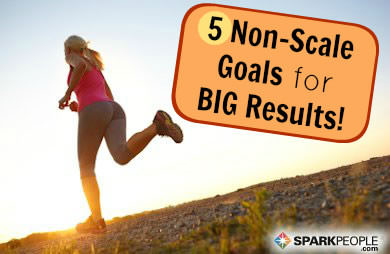 It's no secret that the majority of people who start a new exercise program do so because they want to lose weight, which is a great reason (and motivator) to get fit.
That being said, if your only motivation to exercise is fat loss, you can easily find yourself frustrated and wanting to quit when progress temporarily
hits a plateau
(which it will). That's why setting goals beyond weight loss alone is essential if you're going to stick with a fitness or weight-loss program for the long haul.
And consider this: Setting goals that don't focus on fat loss can actually help you reach your desired weight-loss goal. It's true! (Check out this
SparkPeople success story
of a woman who lost weight by resolving NOT to lose weight!) For example, if you focus on getting stronger, you will likely gain lean muscle mass, which will speed up your metabolism and help you lose more weight. Or maybe you choose to set a goal like walking with a friend several days a week, or taking your dog hiking every weekend. Those goals will keep you active and moving (which is the whole point) and don't hinge on what a scale says to keep you motivated. Over time, you'll be more consistent with exercise, burn even more calories and, of course, lose more unwanted fat.
See? You don't have to be laser-focused on the scale to be successful in changing the scale. Setting other goals can be even more motivating—and just as effective!
Here are five of my favorite types of goals that often lead to weight loss and better health (without focusing on the scale).
Read More ›
While it's true that all you really need to lose weight are good information and determination, there are plenty of helpful tools that will make the path to health and fitness a little easier and a lot more fun. I've gathered a list of the kinds of things that have helped me in my own weight-loss journey. You'll need different tools at different stages, but these are great when you're just getting started.
Read More ›
Our latest book, "
The Spark Solution
: A Complete Two-Week Diet Program to Fast-Track Weight Loss and Total Body Health," has made the prestigious "
Best Diets
" list published by U.S. News & World Report.
Out of 31 diets* on the list, ours was ranked:
#4 Best Commercial Diet Plan
#6 Weight Loss Diet
#13 Overall Diet and Healthy Eating Diet
We also ranked favorably in the Heart Health and Diabetes categories, among others.
Here's what the panelists said about SparkPeople's latest book--which is
now available in paperback
at a low price!
Read More ›
Dave (
dave3977
) and Julie (
jujumiller
) Miller joined SparkPeople in February, just after starting their weight-loss journey. In just 11 months, they have shed more than 220 pounds--137 for him and 87 for her, with another 60 and 30 to go, respectively. What a great success story!
Now the couple is being called "Cleveland's Biggest Losers" by their local TV station WKYC. This morning, they were on the news to show off their slimmer, healthier selves and share the secrets to their success.
Watch the two-part segment here.
Read More ›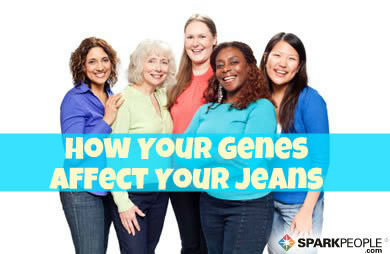 "I am just big-boned. Everyone in my family is big-boned."

"My Mom is heavy. My Dad is heavy. I'll never be anything but heavy."

"My sister has my Mom's lean body and I have my Dad's stocky body, so I will never be lean like her."

At one point or another, you've probably heard your friends or family members utter these phrases. Heck, you may have even said similar things yourself.
So just how much of a role do genetics play in your body shape and size? If you have heavy parents, are you truly doomed to be heavy forever? When your parents are tall and lean, can you get away with eating more—without consequence? If your mom has wide hips, will shopping for jeans always be the bane of your existence?
"I'm fat because of Oreo cookies!" screamed the woman as she entered the weight-loss class I was coaching last week. In hand, she waved the
press release from Connecticut College
, which blared the warning,
"Oreos are just as addictive as drugs!"
"I am addicted to certain foods, just like those rats were addicted to Oreo cookies," she continued on. "It's supposed to be worse than being addicted to
cocaine
. How am I ever going to be successful with my weight loss?"
Read More ›
Barbara Whitehead (ONEKIDSMOM)Weight Lost:
100 pounds
Hometown:
Lincoln, NE
Occupation
: Computer Programmer/Analyst
What was life like before your weight loss?
I have been a compulsive eater since childhood, raiding my parents' food stores and downing large volumes of candy when I could get it. I was a fairly active child, so didn't start actually gaining the pounds until adolescence. I lost with an unhealthy fast/feast diet cycle between high school and college, which is the last time I was in the 120s before this current lifestyle change. I was the classic yo-yo dieter. I'd try for a while, lose some, and then gain it all back. I was so unfit that walking five steps across the room to answer the telephone caused my mother-in-law to ask me whether I had been running. I was afraid that if my young son would hurt himself on the playground, I would be unable to get to him to help him.
What was your 'light bulb moment' that made you get serious about losing the weight?
My motivation to lose weight was to save my life. I also wanted to manage the stresses in my life in a healthier way and to be happy. The "a-ha moment" came when I realized it was not losing the weight or the number on the scale that made me happy. It was the behaviors that gave me weight loss and a healthy weight as a side effect that truly made me happy! I firmly believe that this is the revelation that will enable me to keep it off for life.
Tell us a bit about your weight loss journey with SparkPeople: Read More ›
Michelle Miller (JUSTCHELLE75)Weight Lost:
140 pounds
Hometown:
Houston, TX
Occupation:
Paralegal
What was life like before your weight loss?
My weight has had vast fluctuations my entire life. I maintained at 135 pounds for about three years and then I steadily went up. I gained the most recent weight when I was pregnant with my daughter. I gained about 100 pounds while pregnant with her and then had a C-section. I was so out of control I wouldn't even let the nurse tell me what I weighed. I didn't even realize how large I had gotten. I no longer looked at myself in the mirror and when I did, I didn't see what I was becoming. I got married and had a baby all in the span of one year while working full time and going to school. I had many changes and didn't know how to take care of myself. My husband and I were so busy that we turned to fast food or eating out much too much. I was winded to the point of thinking I had asthma just walking up the stairs. We would take my daughter out in her jogging stroller and I would hurt. My husband would tell me how beautiful I was but in my head I just didn't want to believe him. I didn't feel beautiful or secure.
What was your 'light bulb moment' that made you get serious about losing the weight?
I saw a picture of myself with my daughter in December 2010. It's the first time I really saw myself and how out of control I was. I decided I needed to lose weight and get healthy so my daughter would never have to go through what I did. I also wanted to feel comfortable taking pictures with her and our life. I had become happy with myself.
Tell us a bit about your weight loss journey:
I joined Weight Watchers and SparkPeople on the very same day. That day was January 17, 2011. That's the day I have dubbed my 'Healthiversary'.
Read More ›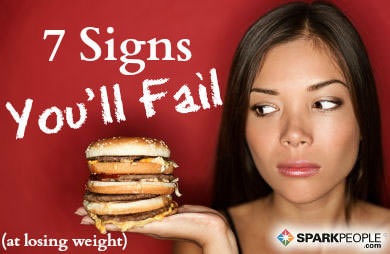 That headline got your attention, didn't it? Not to worry, SparkPeople hasn't changed our attitude about healthy living and weight loss. But what we
have
done, for the first time ever, is compile and publish the
very
best advice, tips and tricks from our "
Success Stories
"--more than 100 members who've lost weight and kept it off using SparkPeople.com to accomplish their goals. These members know that how you start to lose weight is the most important indicator of long-term weight loss. They shared their struggles and successes so that you can learn from their experiences and remove the guesswork from weight loss.
We compared their success against people who gave up on weight loss within the first two weeks. And you know what? We found quite a few red flags that determined--from Day 1--whether someone would succeed or fail.
Here are our
top 7 signs that you'll give up on weight loss
--and how to reverse your fate if you have any of these demotivating habits.
Read More ›
Tricia Voss
(
VTRICIA
)
Weight Lost:
57 pounds
Hometown:
Salt Lake City, UT
Occupation:
Mother and Student
What was life like before your weight loss?
I thought of myself as pretty healthy even though I have been overweight most of my life and crossed the line into obese now and then. I figured I was just big-boned or had heavy genes. I wore baggy clothes and people said my pregnancies didn't show for seven or eight months. I thought eating right meant adding protein to whatever I felt like eating and maybe some vegetables at dinner. I didn't do very much in the way of fitness, even though I have a ton of exercise equipment around the house. As I approached 40, it felt like it was all downhill, especially after I had a few injuries and became less mobile during my recovery.
What was the main motivation behind your weight loss?
I hadn't weighed myself in a couple years, but one day I was helping my sister weigh her baby and was shocked at what I saw. I was 212 pounds, 22 pounds over my "fat but fit" ideal of 190 pounds. I started using SparkPeople and lost 6 pounds, but then I got pregnant. After the pregnancy, I had blood work done for life insurance and was confronted with elevated LDL cholesterol levels, higher than usual blood pressure numbers and other risk factors that prevented me from getting the best rate.
About this time, I also had an "a-ha" moment about my relationship with sweets. One day I was going along eating one of my personal favorites out of the bag, and I thought: "I just love these things! I don't know how I would ever get along without them." And I realized that if one of the best things in life was some candy, I had a serious problem. That was the beginning of my willingness to put boundaries on my eating.
On New Year's Day 2012, I decided to resume my activity on SparkPeople and started with tracking my food.
Tell us a bit about your weight loss journey: Read More ›
Holly Petras (HOLLYS_NEW_LIFE)Weight Lost:
140 pounds
Hometown:
Fairview, PA
Occupation:
Patient Advocate
What was life like before your weight loss?
Other than my kindergarten picture, every picture I have of myself is of a chubby child, a fat teenager or an obese adult. As a kid, I used to play soccer, swim and dance, and I was always the biggest one. When I got to college, I gained even more weight with late night pizza and beer. Right out of college, I got married to a man who loved me so much, he thought catering to my every desire would make me happy. All it did was make me lazy and fatter. This was in no way his fault, but it wasn't helpful either. When I got pregnant with my kids, it was just another excuse to eat whatever I wanted. I craved French fries with my son and pizza with my daughter, and ate them most nights. I didn't know it at the time, but when I look back on things now, I was miserable. I didn't do anything with my kids or our friends. I stayed inside on the couch while my husband took the kids out to play. I hated doing anything that made me sweat, and at that size, everything made me sweat. I couldn't get on amusement park rides, I hated walking around the zoo, and I didn't want to leave the house. Physically, my back and feet hurt all the time. My asthma was out of control, and I never went to the doctor. I didn't want to be told I had high blood pressure, bad cholesterol, and diabetes. I especially didn't want to be told to lose weight. I am 5 feet tall and at my highest weight, my waist was 59 inches around. I was as wide as I was tall; it's not a surprise that I was miserable.
What was your 'light bulb moment' that made you get serious about losing the weight?
At the end of May 2010, I was volunteering in my son's class for his birthday. We were lining up to go outside and he introduced me to one of his friends. His friend looked at me, then looked at my son and said "your mom's fat." My son said nothing. What could he say? The little boy was right. It took everything I had not to break down and cry. The look on my son's face broke my heart. I knew right then, I HAD to change for my kids and for myself. I was NOT going to be "the fat mom." My children have been my biggest motivation since day one. I was going to get healthy for them because I didn't want them to grow up to be like me. I wasn't any kind of role model for them. That weekend, I Googled "counting calories" and that's how I found SparkPeople. That's when I began the journey that saved my life. Now as my journey is beginning its fourth year, I can say that getting to goal is a HUGE motivator for me. I started this for my kids, but I'm finishing it for me.
Tell us a bit about your weight loss journey: Read More ›
Donna DeGroot (DDHEART)Weight Lost: 41 poundsHometown: Gillett, WIOccupation: Retired Cardiac Nurse Specialist/ re-retired Passenger Services Manager on a private railcar
What was life like before your weight loss?
I was never hugely overweight, but always heavier than I probably should be. I grew up being "the big little sister." My father said he preferred his girls plump (I hate that word!) while my mother had her own weight problems. Food was the equivalent of love. No hugging, but here have some ice cream. Now, that's not to blame my family but it does help to explain the complex relationship with food and the connection with emotional eating. I love to eat and I eat when I'm unhappy, bored, when socializing, etc. I have almost no pictures from when I was heavier. I would avoid the camera like the plague and when I did find that a photo of me was taken, I would often get rid of it if it was unflattering. It's important for me to note, that when I try to look back through photos, I now see pictures where I was not particularly overweight but if you were to ask me I would've said I was ALWAYS overweight. I did not have an eating disorder, unless you would count the years of yo-yo diets, but during those earlier years, I also wasn't particularly fit. I certainly wasn't athletic. Even as a child, I was shy, cautious and aware that I was "the fat little sister." I was not as coordinated as other children- at least that's what I thought- and I was afraid to try things for fear that I would look foolish. I missed out on so much.
What was your 'light bulb moment' that made you get serious about losing the weight?
A few years ago when I retired, I joined Weight Watchers and had to step on the scale. My 'OMG moment' was stepping on that scale and realizing that this weight gain could not keep up. I lost about 40 pounds and actually wore a size six very briefly. Alas, I didn't keep it up. I should have continued to go to meetings, but didn't and soon even size 12's didn't fit. I managed to keep some control but just couldn't seem to get myself on track. I knew I needed to adopt a different life philosophy if I want to fit inside a different body. I don't know if I will ever be a person who likes to exercise more than she likes to eat, but I sure would like to be someone who doesn't fill the empty spaces with food.
Tell us a bit about your weight loss journey: Read More ›
Lindsay Pobieglo (
LPOBIEGLO
)
Weight Lost:
158 pounds
Hometown:
Mesa, AZ
Occupation:
Risk Management Program Manager
What was life like before your weight loss?
I began slowly gaining weight at the age of 18. My parents separated when I was 17 and I was stuck in the middle. I went to food for comfort. After the dust settled, I was addicted to food and I was settled into that lifestyle. Life was plain. I went to work, came home, ate, watched TV and then went to bed- day after day. I missed out on lake trips, sporting events and other activities due to my weight.
What was the main motivation behind your weight loss?
My initial motivation to lose weight came in 2008. When my daughter was two, the entire family went to a pumpkin festival. There was a child's ride, similar to the Dumbo ride at Disneyland, which she really wanted to ride. As we were about to go on, I was told that there was a weight limit to the cars since they went up in the air. I alone exceeded the weight limit. My sister-in-law had to take my daughter on the ride. I was devastated.
My biggest and final motivation came when my co-worker signed up for an at-work weight loss competition. She wanted support and asked if I would join her. I refused. When she asked why, I responded: "I don't want anyone to know how much I weigh". She quickly retorted: "If it bothers you that much, shouldn't you do something about it?" That was it. I realized she was right.
Tell us a bit about your weight loss journey:
Read More ›
It sounds like you're referring to a "calories in vs. calories out" type of equation. First you need to understand that one pound of fat is made up of roughly 3,500 extra calories. So in order to lose one pound of fat, you need to create a caloric deficit of 3,500 calories.
Read More ›
‹ Back
|
Read More Entries ›