Repeat after us: Ignoring your
foot pain
will not make it go away. And contrary to popular belief, there are steps you can take to reduce these pains and help prevent them from coming back. Read about some of the most common issues that
Trevor Prior
, a practicing podiatrist and podiatric surgeon and a member of the
Vionic Innovation Lab
, sees in his practice.
Read More ›
One of my favorite ways to start the day is with a morning walk. Not only is walking a great exercise to gently wake up your entire body, but it also boosts energy levels and activates your brain. This one-mile, indoor power-walking workout will help you start the day off on the right foot, no matter what the weather is like outside. Squeeze in some extra daily steps and give your body and brain a wake-up call at any time of day with this fast-paced mile workout. Using a mix of moves and directional change, we'll avoid joint strain while keeping your body and brain awake and alert.
Read More ›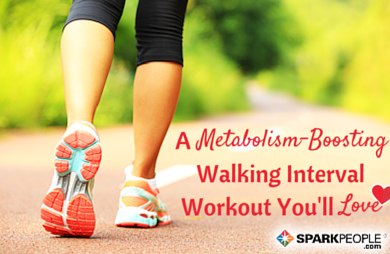 Flowers and trees are pretty, but sometimes a walking workout needs a bit more than scenery to keep things interesting. Incorporating intervals and strength-training moves into a walk not only adds variety, but also challenges your muscles and can boost your metabolism. Dallas-based trainer Kim Truman developed this varied walking workout, which includes three different intervals and three body moves, for people looking to break up their usual walks.
Keep boredom at bay today with this fun, heart-pumping workout.
Read More ›
Whether you have been walking for years or are just getting started with it, making your walking time more enjoyable can help you stay more motivated to stick with it over the long term, which is the key to lasting results!
Try these five simple tips to help you take your walk from good to great:
#1: Step in the right shoes.
This one may sound super obvious, but so many of us are walking around in shoes that are either the wrong size or aren't designed to support our unique needs. If your feet are in pain after you finish a walk, chances are you are in need of a sneaker makeover! The right footwear could be what's missing from your routine and could help turn your walking time into a more pleasurable experience that you'll actually look forward to.
If you regularly experience pain or tenderness in your feet, you may have issues with plantar fasciitis, overpronation (your feet rolling inward as you step), flat feet or even high arches that need to be addressed by either a specific type of shoe and/or orthopedics. Depending on what kind of issues you are experiencing, you may need the expertise of a podiatrist or orthopedist to best advise you on what type of shoe or orthopedics you should be wearing. Please don't wait until the pain is unbearable to make an appointment - do it today!
It's also important to find the right fit. Your sneaker size is typically (though not always) a half to one full size larger than your formal shoe size. If you aren't sure what your specific sneaker size is, take the time to get fitted properly in an athletic store. And don't forget that even the perfect sneakers wear out over time and mileage, so be sure to replace them as needed (like when you start to notice the support or tread wearing out in your shoes) to keep a spring in your step over the long term.
Read More ›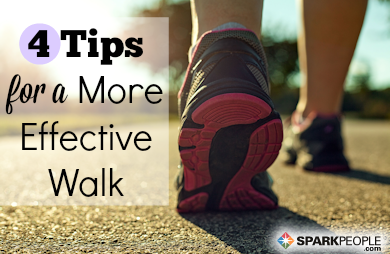 Did you know that simple things like standing taller, engaging your abs and even walking sideways can help you walk further and faster, all while helping you burn more calories?
Here are a few walking posture tips to help you make the most of every step (think of the word P.A.C.E. to help you remember these!)
Read More ›
This one-mile indoor power walking workout will help you stick with your walking routine no matter what time of day or night it is--or what the weather is like outside!
We'll use a mix of moves that can be done easily in a small space to help you prevent joint strain. We're keeping it simple to help you squeeze in some extra steps anytime, anywhere. Just a heads up, we'll be jumping right into this walk to make this mile short and sweet, so please be sure you are warmed up first. And be sure to stick around for the cool-down to find out more about our upcoming #5MileChallenge with SparkPeople and brand new DVD,
"Walk On: 5 Fat Burning Miles"
.
Read More ›
Editor's Note: We are thrilled to be teaming up with Jessica Smith, Certified Personal Trainer and YouTube fitness star, to bring you the #5MileChallenge! Read on for Jessica's explanation of the challenge, and get ready to lace up your walking shoes on June 1st. See you on the road (or track, or trail, or even in your living room with a walking DVD!).
Whether you are just starting to build your fitness habit or are a more advanced exerciser, a regular walking program offers so many incredible
health and fitness benefits
. That's why I am so excited to be teaming up with SparkPeople to bring you this fun #5MileChallenge!
Our goal is to help you stay more active when you are not already working out, or to get you moving more often to spark up a new exercise habit. Even if you have been exercising routinely for years, it may not be enough to
combat the ill effects of hours of sitting
, which is why adding more steps to your day is beneficial for everyone (just check out these
scary sitting stats
!).
Read More ›
Wearing the right shoes while exercising can mean the difference between a comfortable workout, and one filled with pain, or worse-injury. With thousands of workout shoes on the market, how do you know which one is right for you? By answering a few simple questions, you can narrow down your options and use this guide to find the pair that is your "solemate."
Read More ›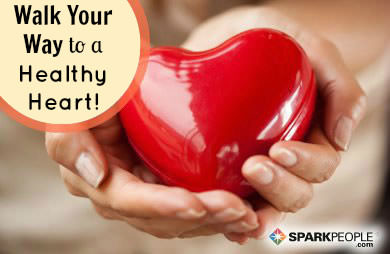 For anyone looking to lower their
risk of diabetes
and
heart disease
, an increase in physical activity is a common prescription from doctors. But often the advice ends there and patients are left asking themselves, "How much additional exercise do I need?" and, "What kinds of activity should I be doing?"
A recent study shows that even moderate increases in physical activity can have a big impact on your risk for certain diseases.
Read More ›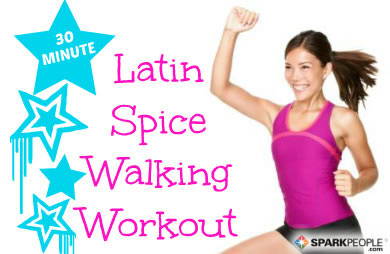 Walking workouts are convenient, easy to do, and so great for your health (and your waistline!). But walking indoors can get a little repetitive sometimes, and since my Mom and I both love Zumba, we thought it might be fun to infuse some of the Latin-inspired dance movements into a walking-based workout! So if you're looking for a way to spice up your walking routine, try joining us for this fun, easy to follow, low impact dance walk that's appropriate for all fitness levels.
Working on a carpeted surface? Try this workout barefoot and/or modify some of the twisting-type movements to help protect your knees.
Read More ›
You already know some of the
amazing benefits of walking
: It's good for your heart, great for your bones and perfect for weight control), but some days the weather outside can be frightful, and the treadmill can be well, less than delightful.
If you are in need of an indoor walking buddy today, join me for this full length, low-impact workout you can follow along with at home! This 30-minute power walk is easy to follow, fun to do, and it doesn't require much space to move around. Plus, it's appropriate for all fitness levels.
Read More ›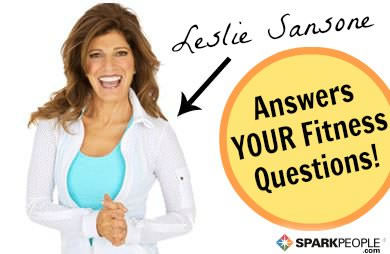 A few weeks ago
, we asked you if you had any questions for legendary walking expert Leslie Sansone. Today, Leslie is delivering answers and giving some great insights on fitness! We're a HUGE fan of Leslie's work (you can see our past interview with her
here
), and we're so honored that she took the time to answer questions again, both from us and from YOU! Take it away, Leslie!
Read More ›
It's no secret that
I'm not a huge fan of the treadmill
. I love to run, hike and even walk with my pup, but I do it all outdoors all year round. Rain, snow, wind, heat—almost nothing can keep me from my outdoor workouts. For me, a treadmill is a "last resort" when I have no other option to get outside.
But I know that not everyone is as gung-ho about outdoor exercise as I am. Many people hate running in the cold or the heat. (Nothing wrong with that.) Others have no other option to work out, especially if they have to be at home with kids or don't live in a safe neighborhood for walking or running. And still some prefer the slightly cushioned surface of a treadmill, which takes away some of the impact of running, making it easier on the joints and even the spinal discs.
Whatever your reason, we've all turned to the treadmill from time to time. And the best way to prevent boredom and get great results from your treadmill workout is to incorporate intervals. Here's a simple workout I developed to help you torch calories with your trusty treadmill.
Read More ›
When's the best time of day to exercise? First thing in the morning of course! Morning exercisers tend to stick with their workouts because nothing else (besides sleep) has a chance to get in the way. So I designed this progressive four-week walking program specifically for morning walkers who might meet up with friends to keep their workouts social and motivating.
You can, of course, do these workouts solo, on a treadmill or outdoors, or any time of day. Each one burns about 300 calories. Coupled with a reduced-calorie diet (try SparkPeople's free calorie tracker to find out how much you should eat to lose weight), this plan can help jump-start your weight loss in just one month!
Read More ›
Read More Entries ›