All Entries For
total body sculpting dvd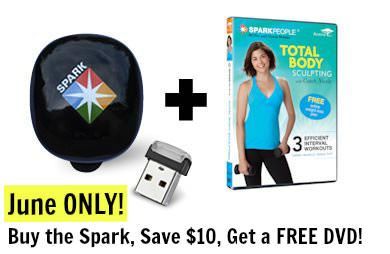 Have you been thinking about getting the Spark Activity Tracker? Now is the time! For the month of June, we're offering $10 off any purchase of the Spark. To sweeten the deal, we'll also include a free copy of Coach Nicole's Total Body Sculpting DVD with your order to start the summer months off right.

To get this special deal, simply visit sparkactivitytracker.com and select the color and quantity of the device you'd like. Enter the code "freedvd" at checkout to get $10 off your final purchase. We'll send the tracker and the dvd together so that you can start meeting your fitness goals right away! Read More ›
Good afternoon, SparkPeople!
I hope you are enjoying this spring weather as much as we are here in Cincinnati! I love the changing seasons because it always inspires me to change lots of things in life: my wardrobe, my attitude and even my workouts.
If you're looking to change up your exercise routine, I've got some great news for you!
Read More ›
Twice the workouts. Two times the fun. Double the results? You be the judge!
Positive reviews continue to roll in for our workout DVDs
Total Body Sculpting
and
28 Day Boot Camp
. (Thank you for that!) Although both of these DVDs feature very different workouts, I designed both of them with one thing in common: to help you maximize your results by combining compound exercises that work multiple muscle groups with calorie-blasting cardio into a single, super-efficient workout . (Phew, that was a mouthful.) And because each DVD has three or four individual workouts that you can mix and match, each one comes with
its own
workout plan
that you can follow to ensure you're using them to get the best results in a safe and progressive way.
But one of the questions I hear most from people following one or both of these DVDs is how to use them together. This is a great question without a simple answer. The best workout plan will work your body in a variety of ways, include both challenging and easier days, and also allow for rest and recovery so you can get stronger and fitter (and stay sane). So I developed a new workout plan that combines the routines from both of our popular DVDs into an effective and easy-to-follow program.
If you have both of these DVDs, you are in luck! Start using this plan now and reap the results! If you have only one of these DVDs, then consider this a kick in the butt to finally go out and get the second title you've been missing. (Here's where to purchase
Total Body Sculpting
or
28 Day Boot Camp
). With a brand new plan to follow, you'll be well on your way to your fittest self yet—just in time for summer. Are you ready for the plan?
Read More ›
I don't have kids yet, but I've heard (and mostly believe) that when you become a parent, you never love anything in the world more than your own child(ren). You will think they're smart and beautiful and amazing little creatures—because they're yours. And if you've ever worked on something with so much passion and time and energy that you thought of it as your "baby"—whether "it" is a thesis, a cause, or even a work project—you've probably felt something similar.
My latest "babies" have been the
workout DVDs I've created for SparkPeople
. The process of
creating a workout DVD
is no small feat. Like any project, it becomes a labor of love. It keeps you up at night. It stresses you out at times. It takes a lot of your energy and focus. It becomes a priority above all else and even an obsession. It makes you question yourself and your decisions. But if you're lucky, it grows into something that fills you with love and a sense of pride. After all, it's your baby!
I can say truthfully that I love my
Total Body Sculpting DVD
for all of these reasons. I'm proud of it and I was integral in every aspect of it, from its conception to its "birth" into the world. But like any parent who thinks their child is great, sure…maybe I'm a little biased. While I love the DVD and think it's relevant and amazing, I can't hold onto this little baby forever. Ultimately, I had to send it off into the world, hoping that everything I did to nurture it paid off—and that others received it with open arms and treat it well.
Read More ›
When you work out
smarter
, you don't necessarily have to exercise longer or harder in order to get results. "Lack of time" is the most common reason
why people don't exercise
, but is that really a good excuse? Truth is: You don't really need a lot of time to get a great workout. Short bouts of exercise—when done right—can give just as much benefit as longer workouts. Don't believe me? Try these 5 moves for just one minute each for a 5-minute workout that has full-body benefits!
Read More ›
It's here! It's finally here!
I am so excited to officially announce the nationwide release of SparkPeople's newest workout DVD
Total Body Sculpting
, which is now available at a variety of retail stores and websites, including Target, Sam's Club, Barnes & Noble as well as amazon.com, collagevideo.com and bestbuy.com (among others).
I designed this DVD with my favorite multi-tasking moves to help you get great results in as little as 20 minutes a day. No matter what your level, it is perfect for anyone with a New Year's resolution to get fit or lose weight. These never-before-seen workouts feature 100% all-new exercises that you won't find in our existing
video library
! The DVD includes three full-body, fat-torching routines (just 20 minutes each) that show three intensity levels for beginner, intermediate and advanced exercisers.
Want to learn more about the workout segments and
two great deals you can take advantage of right now
?
Read More ›
CONTEST CLOSED. The winners are: AKAFIT, PATDODD, JUDIKED, AIRLINN, YOUTHENING, CAROLTTG, BEN1126, LISAREE1, CLS567, and SASSEGIRL78.
Today is the big day: the official release of my new workout DVD,
SparkPeople: Total Body Sculpting
!


Amazon.com is the first to carry it
, and we have more online retailers and national chain stores who will be stocking the DVD within a matter of weeks, too. So stay tuned for more information on where to buy and some other great deals!
To celebrate the official release on amazon.com, we are hosting a DVD giveaway for our members. That's right:
Christmas is coming early for 10 lucky winners!
Here's how to enter.
Read More ›