All Entries For
the spark solution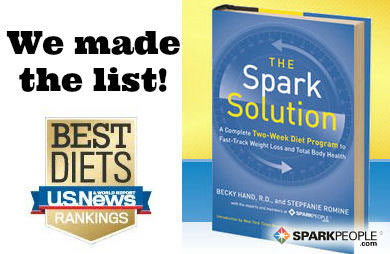 Our latest book, "
The Spark Solution: A Complete Two-Week Diet Program to Fast-Track Weight Loss and Total Body Health
," has made the prestigious
"Best Diets" list from U.S. News & World Report
.
Out of 31 diets* on the list, ours was ranked:
#4 Best Commercial Diet Plan
#6 Weight Loss Diet
#13 Overall Diet and Healthy Eating Diet
We also ranked favorably in the Heart Health and Diabetes categories, among others.
Here's what the panelists said:
"Follow the Spark Solution, and there's a good chance you'll shed pounds. The plan emphasizes a winning weight-loss combination of exercise and healthy, reduced-calorie eating.""This plan nearly nabbed a full 4 stars for healthy eating, impressing panelists with its nutritional completeness and safety. While panelists stressed the rule-heavy plan would work best for dieters who appreciate structure, one summarized it as 'a comprehensive program that can lead to healthier eating behaviors.' ""…high scores for the Spark Solution's likelihood to help dieters shed pounds, and weight management is key for the ticker."
Can I get a WooHoo?
To read more about what this definitive diets list had to say about SparkPeople's book, which jump-starts weight loss and radically improves your total body health,
Read More ›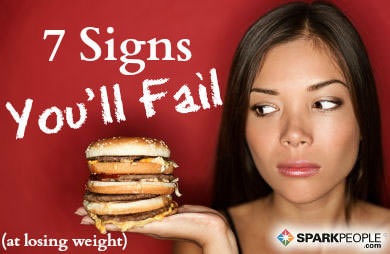 That headline got your attention, didn't it? Not to worry, SparkPeople hasn't changed our attitude about healthy living and weight loss. But what we
have
done, for the first time ever, is compile and publish the
very
best advice, tips and tricks from our "
Success Stories
"--more than 100 members who've lost weight and kept it off using SparkPeople.com to accomplish their goals. These members know that how you start to lose weight is the most important indicator of long-term weight loss. They shared their struggles and successes so that you can learn from their experiences and remove the guesswork from weight loss.
We compared their success against people who gave up on weight loss within the first two weeks. And you know what? We found quite a few red flags that determined--from Day 1--whether someone would succeed or fail.
Here are our
top 7 signs that someone is going to give up on weight loss
--and how to reverse your fate if you have any of these demotivating habits.
Read More ›
Great news! If you're perusing the magazine covers in the checkout line this week, you might notice one that sounds familiar.
The Spark Solution,
the new book from the experts and members at SparkPeople.com, is featured in a cover story in
First for Women
magazine!
In addition to a four-page spread on the book, you also can read impressive weight-loss stories featuring Laura Ayd (
SOCCERFAN82
), Angela Mwiraria (
HARMANEE
), Christie Bales (
62NVON
) and Michelle Miller (
JUSTCHELLE75
). Angela and Christie are even pictured on the cover! Way to go, ladies!
We're honored that the book has been featured, and we can't wait for you all to read it. And if you've discovered SparkPeople thanks to that article, welcome!
Today we're sharing an entire day of
The Spark Solution
plan. From breakfast through dinner, plus snacks, you'll see a sample day of eating on the program, and you can take a peek at our fitness plan, too!
Read More ›
Who doesn't like a game of hide-and-seek? The usual burger-and-fries dinner is hiding loads of fat. Seek out ours instead, which has secrets of its own. Extra lean beef can be dry, so we stuff it with onion and herbs for a juicy, tasty burger.
Compare a typical home-cooked burger meal to our lightened-up version.
Read More ›
To celebrate the start of summer, we're launching
The Spark Solution
Summer Challenge on June 21. Lose weight while using the comprehensive 14-day program from SparkPeople's new book--and be entered to win prizes, including a $250 Visa gift card.
Lose up to 5 pounds in 14 days,
enter to win great prizes,
and say goodbye to diets forever!
Here's what
SparkPeople Founder Chris "SparkGuy" Downie
has to say about this challenge--and why the program in
The Spark Solution: A Comprehensive Two-Week Diet Program to Fast Track Weight Loss and Total Body Health
works:
Summer is a great time to set new goals for yourself. Whether you want to lose weight, improve your diet, or just reinforce the healthy habits you already have in place, The Spark Solution Summer Challenge can help you achieve success. At SparkPeople, we know you can't go it alone--and we know it's much more fun and rewarding to reach goals as a community. That's why we're offering prizes and added support to those who follow the program.

We hosted a challenge right after the book launched, but many of you said it was too soon--you needed more time to get ready or your copy didn't arrive in time. We listened, and we're launching an even bigger challenge this time--with prizes. (If you did the first challenge, you can still do this one and be eligible for the prizes.)

End the yo-yo diet cycle for good with a program that's proven, with built-in, no-fail tactics to ensure you're successful. No more deprivation and no more relying on sheer will power alone. With The Spark Solution, there is no next time, only this time! You're just 14 days away!
To join the challenge, you'll need to have a copy of the book by June 21. Read through the intro, get familiar with the layout of the book and the program, and be ready to start Day 1 on Monday, June 24. Starting that day, you'll check in daily on the team, share your progress, and receive added support and feedback from the book's authors (and others like you who are committed to getting healthy and losing weight once and for all).
What are you waiting for?
Get your copy today
so you can join in the fun!
Read More ›
We talk a lot about giving up bad habits and starting good ones, but which ones are the most important? Which will have maximum impact on your life?
Here, we've rounded up eight habits we believe to be the most powerful you can adopt, gleaned from the survey we did of our "success stories." These are the essential and proven truths that will lead to sustained weight-loss, and health. These habits helped our successful members keep their motivation levels high throughout the first two weeks and beyond. Here they are, in no particular order of importance.
Read More ›
Meet Erin
. She's 30 and lives in Florida. Happily engaged and recently promoted at work, she loves her life. She wakes up feeling great, rarely stops moving throughout her waking hours, and goes to sleep each night with a smile on her face. Life isn't perfect, but every day feels better than the last, she says.
Erin is so committed to this life that it's hard for her to remember what it was like before, when
she weighed almost twice what she does now.
When she had little energy to stay awake after work and all she wanted to do on her days off was sleep. When she was in excruciating pain from even the smallest physical efforts and walking around the block seemed like torture. When she looked in the mirror and didn't recognize the woman she'd become and didn't know how to change her life.
She wanted to marry the love of her life, raise babies together, and do all the fun things she could only watch from afar. When she moved to Florida from New Jersey, she was excited about the year-round sun, access to the beach, and all the theme parks and outdoor festivals. But most of the time, she stayed inside or came home early because she was tired and in pain. Life was passing her by, and she felt helpless. Looking back now on the day she decided to change everything, it feels like a dream—a nightmare—but she's grateful for it. Looking back, the worst day of her life was also among the best, because it was the first day of the rest of her life.
The harness was stuck. No matter what she did, Erin couldn't fasten the safety belt around her middle. She held her breath, sucked in her stomach, and tried wiggling in her seat. Her fiancé, JT, then tried, but to no avail. People were laughing and pointing, and the line was backing up. The roller-coaster operator came over to see what was wrong.
It was the day after Erin's longtime boyfriend had proposed to her, and they were at a Florida theme park to celebrate. The joy that hadn't left her face since he got down on one knee was replaced by fear and panic. Finally, it clasped.
Her humiliation turned to relief and then terror as the ride began. Was the harness secure? Would it hold her weight, or would she plummet to her death on what should have been a day of celebration? The ride lasted a mere three minutes, but every moment felt like an eternity. She held her breath, gripped her fiancé's hand, and prayed for it to be over. It soon was, and her giddiness returned, until they picked up the photos taken on the ride. Her stomach dropped as she looked at the woman in the photo. She knew she had gained weight, but really? That was what she looked like?
I look like a pillow stuffed into a wastebasket,
she thought. Right then and there, she knew something had to change. She and JT wanted to start a family, but Erin asked herself,
How can I take care of kids if I can't take care of myself?
At Sea World, the site of the fateful roller-coaster ride
After years of trying maple-syrup cleanses, all-meat fad diets, and every diet pill in the pharmacy,
she was ready to lose the weight for good
. No more quick fixes or searches for an instant cure.
This is it,
she told herself.
It has to be the right way. Nothing ever worked before because I didn't do it the right way.
"How to live a healthy life," she typed into her browser; she was not going to look into diets.
SparkPeople.com
popped up in her search results and she joined immediately. She got started on her new life and never looked back.
Read More ›
The Spark Solution,
the new book from the experts and members at SparkPeople.com, is now available! To celebrate the launch, we are hosting an exclusive one-time "Spark Solution Challenge" on the site!
From May 13-27, everyone who has purchased
The Spark Solution
is invited to go through the comprehensive two-week program TOGETHER for added motivation and enthusiasm.
The book's authors and contributors will be offering additional support and tips ONLY in the exclusive, official
Spark Solution
team during the challenge. Don't have your copy yet? It's now available
in stores and online
– hurry to get your copy before
May 13
!
Each day will have its own thread in the team, with additional motivational resources, more tips to make meal planning and workouts a breeze, and--the best part--support from those who are going through the program right alongside you. We will also send "reminder" SparkMails throughout the two weeks to help you stay motivated.
Who's ready to get started?
Read More ›
Today is a pretty big day here at SparkPeople. Our new book,
The Spark Solution: A Comprehensive Two-Week Diet Program to Fast Track Weight Loss and Total Body Health,
is officially available. WooHoo!
This isn't our first book, but this is a major first for us: For the first time ever, we have published the very best advice, tips and tricks from our "Success Stories"--more than 100 members who've lost weight and kept it off using SparkPeople.com to accomplish their goals. These members know that how you start to lose weight is the most important indicator of long-term weight loss. They shared their struggles and successes so that you can learn from their experiences and remove the guesswork from weight loss.
To celebrate the release of
The Spark Solution
in stores,
we're giving the first 1,000 people who buy the book in a store a special BONUS gift.
Why are we asking you to buy in a store?
We think this book has serious potential to change lives, but to do that we are asking for your help to reach the best-sellers list. When people buy our book in a store, we have a better chance of getting on the best-sellers list, and impacting even more people!
Read More ›
As you've likely seen and heard by now,
SparkPeople wrote another book--and it comes out next week, May 7!
We are pretty excited about it, but don't take our word for it – read what some long-time SparkPeople members who received advance copies are saying about
The Spark Solution
.
"This isn't a diet like other diets. It doesn't promise to shed pounds with little effort, or 'burn fat' more than others. It's about
teaching you to make healthy choices for life.
Teaching you to think about what you're putting in your body, and eat for energy. It's about mindfulness. This is a handholding introduction to healthy living, and after you finish the (two week) plan, it arms you with the tools and resources to keep moving forward." --
DRAGONCHILDE,
My new secret weapon!
"After reading the material my first initial reaction was two thumbs up. Bravo! I would consider this new book to be
more of a survival guide rather than 'just another diet book.'
If you are just starting out or trying to get your Spark back after a downturn in your journey, this book is for you! I highly recommend this book to anyone who is looking to build or rebuild a solid foundation for their journey that will carry them through." --
ON2VICTORY,
My Review of The Spark Solution
"I love this book. It's life changing. It should be shouted from the mountaintops! In the first 2 weeks I lost 4 pounds! I love how the book talks in language we can relate to. It is like the authors are sitting right there with you, speaking directly to YOU." –
NIGHTSKYSTAR,
Review of The Spark Solution!
"I would recommend this book to anyone trying to lose weight. I'm a big fan of baby steps and changing your lifestyle. After all, that's what helped me lose over 200 pounds.
My very favorite aspect of this book is its ability to list real simple changes, recipes, and workouts that a real person can do. It isn't about having that one last big meal, becoming perfect and getting on the wagon to cook and workout for hours on end. It's about
taking healthy choices and making them a part of your life
."
~INDYGIRL,
"The Spark Solution..." Book Review
"This is very good stuff to know, whether you need to lose weight or not. Living healthy is for everyone! It is a book that
anyone can follow and get results
with, but especially if you are just beginning the program, or if you need a shake-up because you are on a plateau." –
CASSIOEPIA,
THE SPARK SOLUTION
Read more member reviews of The Spark Solution.
Read More ›
One of my favorite parts about writing a book for SparkPeople is the recipe photo shoots. Those days start early and end late, with nary a moment to rest, but it's some of the best fun I've ever had while "working."
Today I want to take you behind the scenes of the photo session we did for
The Spark Solution: A Complete Two-Week Program to Fast-Track Weight Loss and Total Body Health
.
(Available for pre-order now!)
Talking to the team before the day got started. It was already hot under the lights!
The book contains 70 recipes, all created by Chef Meg, plus additional tips and swaps to vary those recipes based on what's in season and your personal preferences. And all the photos are in full color! The inspiration for the recipes, which we call "Spark Swaps" is the standard American diet--and all the comfort foods we love to eat. Ours are lower in calories and fat, and quite low in sugar and sodium. All of the meals were designed to fit into a 1,500-calorie meal plan, with no more than 2,300 mg sodium a day.
A delicious quesadilla in the making, with a delicious pesto in the background. We measured all the ingredients that went into every recipe to make sure they were true to the serving size.
Peek behind the scenes of the recipe photo shoot
!
Read More ›
At SparkPeople, it's really hard to keep a secret. Our news is usually so good that we want to share it with you, our members, as soon as possible. But this secret is
BIG and finally the time has come for me to share the news with you!SparkPeople wrote another book!
The Spark Solution
is a two-week diet program to jump-start weight loss and total body health. The idea behind it is simple: Why waste time experimenting with weight-loss tactics that don't work? With
The Spark Solution
, you could spend the next two weeks jump-starting your weight loss and setting yourself up for long-term success. Whether you want to
lose 10, 50, or 100 pounds
, this book will set you up for a lifetime of healthy living by helping change the way you think about weight loss and setting goals that you'll stick with.
With The Spark Solution, you'll get:
A three-part plan to make over your mindset and optimize your metabolism while building momentum that will allow you to reach your weight-loss goals

14 days of 1,500-calorie eating plans, with three easy, delicious meals a day plus two snacks--packed with foods that will keep you satisfied while helping you burn calories

A program based on research into what worked for our most successful members--and what didn't work for those who gave up early on

A custom workout plan from Coach Nicole that helps you maximize your efforts--without spending hours in the gym

Dozens of delicious and filling ALL-NEW SparkSwaps recipes (created by Chef Meg) that are ready in 30 minutes or less

Daily motivation to keep your enthusiasm high, tips from people who've lost weight and kept it off, plus the latest research in nutrition and goal setting distilled into simple actions that will help you reconsider how you think about healthy living
And
it's from the SparkPeople experts you know and trust. The book was written by our head dietitian
Becky Hand
and editorial director
Stepfanie Romine
, but it was really a team effort. I wrote the introduction.
Coach Nicole
developed the workout plan.
Chef Meg
created the recipes.
Coach Dean
contributed to the motivation section. And all of
you
contributed in some way. We surveyed our most successful members to find out what worked and what didn't--and that became the basis of the program our experts created for the book. You
are
"The Spark Solution"!
The Spark Solution
will be releasing on May 7 in both hardcover and e-book versions, but you can get
over $45 in FREE gifts (including 500 SparkPoints) by pre-ordering your copy today!
Read More ›