All Entries For
superfoods
In honor of Heart Awareness Month, I've gathered up recipes that have the ultimate superfood: chia seeds. Chia seeds are a great source of heart-healthy omega-3 fatty acids and proteins. If you have not heard of chia seeds, read "
What Can You Do with Chia Seeds? Plenty!
" for more information. Don't let giggles and jokes about the kitschy Chia Pet commercials dissuade you. I add chia to almost all recipes these days. I love that it's gluten and alergy-free. Try these chia recipes today.
Read More ›
My current go-to green vegetable is kale, which has nutritional value and health benefits that are off-the-charts. Whether I'm throwing it in my smoothie or steaming it as a recipe addition, I do my best to eat it every day.
The next time you are at the supermarket grab a bunch of kale and start cooking these recipes that you'll actually eat and taste great.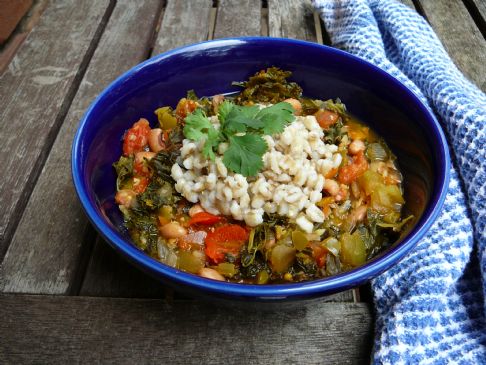 Kale Stew

Enchilada Casserole with Kale and Sweet Potatoes
Read More ›
There's no more perfect time of year than right now to start cooking with blueberries. This Native American gem is flavorful and loaded with outstanding nutrients, antioxidants, fiber, and vitamins.
A recent study from a Harvard School of Public Health found
that eating three or more servings per week can reduce a woman's risk of heart attack by as much as 33%. Research is also finding that eating blueberries helps with
mental wellness
and can improve your memory too. Even when they're not in season, I keep them in my freezer and pop them into my hot cereal or right into the Vitamix blender for smoothies. The next time you are at the market, grab a basket of blueberries and enjoy how these recipes will help you become a healthier and happier you.
Read More ›
More than likely, you have heard the health claims about green tea. Perhaps you have seen products containing green tea extracts on store shelves and read the claims of antioxidant benefit. You may also have read reports that
green tea makers are in hot water with the FDA
for making "unsubstantiated nutrition claims."
With so many things flying around, it can be difficult to decipher fact from fiction. Here is some basic information we hope will help you decide where green tea fits in your
healthy beverage
options.
Read More ›