All Entries For
strength training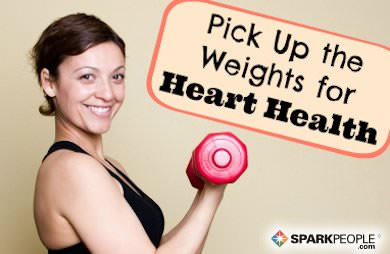 Do you shy away from free weights at the gym? Thankfully, there are a slew of other ways to build your muscles that don't require a pricey membership or bulky equipment. Besides the benefits of toning your body, resistance workouts help improve blood pressure and lower your diabetes risk. Strength training can also give you an instant mood boost and help fight depression, much like a brisk walk or jog around the block does. Here are easy moves you can do at home and on the go.
Read More ›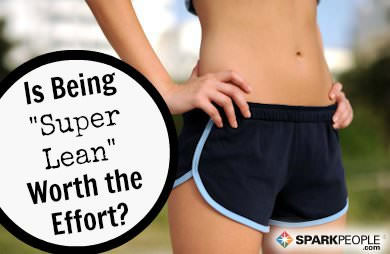 Say what?! Is being really lean really worth it? This probably sounds like a crazy question coming from a trainer who helps clients reach their fat-loss and physique goals.
Before we get started, let me say that I realize this is a very ambiguous question. ''Really lean'' is relative, and I will tell you up front that I don't have an answer for you. Only
you
have that answer for
you
. This blog post is simply intended to help you realize a few things:
1. Everybody is different.
2. Some of us can maintain leaner physiques than others.
3. Going
beyond a healthy level of leanness
for YOU is a stressor.
4. It's not normal, and it may not even be healthy, to walk around shredded all the time.
5. How lean do you want to be, and will you sacrifice what it takes to get there?
Let's explore each of these.
Read More ›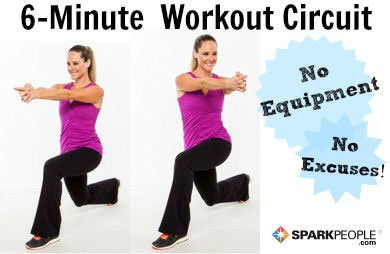 Hey, we're all busy. But that's no reason to let your workouts get away from you. Next time you feel like skimping on exercise to watch TV or meet your friends for Happy Hour remember this: It doesn't take much to get a great workout.
That's why I designed this excuse-proof workout. You can do this simple, 6-minute circuit anytime (it's whisper quiet), anywhere (no gym required) and without any equipment. All that and it'll sculpt your body from head to toe, too.
Read More ›
There's no need for special equipment for a great workout! A good old beach towel can be just as effective at working your muscles as dumbbells, resistance bands or expensive machines. Want proof? Meet "The Towel Workout."
All of these moves can be done with just a towel, which is great because you'll probably need it to wipe up your sweat after you are done.
Read More ›
Just like fashion trends come and go, same can be said about workout trends. Hundreds of years ago Russian bodybuilders were using cannonball-like equipment for strength training. Little did they know then that their workouts would be turned into classes in gyms across the globe 300 years later. The reason
kettlebell workouts
are so popular is they provide strength training, cardio, balance and flexibility all in one short workout.
In the January 2011 issue of
Fitness magazine
, John Porcari, PhD, an exercise researcher at the University of Wisconsin-La Crosse, stated that "an intense 20-minute workout with kettlebells burned on average, an astonishing 400 calories, or 20 calories a minute."
Read More ›
For some people, safety and form during a workout is a huge priority. For others, it's an afterthought. If you work out without the careful eyes of a trainer or instructor watching your every move, it can be difficult to know if you are exercising with proper form—even when you're really trying to.
Learning how to move with correct alignment isn't just about looking good; it can mean the difference between muscle activation and joint strain—or even injury.
Here are five exercises that are common—and may even seem simple—but are most often performed incorrectly by people of all fitness levels.
Read More ›
If you haven't been in a gym recently you may be surprised to see trainers and fitness enthusiasts incorporating many new gadgets into their workout routines to help keep their training fresh and challenging. Having covered kettlebells, BOSU trainers and Body Bar workouts in previous Fitness Round-up blogs, now seemed an opportune time to introduce the TRX Suspension System.
Read More ›
A few weeks ago I was reading through the message boards when I came across a post from Chris 'SparkGuy' Downie to a member who was asking about what type of strength training activities he could do without access to a gym or weight training equipment. Chris did not let that deter him from offering some great recommendations of performing body-weight exercises--exercises such as push-ups and squats which can be done at home or when traveling when access to resistant training equipment is not at your disposal.
This gave me the idea to link examples of body-weight exercises for you to refer to as the busy holiday travel season rolls around. Hopefully you will can take this with you when traveling and access to weights or machines is not an option.
Read More ›
Your One Rep Max is the highest possible weight you can lift for exactly one repetition. You can use the One Rep Max as a benchmark to measure strength gains over time. However, keep in mind that this metric is typically used on very specific, more advanced lifts like bench press and back squat, so you wouldn't use this metric on, say, a bicep curl or a calf raise.
Some advanced athletes find their 1 RM by progressively bumping up their resistance until they fail the lift on the second repetition of a set. However, this method is risky and should be done with additional supervision. So how does a beginning lifter determine his or her One Rep Max?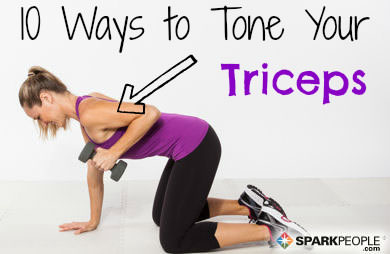 Spring is around the corner, which means you'll be bringing your short sleeved and sleeveless tops out of storage in no time. Speaking of baring your arms: Are yours in tip-top shape? If not, you could help build strength and muscle tone in the most common problem area of the arms—the triceps—by adding some additional triceps exercises to your workout plan.
Read More ›
When you work out
smarter
, you don't necessarily have to exercise longer or harder in order to get results. "Lack of time" is the most common reason
why people don't exercise
, but is that really a good excuse? Truth is: You don't really need a lot of time to get a great workout. Short bouts of exercise—when done right—can give just as much benefit as longer workouts. Don't believe me? Try these 5 moves for just one minute each for a 5-minute workout that has full-body benefits!
Read More ›
Should children and adolescents strength train? For years, many said "no", believing that it could damage a child's growth plates, thereby stunting their growth. The risks of injury seemed to outweigh any benefit that strength training could provide. But there is growing evidence that strength training is very beneficial for children and could be an important part of their exercise routine.
Read More ›
Americans watch, on average, almost five hours of television per day, according to the Nielsen Corporation. Actual programming only accounts for 42 minutes of every hour, meaning that as part of our time in front of the tube, we see nearly 90 minutes of advertisements. In addition to being exposed to ads for things we don't need or want--like double bacon cheeseburgers and soda--it's taking time away from the shows we tuned in to see.
You've probably heard the tip to fit in a workout during commercial breaks, but what should you do? It can be hard to spontaneously decide which exercises to do, so we decided to take the guesswork out of it. We created a workout game of sorts that you can use when you're watching TV. Each time you see one of the commercials listed below, do the exercise that corresponds to it.
If you already work out while watching TV, consider shaking up your routine by jumping off the elliptical or recumbent bike during commercials and fitting in some strength training.
Enjoy!
Read More ›
Although I've always been physically active, I've had to force myself to focus more on strength training over the past few years. My preference has always been cardio exercise (just because that's what I like to do), but trying to keep up with my kids and carrying little ones around all day made me realize I needed to get stronger. My youngest is now 10 months old and weighs over 20 pounds. She's not walking yet, so I still carry her on my hip for a lot of the day. Since I don't have lots of free time to head to the gym for long workouts, I've had to create my own programs that are time-efficient but still challenging.
My favorite workouts involve compound exercises, which combine two movements into a single exercise. There are a number of benefits to these types of exercises: they more closely mimic real- life movements since you rarely use muscles in isolation as you go about your day. They also save a lot of time since you're getting two exercises done at once.
Here are 5 of my favorite exercises that target the muscles I'm using all day long, as I put one of my children down and pick up another:
Read More ›
During the last few years,
ultra-intense workouts
have been gaining popularity—and not just among athletes or hardcore exercisers who are gluttons for self-punishment. Even the relatively unfit and overweight are jumping at the chance to push their bodies to their limits. Why? Some consider it fun. Others feel that is the best (or only) way to really get in shape. Whatever the reason, intense workout programs are attracting a wide variety of participants who have a variety of different goals (whether strength, speed, power, health, muscle tone, weight loss, or looking better naked).
By now you've probably heard of CrossFit (the "sport of fitness") or know someone who has tried it. I stumbled upon
CrossFit videos on YouTube
a few years ago and was immediately intrigued. I would spend hours a night watching people work out competitively and was in awe of their strength and capabilities—not to mention their physiques! I've learned a good deal about CrossFit since then, through my husband and sister-in-law (both of whom are certified CrossFit trainers), friends who do the workouts, and my own research and reading.
As a certified fitness professional with a traditional background (and without any firsthand experience in an actual CrossFit gym), I can certainly tell you that CrossFit is unlike most other workouts and workout programs out there. It strives to be the total fitness package—to help people achieve optimal health and fitness across all measures of strength, agility, speed, power and endurance. (
Read CrossFit's full description here
.) It combines Olympic powerlifting + gymnastics + plyometrics + speed work + weights + time + competition in a way that continuously challenges one's body in new ways. And although it has a reputation of being intense (which it certainly is, no doubt about it), proponents also claim that it's completely "scalable" to every individual's fitness level.
Sounds great, right? Well, could it be too good to be true?
Read More ›
‹ Back
|
Read More Entries ›