All Entries For
sparkpeople
Every December, we editors here at SparkPeople love digging through all of our content from the past year to see what our readers (you!) liked the most. It is so fun and rewarding to look back on what we've done throughout the year, and compiling this annual list helps give us a better idea of the exact kinds of topics you want to see on our site—which helps us create more high-quality and relevant content for you!
2013 was a year of healthy snacks, fun workouts, controversial health topics, and more. Check out these top 15 headlines of the year to see if there's anything you might have missed (starting with number 1). Happy reading, and here's to even better headlines in 2014!
Read More ›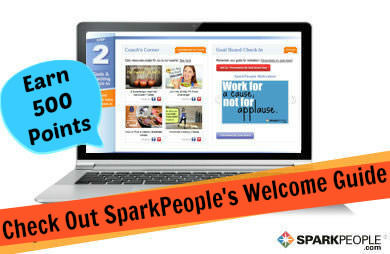 Good morning, SparkFriends!
This morning we launched a brand new
Welcome Guide
on your SparkPeople
Start page
today. You'll find it just below the section for Step 1 on your Start page. Check out the screen shot below to see where it is.
Read More ›
People who keep a detailed food diary (like the
SparkPeople Nutrition Tracker
)
lose twice as much weight
as people who don't track what they eat. Are you using your Nutrition Tracker every day? Are you recording everything you eat and drink? Are you measuring your portions for accuracy? If you've gotten stuck on your weight-loss journey, this is the best place to start looking for small changes you can make to your eating habits.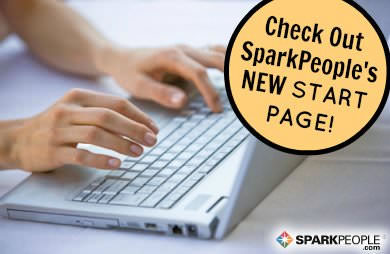 Update 10/21/13 9:55 a.m.: SparkPeople's new Start page is now live! Read below for details and a video showing you how to use your new page. Thanks!
Good morning, everyone!
Today we are very excited to announce the launch of a big enhancement to your SparkPeople experience. We know, we know: Change is often viewed as a dirty word. It's something people don't always like, especially from a website that you are used to using a certain way. But this change has been
many
months in the making and has even been tested and approved by a group of SparkPeople members who got a sneak-peek! We wanted to get it just right—and we are confident that YOU are going to love what you see, too!
Read More ›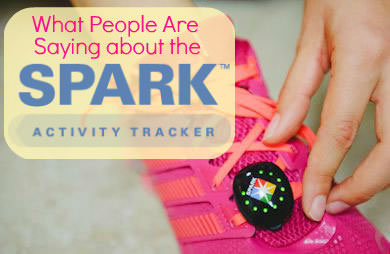 Everyone in the SparkPeople office has been wearing and using the
Spark Activity Tracker
during the beta testing phase so we were very excited for it to finally release on October 1. While we love its small size, fun light-up display and ease of use, we were anxious to hear what SparkPeople members would think about this tiny tool that tracks steps, miles and fitness minutes (and automatically syncs the data with your SparkPeople Fitness Tracker). We're finding new reviews from members daily, and we're delighted to see how much they're enjoying the Spark! (Learn more about exactly what the
Spark Activity Tracker
can do for you.)
Read More ›
When Judi Zucker's son, Tanner, turned 14, he started getting daily headaches, rashes and acne breakouts. At first she chalked it up to puberty. But then the Santa Barbara–based writer was asked to pen a cookbook for people with food allergies and it occurred to her to have Tanner tested. Sure enough, blood work revealed that he was "off-the-charts" allergic to casein (a milk protein) and gluten. And he's not alone. These days, it seems like we're in the midst of an epidemic of food allergies. According to the Centers for Disease Control and Prevention, their prevalence among kids under 18 rose 50% between 1997 and 2011. While some food allergies (which usually emerge in childhood) can be outgrown, others are lifelong and require permanent dietary shifts. "Within 24 hours of going gluten- and casein-free, Tanner had no more headaches, and gradually his skin cleared up," says Zucker, 52, who went on to co-author
The Ultimate Allergy-Free Snack Cookbook
.
Read More ›
UPDATE 8/13/13 5:00 p.m.:
The live online hangout we first announced is now complete but you can access the video anytime by clicking the link above. We have also embedded a recorded video of this event in the blog post below. Questions discussed and answered by Coach Nicole and the panel of fitness experts included:

- Is Crossfit safe for the average person?
- What should you eat before a long run or race?
- Is water the best way to hydrate during a workout?
- What is best for weight loss: intermittent fasting or eating more frequent meals?
- Is long endurance exercise better for weight loss than shorter, high intensity exercise?
- Why is cross-training important and how should I do it?
- And so much more!
Read More ›
Are you looking for a new way to stay motivated and connect with SparkPeople? You're in luck!
We're now on Instagram
, the photo and video sharing app! We love how easy Instagram is to use and that it allows us to share fun, healthy tidbits from behind the scenes at SparkPeople every day. While we do love writing about healthy living, it's true that a picture is worth a thousand words. Here's proof:
Come find us on Instagram (and read the stories behind the photos).
Tag your photos #sparkpeople to give us permission to repost them
, and start following us to get the inside scoop on healthy living. Recently, we've shared pics showing how SparkPeople's experts stay fit (while having fun), snapshots into what really goes on at our offices, and our favorite words of wisdom.
Please
share your Instagram username in the comments below
, or follow us and we'll follow you back. Help us spread the word that #healthyliving is all about living! (Don't forget to give us a shoutout and use the hashtag #sparkpeople!)
If you don't have an Instagram account, take a sneak peek at
our feed here
.
Are you on Instagram? What types of photos would you like us to share?
Read More ›
Ditch and Switch
You've found an exercise plan that works for you (no small feat!), so why change it? Over time, your body adapts to the same routine, decreasing your calorie burn as your muscles get better at doing those same moves over and over. Instead of plateauing, try these simple upgrades to kick things up a notch—and keep getting results.
Read More ›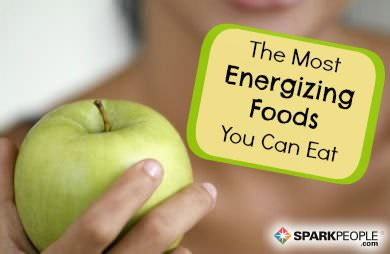 Want to know what's really zapping your zip? Don't blame your bed—or the lack of time you spend sleeping in it. The real problem may be sitting on your plate. Find out the surprising reasons behind your energy crisis and take steps to fill your tank.
Energy Buster: Sugar Substitutes
Since you can't digest them, low-calorie sugar alcohols—including mannitol, sorbitol and xylitol—can cause stomach distress like bloating and gas, which are major energy drainers.
Read More ›
You might have noticed that something's different on your favorite healthy living blog this morning. As of today, the DailySpark is now The SparkPeople Blog. You'll get the same everyday tips on healthy living from the same SparkPeople's experts. It's just in a new place, with a slightly different, easier-to-remember name. And, yes, you'll still get your SparkPoints for reading.
The SparkPeople Blog now lives on SparkPeople.com, rather than on a separate website. Not to worry--you will still be able to find all your favorite DailySpark blog posts both via the SparkPeople Blog and any favorites you might have saved. And you'll continue to see SparkPeople Blog posts in our daily emails and elsewhere across the site.
Read More ›
Read More ›
My one-year "Sparkversary" of working at
SparkPeople
came and went in January, and I've been reflecting on all the amazing things I've gotten a chance to do over the past 12 months. Between writing, editing and managing content on the site, I also got to go on a whirlwind adventure to California to help direct and film a batch of videos for
SparkCoach,
our premium interactive coaching program. But I wasn't in this alone—I also had the pleasure of working with
SparkGuy
himself and SparkPeople member Shelli (
MOSTMOM1
). (You might remember Shelli's "
SparkPeople Cup
'' and "
Hooping Gangnam Style
'' vlogs—needless to say, this woman is FUN to work with; we had a blast! You can read her account of our trip
here
.)
Read More ›
As SparkPeople's editor, the best part of my job is coming up with great story ideas for our members. Health education is my background (and my passion), so being able to distill often complex topics into digestible—and actionable—pieces to help you reach your goals gives me a lot of joy. I work with an amazingly talented team of experts and freelancers (think certified trainers, behavioral psychologists and dietitians) who really know their stuff and can help bring these topics to you week after week.
I recently looked back at the top-performing headlines from SparkPeople in 2012. These are new stories that YOU read most. Take a look these 15 features for some of the best tips and ideas that you may have missed over the past year (starting with number 1). Enjoy!
Read More ›
Meet Chris Kramer, a SparkPeople.com member (username ChrisKenandkids) who lost 73 pounds! Here's how she did it. Plus, find out how she fuels up for her favorite sport: tae kwon do.

How old are you? 43

How long have you been a SparkPeople member? Since September 2009, but really active since January 2011.

How did you find SparkPeople? My sister found the site and became a member. She suggested I check it out. I was doing Weight Watchers at the time I signed up and wasn't ready to make the change until 2011.

What is your favorite feature on SparkPeople? I love SparkRecipes, and I like meeting other members through the SparkPeople Community.

How much weight have you lost? I've lost 42 pounds since becoming serious about weight loss in 2011, and I'm 73 pounds down from my heaviest weight (233 lbs).

How long did it take to lose the weight? It took seven months for me to lose 42 pounds on SparkPeople. Read More ›
Read More Entries ›