All Entries For
slow cookers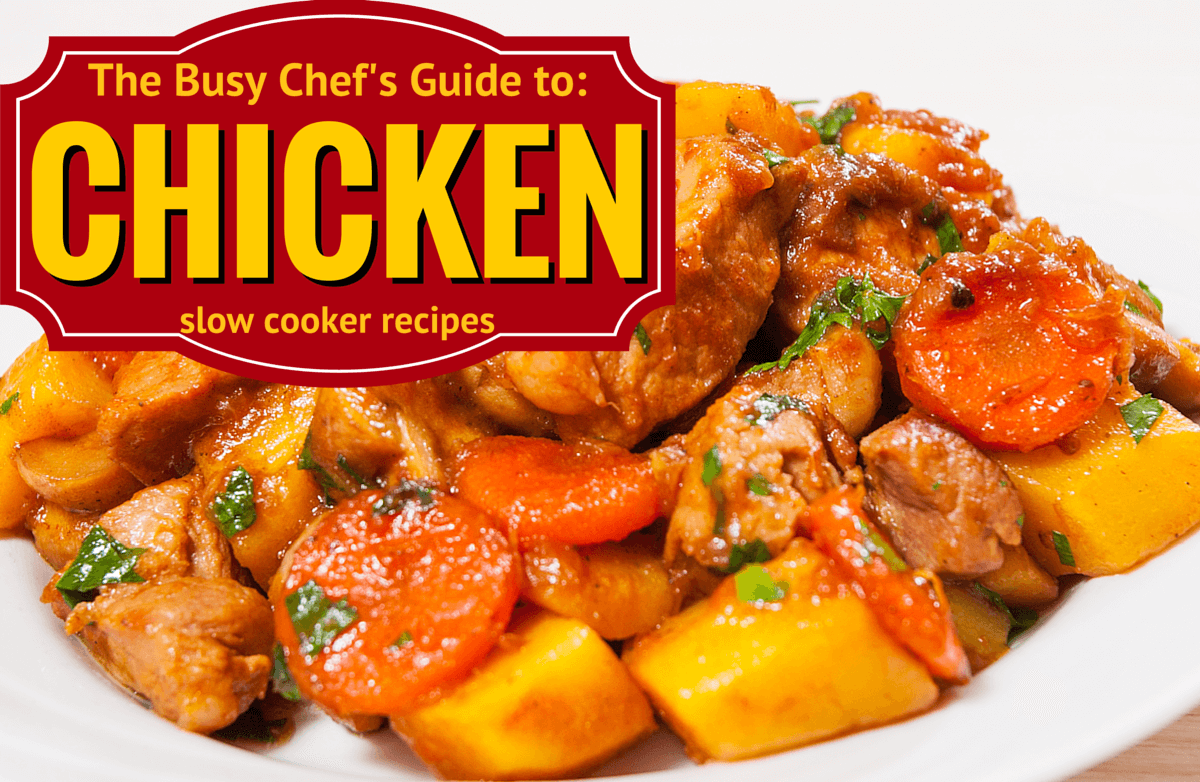 Whether it's the holiday season sneaking around the corner, summer activities, school functions or the busy time at work, schedules have a way of becoming a carefully balanced juggling act. As a result, getting a healthy dinner on the table often takes a back seat to social events, the kids' extracurricular activities, shopping or baking. With the help of a trusty slow cooker and a long list of recipes, though, healthy meals can still be incorporated into your evening plans in almost no time and with very little effort. Slow cooker recipes require only a few minutes of your attention—just prep, go about your day and come home to a finished, nutritious meal.

Salsa Chicken
Dice a few veggies, pop open some salsa and tomatoes and you've got a meal your family will love.
178 Calories, 4g Fat, 27g Protein



Marinara Chicken & Vegetables
Throw your ingredients together in the slow cooker first thing in the morning. A hearty, healthy dinner will be waiting when you get home!
177 Calories, 4g Fat, 27g ProteinCreamy Italian Chicken
With its creamy base and just a touch of zesty flavor, this chicken dish is one your family will request by name.
385 Calories, 13g Fat, 41g ProteinSpanish Chicken
Don't think you can create a gourmet meal in a slow cooker? This roasted pepper and almond recipe begs to differ.
322 Calories, 6g Fat, 31g Protein


Buffalo Chicken
Not only is this four-ingredient chicken lighter than traditional Buffalo wings, it's also more versatile.
115 Calories, 5g Fat, 16g ProteinChicken Tortilla Soup
This flavorful soup will make you rethink how you enjoy Taco Tuesday.
89 Calories, 2g Fat, 8g ProteinChicken Stew
This hearty stew is brimming with both flavor and veggies.
203 Calories, 4g Fat, 21g ProteinOrange Chicken
The ingredients might not sound like they go together--orange marmalade, soy sauce and barbecue sauce--but trust us, you're going to flip for this unique mix of flavors.
318 Calories, 5g Fat, 46g ProteinChicken & Veggie Mac & Cheese
This recipe contains cheesy goodness for the kids and veggies in every bite for you.
464 Calories, 15g Fat, 26g ProteinRotisserie Chicken
Supermarket rotisserie chickens are a busy cook's best friend. When you have time to plan ahead, make your own—right in your slow cooker!
278 Calories, 12g Fat, 42g ProteinHoney Mustard Chicken
A homemade honey mustard sauce takes this tender chicken recipe to the next level of deliciousness.
200 Calories, 5g Fat, 25g ProteinBourbon Street Chicken
If the idea of shredded dark meat in a sweet sauce isn't enough to convince you to make this, will the fact that the recipe has been shared more than 136,000 times help?
168 Calories, 4g Fat, 20g Protein
Click here
for more healthy slow cooker chicken ideas.
How often do you use your slow cooker? What healthy slow cooker chicken recipes will you be trying?
Read More ›
Remember how we announced
the best slow cooker recipe in America
earlier this month? Well, now we're sharing more than 25 of the best slow cooker recipes, in a
FREE, downloadable, printable cookbook
!
Get the 1
5 slow cooker recipes that were finalists
in the $10,000 Split-the-Pot Slow Cooker Recipe Contest, plus
more than a dozen of our favorites from the cooks at SparkRecipes.com
! We have full-color photos to accompany each recipe, and--for your tracking convenience--you can click on the title of any recipe to view it on SparkRecipes.com and add it to your SparkPeople Nutrition Tracker. (You can also click on any recipe title from the table of contents to go directly to that recipe.)
You'll get NEW recipes like:
Best Buffalo Chicken Chili (the winning recipe!)
Creamy Tri-Mushroom Soup
Creamy Chicken Enchilada Stew
Alaskan Hunter Stew
PLUS old favorites, such as:
Slow-Cooker Salsa Chicken
Slow Cooker Lasagna
Slow Cooker BBQ Pulled Pork Roast
Click the image below to go to the cookbook!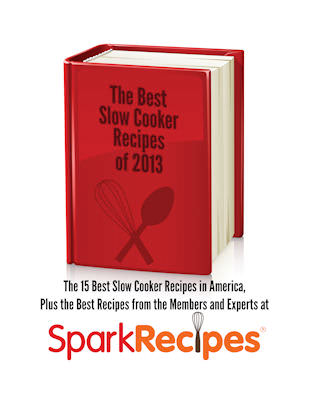 What is your favorite slow cooker recipe?
Read More ›
As you might know, we recently hosted a $10,000 Split-the-Pot Slow Cooker Recipe Contest to celebrate the relaunch of SparkRecipes.com and do our part to help alleviate hunger. We know how much our members love how easy it is to make healthy recipes using a slow cooker, and we wanted to highlight some of YOUR best recipes, so we devised a contest that would allow us to thank you for helping SparkPeople grow into the largest healthy living community in America, while also giving back to those in need.
After weeks of popular voting, we selected 15 finalists, then taste-tested their creations at SP HQ, judging the recipes on taste, appearance, overall healthfulness, and ease of preparation. Today we're thrilled to announce
the #1 slow cooker recipe in America
is: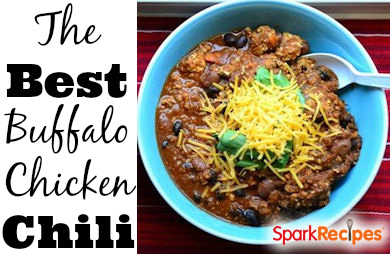 It was a hit among our taste-testers:
"I'd definitely make this recipe for my next get-together. It had just enough kick for me, but some people might like to add a little extra hot sauce. It's great to eat as a soup, but you could also serve it as a dip with chips. Yum!"

"This was truly an easy recipe to make. I was amazed how many produce servings made it in there, and being ground up, the chicken really gave the chili a great consistency and taste."
The recipe's creator, Beth "Biz" Velatini, of Cary, Illinois, will win $10,000: $5,000 for her and $5,000 for her favorite hunger-relief charity,
Common Threads
. (The other 14 finalists will receive a $100 Amazon gift card.)
Founded by chef Art Smith, who was Oprah's personal chef, and artist Jesus Salgueiro, the nonprofit has been teaching children in underserved communities how to cook healthy, affordable meals during after-school programs for the last decade. Though it started in Chicago, Common Threads is focused on a nationwide effort to get one million kids cooking in the next five years.
Beth, who has a food blog called My Bizzy Kitchen, says she has used SparkPeople to help her manage her diabetes and lose weight. She's thrilled to be helping a program she believes in, and the prize money is much appreciated--she works two jobs to make ends meet, and her husband has been unemployed and dealing with health issues.
Read More ›
Using a slow cooker is like magic: pour in the ingredients, set the heat level, and then shift focus to your to do list, all the while your slow cooker does the heavy lifting. Chicken is one of my favorite ingredients to use in a slow cooker, since it's a flavorful source of lean protein and it requires little effort to cook. These are some of SparkPeople's favorite slow cooker chicken recipes.

Slow Cooker Marinara Chicken and Vegetables (Chef Meg's Makeover)
Read More ›
Welcome in the new year with these winter slow cooker soup recipes. As a busy mother, wife and writer, I have to plan ahead if I'm going to achieve my health goals. When I utilize my slow cooker, I'm able to quickly and easily prepare family meals. These hearty soup recipes will warm you on a cold night and support you nutritionally too. Begin 2013 on a strong note with these soup recipes.
Read More ›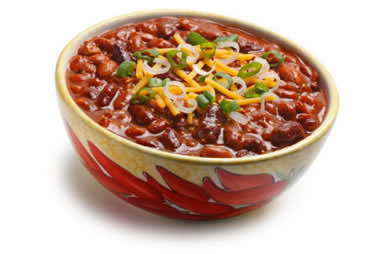 School started last week, the family calendar is filling up, and it's already getting hard to prepare healthy dinners each night. One strategy I turn to when the going gets tough is to pull out the slow cooker. Each morning I throw in healthy ingredients and by dinner time there's a delicious homemade meal that the whole family loves. I often double the recipe so that we have leftovers and hot lunches for the whole week. Call on the convenience of your slow cooker and enjoy these
SparkRecipes
.
Slow Cooker Pork with Greens and Beans
Slow Cooker Provencal Chicken and Beans
Slow Cooker Vegetable Curry
Read More ›
Who can pass up a moist and tender barbecue sandwich, pulled chicken simmered in a slow cooker until it's falling apart, or, my favorite,
Kentucky Burgoo
, with several tender cuts in one bowl.
These recipes, while quite different in ingredients, are all ideal for the slow cooker, and they yield the same fork-tender, falling-apart meat. What's the secret?
What do all three of these recipes have in common? What's the common thread?
Let's shift from the art of cooking to the science for a moment. That common thread is collagen, the connective tissue in meat.
We all know that meat is basically bundles of muscle cells, with fibers embedded within that allow the animal to move. Connective tissue connects cells and tissues within the meat, like support hose or an athletic bandage. As you move, the fabric stretches and moves with you, supporting your movement. As the animals grow the muscle bulks up and the connective tissue toughens, offering more support.
Read More ›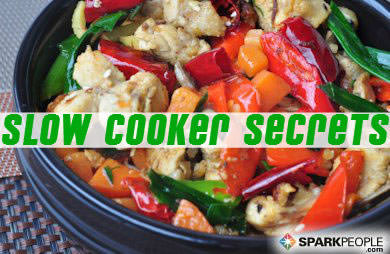 You have just had a long hard day at work or school and thoughts of what to make for dinner overwhelm your brain. Suddenly you remember: "I put a stew in the slow cooker this morning. WooHoo!" As you enter your kitchen, you can smell the savory delight and hear the bubbling sound of juices. Dinner is ready.
To be a good
slow cooker
you first need to understand the equipment and just how that crock traps all the flavors and creates an amazing stew, soup, or even dessert. The crock pot simmers food for an extended period of time. Depending on the recipe, the dish may be ready in 4 hours or 10. Most slow cookers have three temperature settings: low, high, or keep warm. On average, most cookers run at 180 degrees F for low and 250 degrees F for high. A word of caution: Several studies have found that these numbers can vary as much as 40 degrees either way. Just remember that even if you're in a rush, you need to check the internal temperature of the food to ensure that the proteins are cooked to proper temperatures. Dark meat poultry should be cooked to 180 degrees, white meat poultry to 165, beef to 160, and pork, 145 degrees.
Easy clean-up is an added bonus with slow cooking. I always spray the inner liner with non-stick pan coating. Wait until the inner liner has cooled slightly before washing; the extreme change in temperature could cause it to break. When storing your slow cooker, leave the lid ajar to avoid a "funny" smell.
Read More ›
The slow cooker is a great way to not only save time and energy in the kitchen but calories and fat, too. This versatile countertop appliance has the ability to turn tough, lean cuts of meat into juicy, fork-tender meals, and it locks in moisture without added fat. To prove that comfort food can be low in calories but high in flavor, we compiled 14 of our favorites, from potato soup to beef and mushrooms--all made in your slow cooker!
Read More ›
Nothing makes me crazier than investing money and time in a recipe only for it to fail. Even chefs aren't immune to kitchen disasters. I took upon a challenge to come up with some simple recipes for cooking grains in the slow cooker. Well, after lots of testing, reading about how other people do it and talking to my "chef" friends, I've come to the conclusion that cooking plain rice or pasta all day long in the slow cooker is not a good idea.
But if you're a slow cooker lover, don't fret. Not all hope is lost. I was able to cook brown rice in the slow cooker using a "stalling method," and I found that oats and quinoa steam nicely in the slow cooker, too.
The slow cooker provides a moist environment for cooking. It's wonderful for simmering cheaper cuts of meats that have tough connective tissue; I love it for keeping warm mashed potatoes, and its genius for making soups that are waiting for you as you walk in the door after a long day.
That cozy, warm, moist environment is exactly what made it a bad choice for cooking whole grains. Brown long grain rice after three hours was sticky and clumpy--a real mess.
Read More ›