As the trees begin to change color, I'm reminded of so many dishes I love to cook. Fall is a busy time with back-to-school, sports, and after-school activities. To maintain a healthy rhythm, I turn to soups and salads that are quick and nutritious. Start with seasonal dark green leafy veggies at your local grocer or farmer's market. Create a base of arugula, lettuce, and/or kale, and top it off with peppers, corn, beets, and cucumbers. Mix in fresh herbs like basil, cilantro, and parsley to taste. Don't forget a splash of sweetness with apples pears, figs, and grapes. You can also add protein and crunch with pumpkin seeds, sunflower seeds, nuts, fish, boiled egg, and beans. Enjoy these fabulous fall salad recipes from
SparkRecipes
.
Read More ›
Ranch dressing is one tasty topper that many dieters don't want to give up. Unfortunately, the full-fat version can pack up to 120 calories and 12 grams of fat per a measley two-tablespoon serving! Luckily, you can still have your ranch and eat it, too, even while watching your weight: many dressing manufacturers toil over making lower-fat and lower-calorie versions of this creamy sauce that still pack plenty of flavor.
Both of these
ranch dressing
options are
fat-free
, but which one is
lowest in calories
:
Hidden Valley Fat-Free Ranch
or
Kraft Fat-Free Ranch
?
Read More ›
It is H-O-T! Rather than heat up the kitchen to cook up a heavy meal, why not serve up a cool, refreshing salad for dinner instead? Our weekly menu is full of meal-size salads that are as hearty as they are healthy.
Keep reading to see the menu!
Read More ›
Spring gardens, local farms, and markets offer nature's gifts year after year, such as greens, berries, asparagus, radishes, and peas. What better choice can you make for your own health, than to dedicate a sizeable space on each plate this season to healthy and delicious salads? Have fun and get creative, trying new combinations of lettuce, vegetables, fruits, and nuts. Add lean protein to your salad and enjoy it as a main dish. Salad is a great way to get multiple servings of fruit, move away from the tempting and heavy comfort foods of winter, not to mention that salads are high in fiber, vitamins, and minerals. Here are our favorite springtime salad recipes from
SparkRecipes.com
.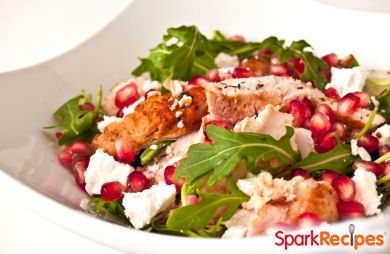 Pomegranate Chicken Salad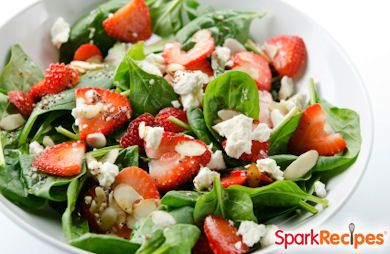 Spinach-Berry Salad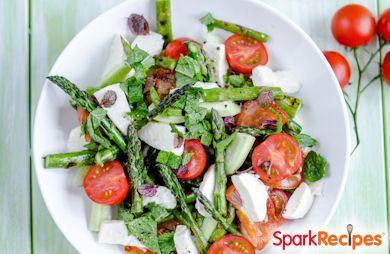 Almond Chicken Salad with Asparagus
Read More ›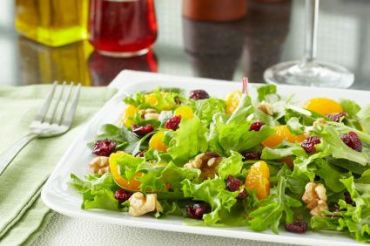 Salads are a staple of any healthy eater's diet. Chef Meg turns the season's freshest ingredients into light meals and fresh side dishes.
Read More ›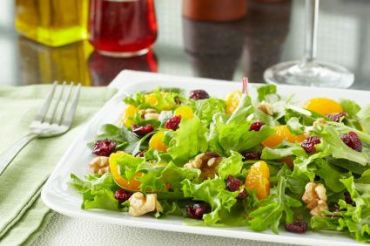 I love to accessorize, don't you? A hat, scarf or belt can make or break an outfit, just as a sauce, dressing, or marinade can make or break a dish.
Like everything else in my life, it all circles back to food--even accessories. For me, the perfect accessory for salads, cold meats, fruit plates, and even savory dishes is the dressing. It can be spicy, herbal, creamy, served hot or cold. I love them all. The trouble is that traditional recipes call for loads of fat in the form of oils or cream.
When you're cutting the fat in dressings, the trick that I have found is that the flavor has to come in with a loud punch to offset the smaller amount of oils and cream.
"Dressing" is a vague term that can be used to describe vinaigrettes, dipping sauces, marinades, and even flavored oils. Whatever you call them, they basically can be divided into two categories: vinaigrettes and creamy dressings.
Read More ›