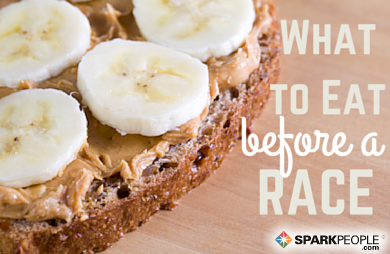 You're preparing for your race when hunger suddenly strikes, but after months of training you're worried that a meal will slow you down during the big event. Trainers and friends give conflicting advice on what to eat, but your stomach is rumbling louder than they are. Luckily, there are tasty foods that you can eat before a race that will keep you full without harming your performance. In fact, these top foods will help you to harness all of your power during the race! First, let's look at the general timeframe of your pre-run meals before getting into the specific foods.
Read More ›
Running is an incredible source of exercise and one of the best things about it is that you can compete against yourself. Whether you are participating in a 5K or a full marathon, there are races for all levels, and plenty of good causes to get you out there to run. But before you lace up and take off, make sure you are taking the time to fill your tank with proper food and hydration. Here are some ways to ensure that you are adequately fueled to finish any race with power and energy.
Read More ›
You have a race coming up—congratulations! Whether it's a 5K or a 50K, you have a lot to be proud of! To make sure your race goes off without a hitch, start here.
When it comes to race day, there are plethora of do's and don'ts to set yourself up for success. While there are a variety of expert opinions on how to approach a race, it ultimately comes down to figuring out what works for
you
—and trust me, I have had plenty of personal trials and errors from which anyone can learn. Here are some of the common nutrition and fitness mistakes even experienced runners make that can be detrimental during the race itself.
Read More ›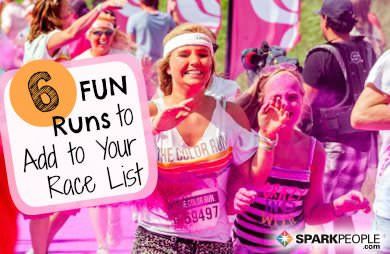 Perhaps you've considered training for a 5K, but the idea of running or walking a traditional race just isn't motivating enough to get you off the couch and out the door. These days, there are a wide variety of races to participate in, from the local run through your neighborhood to some of the more entertaining (and crazy!) runs popping up across the country. Have you ever thought about running from zombies, crawling through mud or sprinting through glowing trees and tunnels?
Fun runs like these can break up the monotony of traditional races, and can also be motivation to pick up the running habit even if you're not that into it. Here's a guide to some of the races gaining popularity as people look for fun ways to get up and moving.
Read More ›
Last summer, I surprised a few family members by asking if they wanted to form a team to do a mud run. I'm not known as adventurous—or as someone who likes to get dirty—but mud races were becoming so popular among runners (and non-runners alike) that I was ready to step out of my comfort zone and try something new. To my delight, the race was lots of fun and definitely something I'd do again in the future.
Mud runs have exploded in popularity over the past few years. One example is the Warrior Dash, which started as one run in 2009 with 2,000 participants. In 2012, 65 Warrior Dash events were held across the world, involving more than 1 million participants. Today, you have no shortage of mud-related "obstacle" races from which to choose. Each race is different, so it's important to know exactly what you're getting into before you sign up.
Read More ›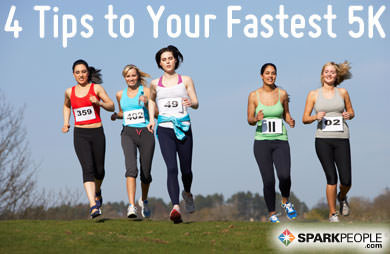 Whether you are a seasoned athlete, a stay-at-home mom, or a true weekend warrior, setting your sights on
running a 5K
is an achievable and rewarding goal. The second you sign up for a race you become an athlete. And once you start
thinking
like an athlete, your training plan and overall goal are easier to achieve.
So if you are asking the question, "How exactly does an athlete think?" let me share a little insider information with you. As a former Olympic sprinter who has been married to a professional baseball player for more than 10 years, trust me when I say "athletes think differently." We approach every training session, every meal time, and every activity with our end goal in our minds! By asking ourselves the question, "How will this help me be faster, stronger and more prepared for my competition?" it ensures that we make good choices.
Here are 4 questions that
you
should ask yourself to think like an athlete, improve your running speed and run your fastest 5K time ever.
Read More ›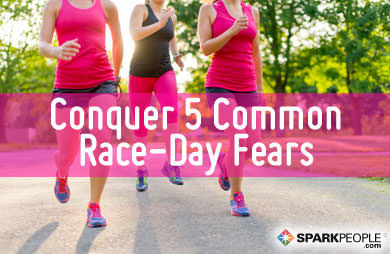 Later this month I will celebrate sixth anniversary of toeing the starting line of my
first 5K race
. Amazingly after all these years and well over 120 races under my belt, I still remember the fear I was feeling that cold March morning lining up with other runners who seemed to know exactly what they were doing. They stood behind the starting line jumping and doing some light upper body stretches as I just stood and watched, praying that I was ready to run 3.1 miles.
I spent well over
eight weeks preparing
for this event and yet I still felt I was not ready. I was secretly hoping the race would be canceled due to some weather event, which is not uncommon for Texas in spring, but that morning it was a nice sunny, crisp spring morning in downtown Dallas. As odd as it may seem, I still remember that day as if it were yesterday. I remember what I was wearing and more importantly how I was feeling--I was so nervous I don't remember if I even slept the night before.
Fast forward to today and I must admit I still get nervous from time to time when I make my way to starting line. To hear the race announcer call the runners to their mark, it's as though you can feel the tension build amongst the runners with each step.
Read More ›
On March 18th I had the honor and privilege to run the New York Road Runners New York City Half-Marathon along with 15,000 other runners from across the globe. The elite field consisted of United States Olympic hopefuls, Meb Keflezighi, Desiree Davila, Kara Goucher and Dathan Ritzenhein, in addition to some of the world's best runners including New Zealand's Kim Smith, Kenya's Caroline Rotich winner of last year's NYRR NYC Half, as well as Kenya's Peter Kirui and 2011 ING NYC Marathon winner Ethiopia's Firehiwot Dado.
It was truly one of those life defining moments to run through Central Park, down 7th Avenue, to 42nd Street and down the West Side Highway, along the Hudson River before crossing the finish line at the South Street Seaport with thousands of spectators lining the course and cheering the runners on stride for stride.
Read More ›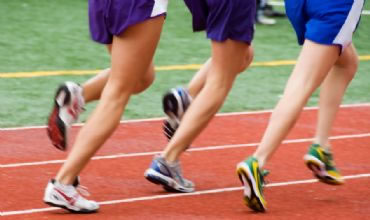 Spring is just around the corner, and that means racing season is almost here! What better way to spread the Spark than to show off some SparkPeople gear when you run in your next 5K? Check out these fun offerings from the SparkPeople Store to wear all season long!
Read More ›
As a runner you have probably have spent a grueling 8-16 weeks
training
for your race. Depending on the distance of your race, this will determine the number of weeks you needed to prepare for your event. The shorter the race the fewer number of weeks is needed to devote to your training, whereas a runner preparing to run a marathon may spend as long as 4-6 months training for his/her event.
One very common concern for
runners
, especially those who have never raced in an event or who have yet to race a particular distance, is what to do to prepare for their race the week leading up to the pinnacle of their training.
I will preface by saying, it is very common to have some nerves and doubts leading up to your big event. But as I frequently tell my runners, know that you have done all you can do to prepare for your race. Trying to cram in too many runs prior to your big day, may leave you fatigued, or worse, injured. No amount of running the week of your race will prepare you for your race. Your goal is to arrive on the starting line with the freshest legs possible. No matter how experienced a runner is, even if you have raced the distance before, it is very common to question your training during this time. You may find yourself asking, "Did I do all I could in my training to prepare for this race? Did I do enough hill work, speed work and long runs? What do I do if it rains, sleets, snows or the temperature is too hot? What if I start out too fast?" The list can go on and on.
Read More ›