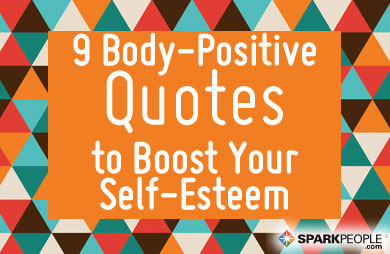 No matter how much time you put in at the gym or how thoughtfully you nourish your body, everyone suffers from body-image issues from time to time. When you need a little boost of self-esteem (and who doesn't), here are 9 of our favorite quotes and mantras. (Each quote is a separate image so, if you find one you really like, you can right click it to open in a new window and print it out.) Be sure to "Pin" this page to revisit when you need to be reminded that you're good enough as you are (right now) no matter what!
Read More ›
If you enjoy inspirational and motivational messages in your Twitter stream you probably already follow heavyweights like
@Deepak_Chopra
,
@DrWayneWDyer
and
@Oprah
. But Twitter is full of many lesser-known, but just-as-amazing thinkers, who share inspirational quotes, thoughts, questions and messages every single day. Here are the top 10 motivational Twitter streams you should be following right now:
Read More ›
Bookmark or "Pin" the graphic below so that the next time you need a little motivation, you'll have 5 great quotes handy. Find even more words of wisdom on our
Healthy Inspiration
page!
Read More ›
It may have taken her five tries and 35 years, but 64-year-old
Diana Nyad
never gave up on her goal and her dream of swimming the 103 miles of Florida Straits, from Cuba to Florida, without a shark cage.
She tried to make the swim the first time in 1978 but wasn't successful, so she moved on with her life and pursued other interests. However, after turning 60 and losing her mother, the dream came alive again, as she explains in this TED talk from October 2011.
Read More ›