When starting a weight-loss plan, most of us hope to lose body fat, specifically—not muscle mass. But when we lose weight, a large percentage of the total weight lost can be muscle. Is there any way to reduce that muscle loss?
Read More ›
For a healthy adult, eating more protein than
your recommended daily range
once a week or so won't have any major impact on your long-term health or weight loss (assuming you still eat approximately the same amount of calories for the day). Based on your food selections for that day, if you consume a larger-than-normal amount of protein you may notice:
A change in bowel habits in the next 24-48 hours (due to a lower fiber intake)
A sluggish or light-headed feeling (if you also ate very few carbs)
Some abdominal discomfort if your fat intake sky-rocketed
No noticeable changes at all
However, you may be wondering how a long-term high-protein diet affects your health in the long run...
Read More ›
At about 70 calories apiece, eggs are a sensible way to get protein into your diet. But eggs aren't just for breakfast; who hasn't enjoyed a plate of simple scrambled eggs as a quick and easy dinner?
Still, scrambled eggs need a little something extra if you're going to make a fine meal out of them. Here are 10 ways to take this humble dish from so-so to so good!
How to Make Great Scrambled Eggs
In our book, the best scrambled eggs are soft and creamy, not firm and dry. For a single serving of scrambled eggs, warm about 2 teaspoons of olive oil in a nonstick skillet. Use a fork to stir two eggs, just until the yolks are broken up (no need to whisk them silly). Pour the eggs into the skillet; let cook over low heat for a minute and then use a wooden spoon to stir the eggs, creating soft curds.
Gently cook and stir until the eggs until they're creamy, and take the pan off the heat just before you think the eggs are done (they will continue to cook off-heat). Season with salt and pepper.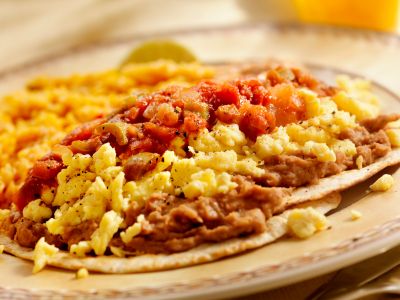 Scrambled Eggs with Beans and Salsa
Warm some canned beans and a bit of diced bell pepper while you're scrambling your eggs, and top this Tex-Mex favorite with nonfat Greek yogurt and prepared tomato salsa.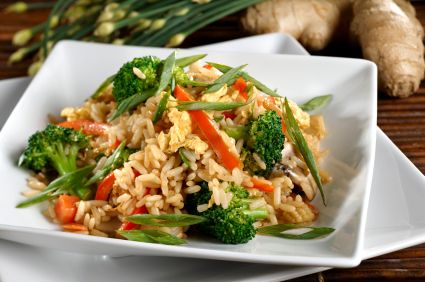 Fried Rice with Egg
Scramble an egg until it's firm and a little dry, then slice it and add it to your favorite fried rice recipe. We love Chef Meg's healthy version of fried rice.
Read More ›
Don't love lentils? We're here to convince you otherwise. People have been eating
lentils
for millennia; they're common in Mediterranean, Asian and Indian cuisines.
That's no surprise: These tiny legumes are packed with dietary fiber, protein and valuable nutrients including folate and magnesium, so they're healthful additions to your plate. In fact, they are one of the best
meatless protein sources
.
Beyond those benefits, though, they're just delicious: pleasantly earthy in flavor, with a hearty texture that's really satisfying. (In fact, if you don't love lentils, you may have found them mushy and overcooked.) Lentils are typically sold dried—you'll find black (Beluga), red, green or French (du Puy) varieties—and they're super easy to cook and incredibly versatile. Here are 10 great ways to make lentils a healthy part of your diet:
Lentils 1, 2, 3
Think 1, 2, 3: 1 cup of dried lentils plus 2 cups of water yields about 3 cups of cooked lentils. You can double or reduce the amounts to suit your recipe. Lentils freeze beautifully, so you're smart to cook a double batch and freeze what you don't use right away.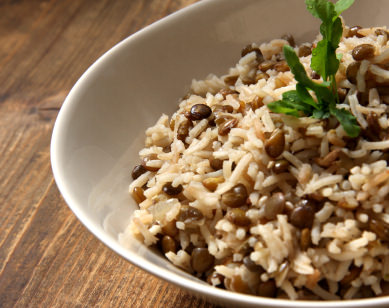 Cooking Lentils, Part 1
To cook black, green or French lentils: Place the dried lentils in a colander and rinse under cool water; pick out any debris or shriveled lentils. Bring lentils, water and a generous pinch of salt to a boil; reduce heat, cover and simmer for 20 to 30 minutes. Begin tasting for doneness after 20 minutes; you want the lentils cooked al dente, like pasta—cooked through, but not at all mushy.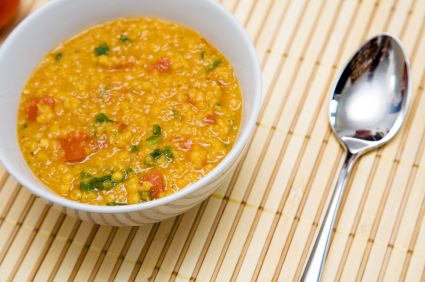 Cooking Lentils, Part 2
Red and orange (and some green) lentil varieties are commonly split, so they cook much faster than their darker cousins. Also, they get softer with cooking, almost disintegrating, so red and orange lentils are great for soups or for Indian dishes. Use the same proportions of water and lentils, and cook for about 10 minutes.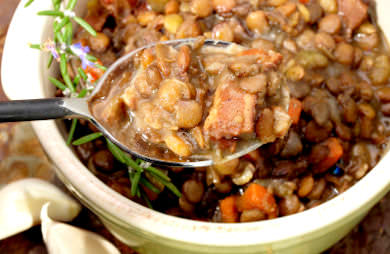 Lentil Soup with Spicy Italian Sausage
Bacon or sausage are flavorful partners to lentils, and this easy soup features big chunks of root vegetables and rounds of cooked Italian sausage; substitute chicken sausage if you'd like.
Read More ›
If you're a vegetarian or vegan, you've probably been asked countless questions about how you get your protein. The truth is, it's not as hard as you might think to meet your protein needs when you're going meatless. However, some plant sources are higher in this important nutrient than others. Which
veg-friendly food
packs more
protein
: 4 ounces of
tofu
, 1 cup of cooked
lentils
, or 1 cup of cooked
quinoa
?
Read More ›
Have you ever noticed how, at restaurants, even lean cuts of steak come to the table glistening? Then, with the first bite, they taste so rich--and they're never dry! No matter what you do, you just can't figure it out. Is it the professional stove that does it? A wood-fired grill? A fancy cut of meat?
Nope. The secret's in the sauce--and I'm about to spill. The secret is butter.
Maître d'hôtel butter is a mixture of raw butter, parsley, and lemon juice. The butter is spooned over a steak just as it leaves the grill, then melts onto the surface to leave behind only a sheen.
While I'm sharing a major trade secret here, I feel it's my duty to report to all those trying to make healthy and positive changes in food they eat.
The next time you order a lean steak at a restaurant ask your waiter if the chef finishes the steaks in butter and just say, "No, thank you." Better yet, save money and grill at home--then add color and flavor to your lean meat with these easy ideas and recipes. (We think these ideas are perfect for a simple Valentine's Day meal!)
Read More ›
On more SparkPeople members' dinner tables, chicken is stepping aside while
lean pork
is the star of the meal. I am a big fan of lean pork products for busy weeknight meals, slow cooker Sundays, and tablecloth: and: good china Saturday night dinners. Choosing leaner cuts of pork such as the tenderloin, roast, and chops will bring more flavor to your favorite recipes than leaner cuts of poultry and at about the same price.
Not sure how to cook pork or need some new ideas? Here are a dozen to get you started.
Read More ›