All Entries For
michelle stroffolino schmidt
Do you remember elementary school recess? Can you conjure up vivid images of your play time?
I think I jump-roped around the globe over the course of my elementary school recess hours. The traditional, two-people-hold-one-jump rope game was my forte. I can even hear the song in my head: "Strawberry shortcake, cream on top, tell me the name of your sweetheart..." The group then sang out a letter of the alphabet with each jump. Hopefully, if the boy you "liked" started with an S or T or W, you would be able to jump long enough to land on the right letter.
As children, we looked forward to running free during that period of time during the day. No hall pass. No permissions needed. Little teacher interference. Fresh air. Pure and simple play. That was the 1970s and 1980s for me. Over the course of the past two decades, however, fewer children have been able to experience the freedoms of recess.
Perhaps the biggest contributor to the decrease in recess for children has been increased academic expectations. In a nutshell, in came academic standards and out went recess. It made sense to many: If there are higher demands academically and more accountability of schools, teachers, and children, then recess (the perceived "perk") must go.
The problem: Children need recess!
Read More ›
How do you define family?
This is the seemingly simple question that I ask college students in my adulthood and aging course when we begin to talk about family. As they offer definitions, I jot down phrases on the board in the front of the room. As we move along, students' definitions become broader and more inclusive.
In 2013, the reality is that there is not one model of "family." In fact, there are not even two or three models of family to which we can turn in order to neatly and easily complete our list. Children may be biological or adopted or fostered; raised by parents or grandparents; have no siblings or half siblings or step-siblings; have heterosexual or homosexual parents; have two parents who have remained married or up to four parents who represent blended families.
In fact, approximately 40% of children have divorced parents. Two and a half million children experience the death of a parent before the age of 18. About 1.8 million children in the U.S. are adopted. The past four decades brought changing divorce and marriage rates, more women in the workforce, a longer life expectancy, more reproductive technologies, delayed marriage and childrearing, more alternative family patterns. Frankly, there is no
norm
!
Read More ›
Our nation faced an unthinkable tragedy on the morning of December 14. The school shooting in Newtown, CT, instantly became something that we could not wrap our brains around. We try, but the answers that we seek do not come. We struggle to comprehend it as adults and as parents, to choose the right words when speaking with our children, and to figure out how we can protect those around us who are more precious than anything on earth.
On the one hand, it seems an impossible task to try to write anything that can even remotely address people's needs in response to the horrific news that has been plastered on our television and computer screens, our mobile devices, and the black and white print around us. On the other hand, it feels inappropriate to write about anything else at this time. (I began writing this less than 24 hours after the event.)
In the aftermath of a tragedy that is beyond our comprehension, people's initial shocked reactions include the questions: "How could this happen?" "Why?" "Who would do something like this?" Even those in the news media, visibly shaken by the event as they reported on it, asked those questions.
With time, we can come up with intellectual answers to these questions that focus on the identification of the perpetrator, realization of the individual's background and history, and a piecing together of the events that led up to the incomprehensible. And with time, an increasing amount of the factual details will come together to tell a (perhaps fateful, and definitely tragic) tale.
The
emotional
dealings with the aftermath are a much different matter.
Read More ›
It was November 2010, my son's first grade parent-teacher conference. I entered the room with my realist hat on and sat down in the tiny chair at the table with the teacher and my husband. I was ready to hear positive feedback about my son's academic performance and likely some less than positive feedback about his silliness in the classroom (that was his pre-Kindergarten teacher's word for his very excitable-but-hard-to-bring-back-down personality). I was prompt, aware, and ready to go.
What I was
not
prepared for was the teacher's opening line: "He is the impetus for all of the problems around him."
She did not appreciate his silliness nor his desire to help (albeit, untimely) those around him during work time. Ten seconds. Eleven words. Ten gallons of tears.
Luckily, I have become a more seasoned parent-teacher participant. Armed with more conference experience, anecdotal accounts from teachers, parents, and teacher educators, and published research on parent-teacher conferences, I can now offer some fresh perspective on the parent-teacher conference.
Read More ›
A couple of months ago, I wrote about
popularity--and why it matters less than it once did
. It sparked some interesting discussion worth following up on. The
quality
of friendships matters more than the
quantity
of friends, I wrote then. Today, let's talk about what matters most in choosing friends. And parents, listen up: This matters as much to you as it does your kids.
My dear friend and colleague, Dr. Catherine Bagwell, and I spent two years writing our book,
Friendships in Childhood and Adolescence
. The overarching question we encountered: What is the significance of friendship? We learned it is one of those questions to which everyone immediately answers, "there is a lot of significance in friendship," but answering with substance takes more effort (as our editor pointed out).
So what is the significance in friendship? And how can you both choose good friends and be one yourself? That, my
friends
and readers, is what we're discussing today.
Read More ›
Even though I consider myself to be a parenting expert, with multiple degrees on my wall and years of research under my belt, no textbook or research study could ever prepare me for my role as a parent.
A couple of weeks ago, my 8-year-old son had an outburst (that's what I've termed it), which could be likened to a 3-year-old tantrum with a 13-year-old attitude. I told him to go to his room. He answered, ''I am
not
going to my room.'' I tried to calmly explain that there would be consequences for his behavior. To this, he responded, ''I don't
care
.'' I reminded him that his behavior was rude and inappropriate. He replied, ''No,
yours
is.'' Through all of this, he went between being defiant and crying. We covered a lot of ground. As I went along, I searched my brain using terms like ''discipline,'' ''defiance,'' ''authoritative parenting.'' My searches eventually came back with ''no results found.'' I was at a complete loss.
Read More ›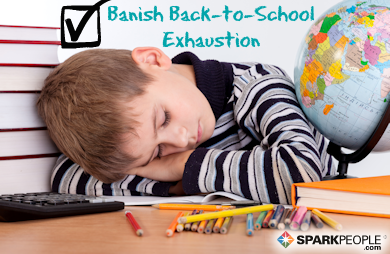 Parents quickly learn this equation every school year: New ideas + new skills + new routines = a tired and cranky child.
My oldest son was so exhausted every day after his first week of preschool last month that I thought he had a virus. Then I saw a storm of tweets and Facebook posts from other parents in similar situations. There were stories about kindergarteners suddenly becoming holy terrors every day at school pick-up, teenagers eating the contents of the refrigerator and then passing out, and elementary students reverting to their toddler bedtime. I realized my son wasn't sick; he was learning.
His brain was working so hard on his new skills and routines that there was no extra room for anything else. It's the same reason babies experience sleep regressions when they're learning a new developmental skill, or why my 2-year-old is extra stubborn as he wraps his head around potty-training. Adults experience this, too. Have you ever managed to control your temper during a truly awful day at work, only to snap at your family once you got home? Now, imagine you're a 4-year-old learning how to follow classroom rules, or a 12-year-old encountering algebra for the first time. Or, worst of all, a 16-year-old facing the looming pressure of college requirements, as well as the daily gauntlet of high-school halls.
It's no wonder our kids come home exhausted and cranky.
So, how can we help them? Each child is different. Some might need a quick after-school snack to re-energize them for the evening. Others might need a nap or quiet time on their own. Here are five things to try to get your little learner on a more even keel.
Read More ›
Any pediatrician or experienced parent will tell you that tantrums are just a fact of toddlerhood. Every child throws fits, and every parent struggles with how to deal with them.
What you're actually teaching is self-control, which is what makes it so difficult. That concept starts with you, and controlling
yourself
in the face of a screaming, irrational toddler is not always easy.
The official advice from the American Academy of Pediatrics is to distract, ignore and remove--in that order. On the surface, it seems simple. Distract the child when he starts fussing. If he is angry about leaving the playground, sing a silly song to redirect his attention and mood as you buckle him into the car seat. If that doesn't work and he continues to cry and yell, ignore it with the hope that he'll wear out the anger and frustration. And if that doesn't happen and he pitches a toy at your head instead, tell him sternly, ''No throwing!'' and remove the toys and other potential missiles from the car seat.
Simple--except you're now trapped in a vehicle with a kid screaming bloody murder because, after copious warnings that lunch was coming soon, you had the audacity to ask him to leave the playground. For food. Which he needs to survive.
Are you angry yet? Frustrated? Because I'm getting irritated just remembering this horrible experience--er, I mean, thinking about this hypothetical situation.
Read More ›
Technology is everywhere. Personal computers and smart phones grant us easy access to games, chatting forums, and countless threads of information that seep into every corner of our lives.
When we think of children's cyber safety, we most often think of monitoring Internet use on
computer
s. And some parents do, though not enough. One study of teen Internet safety reported that 75% of teens said that their parents almost never monitor their use. Additionally, almost one-third of teens surveyed said their parents would disapprove of how they spend their time on the Internet.
Besides computers, other devices need monitoring, too. Kids and teens now chat, share pictures, and watch videos on cell phones and gaming systems. Downloaded games on smart phones and gaming devices often have a chat component within them—and these games can usually be played with random online ''buddies.''
What technology does your child have access to? What technology does your child have that allows others to have access TO your child? Do you trust blindly or monitor closely? Would your child know what to do if he came across inappropriate content or if someone asked her questions through a chat?
Recently, the playroom door in our house was closed. It is never closed, so it caught my attention. I opened it and my 7-year-old son, with his gaming device in hand, looked up with an ''Oh, no, I didn't expect
you
to walk into the room'' expression. Without thinking, I blurted out, ''Put your hands where I can see them and don't move!'' (Perhaps I need to cut back on TV.) I took his game and found that he was watching a video that was borderline inappropriate for his age—I would deem it ''okay,'' but only with adult explanation of its content. Unbeknownst to me, the system regularly gives the (child) user notifications and access to new games, music videos, and the like.
It became clear that a ''switch'' had turned on in his little brain, and he had to be monitored more closely than I'd realized.
Read More ›
August is flying by. All too soon a new school year will begin, and with it will come the same mixed feelings and buzz of energy that surrounded the end of the school year. Besides the traditional anxieties of getting to the bus stop on time and remembering to pack a healthy lunch, for many parents of kindergarten-age students, there is another anxiety, this one with much higher stakes than being tardy on the first day of school: When should you enroll your child in kindergarten?
When we were kids, most US children started school at 5 years old. It's a much bigger decision now, with controversy and even politics on both sides of the issue.
I followed the old rule and kept it simple. I enrolled my son in kindergarten for one reason: He was 5 years old, and being five meant going to kindergarten. He started school two days after his late August birthday in 2009. To me, it was a no-brainer. From the start, there were good signs: In the first week of kindergarten he met his (still) best friend, and their birthdays are less than a week apart! They were instant buddies.
But the naïve bubble in which I was living soon burst.
Their birthdays are within a week of each other,
in two different years
. His newfound chum was an entire year older than him and there were kids in his class who were nearly 18 months older than him (At age five, that's almost a third of your life older!) Evidently, it was not as simple as I thought.
How much did you (or do you) think about when to start your son or daughter in kindergarten? Is your child one of the youngest or the oldest in the class? Have you heard the term redshirting?
Read More ›
Every morning, I start my day with a hot chai. In the summer, it is a particularly special treat. Instead of my usual vanilla chai, it is transformed into a half-coconut, half-vanilla chai. I realize it has too many calories and I should opt for sugar-free syrup (at least it is nonfat), but I consider it my one indulgence. My one addiction.
My morning pleasure.
It makes me happy.
Happiness. Most of us want it. Many of us have it. The drive-thru window where I get my chai provides an interesting backdrop for a small study of the differences in people's levels of happiness.
There is one girl who is simply bubbling over with happiness each and every time I see her. It is genuine. She actually
makes
you happy. I would love to meet her parents.
Then there is another person whom you dread hearing on the speaker and seeing at the window. Nothing about him even whispers, "Hey, I'm a mostly happy guy."
With which person do you most identify?
There are two ways that we can think about happiness. We can consider things that come and go, but bring happiness to us when we experience them (for many, these include shopping, eating, and drinking). We can also consider something that I think of as our "way of being." We can have episodes of happiness or we can just simply
be
happy.
Read More ›
Disclaimer: Psychological research is largely based on averages for groups of people. We prove practically nothing in psychology! It is too difficult--people are too complicated! When dealing with the human mind, one size does not fit all.
Think back to your grade school and high school years. Think about the kids you went to school with. Who was popular? How would you describe those kids? Who did you like the most among your peers? Why did you like them?
Research on popularity is now being understood with a new lens. For decades, it went like this: Researchers would ask kids who they liked and disliked, and would then add up the number of likes and dislikes for each child. Based on the votes, kids were categorized as popular, average, controversial, rejected or neglected. Those kids who received the most ''like'' votes (and rarely received dislike votes) were classified as ''popular.''
Recently, researchers have been paying attention to children's comments a little bit more and have started to debate whether being
liked
is the same as being
popular
. The answer: Being liked by many peers is not the same as being considered popular by peers. Popularity is based more on reputation than on the degree to which one is liked.
The (mostly) bright side: Popular kids tend to be competent both athletically and academically, and are often physically attractive. They also show lots of prosocial behaviors and have good senses of humor. The dark side: Kids who are popular tend to be socially dominant. Popularity often involves aggressive physical and psychological/social behavior. For some kids, the more relationally aggressive they are (spreading rumors, threatening not to be somebody's friend), the more likely they are to maintain their powerful ''popular'' status. And, unfortunately, when being mean to others pays off, it becomes a reinforcing cycle.
Read More ›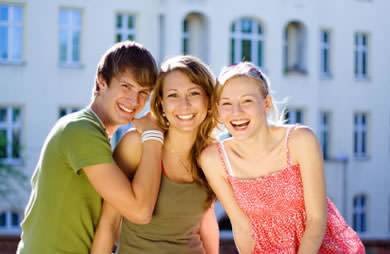 You may have heard the
recent news
about a school bus aide who was tormented to the point of tears by a group of middle school students. The appalling encounter was caught on video and went viral on YouTube. News stories, internet videos and even thousands of dollars of sympathy donations are among the reactions of shocked Americans across the country. The questions are rampant: How could the tormenters behave that way? How does a person sit idly while victimized? Could the bus aide have done anything to stop the boys? What did the parents do (or not do) to raise boys that would behave that way?
At some point, all of us have been the victim of someone's bad judgment, whether it be a comment or glare because of our age, weight, or some physical feature. It is wrong, but we cannot escape it. Why are we compelled to hurt other people? Even worse, why do some take pleasure in hurting others?
Read More ›
Editor's Note:
We're honored to welcome developmental psychology expert and mom Michelle Stroffolino Schmidt, Ph.D., to the dailySpark. She will be writing regularly about parenting, friendship, and relationships.
I was waiting outside for the momentous occasion of my son's last day of school. Parents were bustling about, making plans to go out for "something special," discussing summer camps, and promising play dates soon. After bursting out of the school building, the kids were running around like kittens let out of their little cage, free to frolic and play—running up and down the hill, behind the building, and around the flag pole.
After about 20 minutes, we were off to our favorite ice cream shop (a bit of a fall off the wagon for me). As we walked, I asked my son, "How do you feel about the end of school and the beginning of summer?" He said, "Duh…awesome." After addressing the "duh" part of his answer, I asked what was awesome about it. He was clear: no more homework or teachers, and not having to get dressed in the morning for school. Over the following days, I polled other kids and parents whose paths we crossed. The large majority of kids were excited rather than upset or anxious. Parents, however, were anxious.
There may be some truth (and sense) in summer vacation creating more anxiety for parents than for children. My own anxiety (not limited to summer): "I'm bored." Summer brings with it an additional 7-8 hours of unsupervised time daily. There is no drop off and run to work, or drop off and run to do a list of other things. Instead, school time is replaced with another block of time during which children need to be somewhere, doing something.
How does a parent fill the summer hours? Martha Stewart's website
has dozens of activities for kids
.
Disney's Family Fun site
lists plenty of summer games, crafts, and trips. Activities and cooking are great for occupying parents and children, and I admire people who have the determination to make pretty cork stamps, but not every child or parent is patiently crafty (admittedly, neither my son nor I fit that bill).
Aside from crafts, camps, or family vacations, what are some other healthy ideas for summer fun and survival?
Read More ›