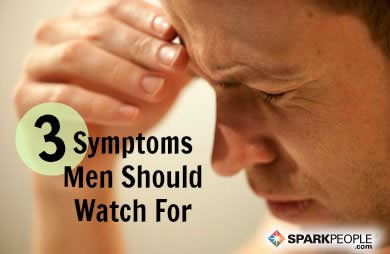 Your husband says he has a nagging pain below his ribs, chest tightness that won't quit or has simply been feeling sluggish lately, but doesn't feel like calling his doctor (or doesn't have one). Here are three symptoms he (and you) should take seriously.
Read More ›
It's no secret that I love Pilates. It's one of my favorite workouts for a number of reasons. It has helped me develop greater core strength, increase my flexibility, manage my chronic back pain, improve my posture, and relieve stress. I truly believe that Pilates can benefit people of all ages and fitness levels. Yet many people think of Pilates as an "easy" mode of exercise or a "gentle" workout that's more for old ladies than it is for fit young men, for example.
As a Pilates instructor, I've taught a wide variety of clients, as young as 13 and as old as 75. I've worked with professional dancers, collegiate football players, stay-at-home moms, and triathletes. While women (young and old) dominate my classes, the occasional male finds his way into class. Some have become "regulars," while others are never to be seen again. While I'll never know what makes one guy pursue Pilates and another try it only once, one thing is true: Pilates does benefit men just as it does women.
In fact, what people might not know is that Pilates was not only created by a man, but originally intended as an exercise program for men as well. Nico Gonzalez, Cincinnati-based personal trainer, master Pilates instructor, and creator of the DVD "
Pilates Playground
" explains, "Joseph Pilates himself practiced his method and trained many males. The practice was very athletic in nature." He worked with German soldiers and helped many of them recover and rehabilitate from injuries using his exercise method.
It wasn't until many of the "Pilates elders" (people who studied directly under Joseph Pilates) started teaching that Pilates changed a bit. "Many of these elders were ex-dancers, so they infused the dancer language into the practice," says Gonzalez.
While most Pilates practitioners and students these days are women, I wanted to share the experiences of three men I know (including Gonzalez, quoted above) who regularly practice Pilates. These guys all vary in their fitness goals, but all come back to Pilates regularly. Find out what they like about it from a male's perspective.
Read More ›
I had to do a double take the first time I passed this restaurant. Born out of a desire to preserve "the culture of those old gas stations and high-powered muscle cars," The Lube isn't your ordinary wings joint. If you are looking for a new place for a night out with the guys or a family-friendly restaurant that focuses on dad,
The Quaker Steak and Lube
might be worth checking out. Not only have they won "Best Wings USA" they have over 100 local, national and international awards for their sauce recipes as well as a focus on healthy kids options. Oh yea, there are plenty of cars, trucks and motorcycles too!
Of course, there are plenty of high fat and high calorie options to tempt you. Yes, many are extremely higher in sodium and only slightly better when you request no added salt when ordering. However, you can also find some health conscious options as well. Although the restaurant doesn't make their nutrition information readily available, the team at
Healthy Dining Finder
has. Here are some of the healthier options and special request suggestions they highlight.
Read More ›