All Entries For
meal planning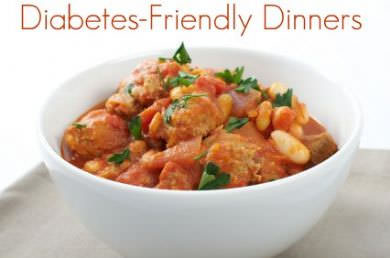 It's hard enough to decide what to make for dinner when you don't have any dietary restrictions. When you have to create meals that are diabetes-friendly, it can make mealtime more challenging. That's why we rounded up a week's worth of diabetes-friendly meals that are healthy, simple, and delicious!
Read More ›
Recently we surveyed our members about their cooking and eating habits. Most of you spend 30 minutes or so making dinner but only five minutes making your other meals and snacks.
Some nights, you just don't have 30 minutes. When your schedule doesn't allow enough time to make a home-cooked dinner, why not serve breakfast for supper instead? Breakfast meals tend to be fast, and ours are healthy to boot. This week's downloadable and printable menu has seven nights of suppers that are as good for you at night as they are in the morning.
Keep reading to see the menu!
Read More ›
It is H-O-T! Rather than heat up the kitchen to cook up a heavy meal, why not serve up a cool, refreshing salad for dinner instead? Our weekly menu is full of meal-size salads that are as hearty as they are healthy.
Keep reading to see the menu!
Read More ›
As the song goes:
"Summertime... and the living is easy..."
especially when dinner is cooked on the backyard grill. You don't have to heat up the kitchen, you can enjoy the beautiful weather, and you can create a healthy, flavorful meal without any added fats or oils.
With the start of summer upon us in a couple of weeks and temperatures rising every day, who wouldn't want to head outside and enjoy dinner
alfresco
? That's why this week's menu this
7 Days of Dinners on the Grill
!
Keep reading to see the menu, and get a clickable, downloadable, printable version.
Read More ›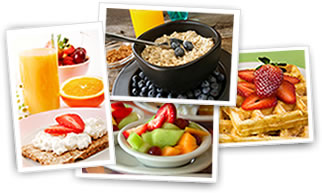 Are there times that you feel like you're stuck in a rut with your current meal plan or that you just don't know what to make for certain meals? If so, then the
Mix and Match Meal Planner
may be just what you are looking for!
The Mix and Match Meal Planner is a tool that is very easy to use and can help you plan out healthy meals that meet your nutrition goals. Planning out your meals ahead of time can help you stay on track a lot easier than if you wait last minute to decide what you might eat. If you are anything like me and you don't like to cook and/or would like to find some quick and simple meals, then the Mix and Match Meal Planner may be just the thing to help you get on track (and stay on track) with eating healthier meals overall. This interactive feature allows you to choose the food items that you like, but it will also make sure you pick the right items to make it a complete meal that is healthy and tasty.
With all the different options available in the Mix and Match Meal Planner, there are numerous meals that you can create to give your meals quite the variety. You can not only save time with your meal planning, but you can also say goodbye to boring meals!
Read More ›
You asked for it, we answered! In April, we shared a month's worth of healthy meal ideas and our favorite recipes from Chef Meg, the SparkPeople Team and members in meal planner form.
We decided to make that a monthly feature. Per your requests, our recipe ideas come in a handy, downloadable calendar packed full of meal ideas that are healthy and delicious. (It's printable, too!) Whether you use this calendar every day or just use it for ideas is up to you. We hope we've inspired you to get into the kitchen and get cooking!
We even threw in a few probable scenarios that could prevent you from eating right. See these as a chance to apply what you've learned on SparkPeople and get creative while sticking with your healthy eating plan.
Read More ›