All Entries For
losing weight with a partner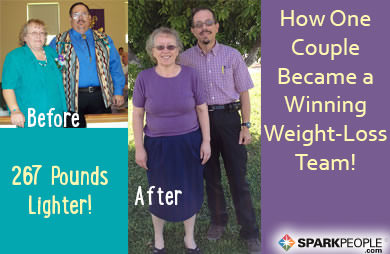 A couple facing diabetes and other health issues joined together to start a weight loss journey that took them from sedentary and lifeless to vigorous and healthy. They now have many Valentine's Day celebrations ahead of them as a couple thanks to careful food tracking and daily walking!
Names:
Steve and Debbie Cartwright
Usernames:
Sac-6582
and
Debarizona
Amount of weight lost:
Steve lost 180 pounds and Debbie lost 87 pounds
Hometown:
Peoria, AZ
Occupations:
Steve is in ministry and Debbie is a facility director for a camp/retreat
Ages:
Steve is 54 and Debbie is 52
Read More ›
Dave (
dave3977
) and Julie (
jujumiller
) Miller joined SparkPeople in February, just after starting their weight-loss journey. In just 11 months, they have shed more than 220 pounds--137 for him and 87 for her, with another 60 and 30 to go, respectively. What a great success story!
Now the couple is being called "Cleveland's Biggest Losers" by their local TV station WKYC. This morning, they were on the news to show off their slimmer, healthier selves and share the secrets to their success.
Watch the two-part segment here.
Read More ›
Editor's Note: Want to read more about Dani's story? Pick up a copy of the latest issue of First magazine, which features Dani and The SparkPeople Cookbook! Her story was also featured on Yahoo Shine this week.
Weight loss may not be the first topic that comes to mind when you think of Valentine's Day. But there's really no better way to say "I love you" than resolving to get healthier, live longer and look better for your spouse, significant other, child or someone else close to your heart. In the case of couples, several studies show that it's easier to lose weight
with
your partner as well as
for
them. I should know. My husband Rich and I lost a combined 285 pounds together.
We've been together almost 16 years now. We've been through some hard times, especially losing family members and working long hours at multiple jobs to pay the bills. We've always done it together though, which has made the load easier to bear.
But about three years ago, we looked down and realized we were both at our heaviest weight ever. I had put on a ton of weight after my mom passed away. We worked too much, took terrible care of ourselves, and weren't spending quality time together.
So we made a commitment to each other and our marriage to make better choices.
Read More ›