All Entries For
jessica smith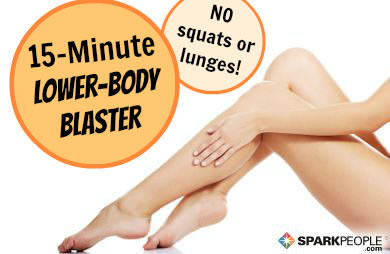 As a trainer, I'm a huge fan of squats and lunges, but I know that joint issues can make these common lower-body exercises pretty painful to do. The good news is that there are plenty of other exercises that can help shape up your lower half!
Whether you need to modify for your knees or simply want to try adding a few new leg moves to your repertoire, join me for this low impact, Pilates-inspired, lower body workout that doesn't require much space and zero equipment. It's just over 15 minutes, so it's also a great option for when you're short on time! (Oh, and feel free to kick off your shoes to further engage the muscles in your feet and ankles.) Check it out
on YouTube
, or watch via the embedded video below!
Read More ›
High intensity interval training
(aka H.I.I.T.) doesn't always have to be high impact! This workout is perfect for maximizing your cardio time--without pounding your joints. (Oh, and did I mention it's free of both burpees and squat thrusts? Score!)
Join me for this
low-impact
, high-intensity cardio routine that can be done easily in a small space with zero equipment. (No jumping means it's perfect for hotel rooms and apartments, too!)
Read More ›
You already know some of the
amazing benefits of walking
: It's good for your heart, great for your bones and perfect for weight control), but some days the weather outside can be frightful, and the treadmill can be well, less than delightful.
If you are in need of an indoor walking buddy today, join me for this full length, low-impact workout you can follow along with at home! This 30-minute power walk is easy to follow, fun to do, and it doesn't require much space to move around. Plus, it's appropriate for all fitness levels.
Read More ›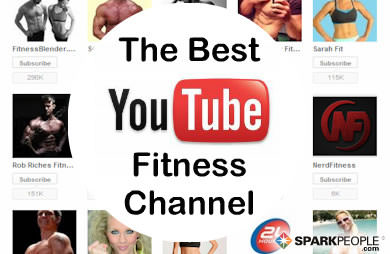 Looking for more exercise resources and workouts? YouTube is a great source for fitness--but with so many options available, it can be overwhelming to figure out which ones to follow! Of course, I am a huge fan of
SparkPeople's channel
, where Coach Nicole has created a wide variety of different workouts for various levels of exercisers. But since I figure you are all already familiar with
SparkPeople's videos
, here are some more of my favorite YouTube channels (by category) for fitness workouts and why they're worth checking out. READ MORE
If you are interested in:
Beginner-Focused Workouts
Try:
Fitness Blender
While they offer a wide variety of different workouts for all levels, Fitness Blender has a nice library of beginner focused low impact sessions that are just right for someone starting an exercise plan. (You can check out their
low impact/beginner workout playlist
here). On screen cues help you remember the moves (there's even an 'up next' cue that previews each coming move for you in the left corner of the screen) making it easy to follow along. There's no music (each video offers an instructors guidance) so you can easily play your own music along with the videos if you like to groove while you sweat.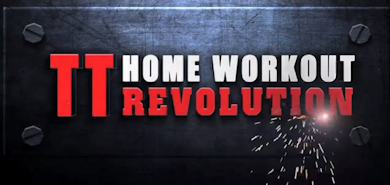 If you are interested in:
Tough, Hardcore Workouts
Try:
Turbulence Training
Certified trainer Craig Ballantyne, creator of Turbulence Trainin--a specific type of metabolic conditioning training designed for peak fat loss--offers some great full-length hardcore workouts on his channel. I prefer his routines to some of the other more popular "hardcore" workout channels out there because Ballantyne really knows his stuff and explains the how and why behind his exercise selection well, which is really important for safety when it comes to high intensity routines. If you like to work hard and push yourself to your limits, then check out his channel!
Read More ›
Love handles, the spare tire, the middle age spread: Call it what you will, but nobody likes having excess flab around the waistline (not even when we name it cute things like "muffin" top). And while you can target the oblique muscles located on the sides of your waist by doing specific toning exercises, doing tons of abs moves alone isn't enough to shrink your waistline. Your best love handle melting strategy involves the same principles for losing weight anywhere on the body: eating better foods (and less in general), and performing both
fat-burning cardio
along with muscle-toning strength training.
But like any exercise program, you should cater your exercises to your specific goals. And if whittling your waistline is one of your goals, you should be doing exercises to help you reach it.
I designed this workout circuit to help you target your waistline in a smart way: by keeping your heart rate elevated to burn more calories than you would simply lying on the floor and doing crunches. You'll alternate a cardio move that also targets your core with a traditional oblique toner for maximum benefit.
Read More ›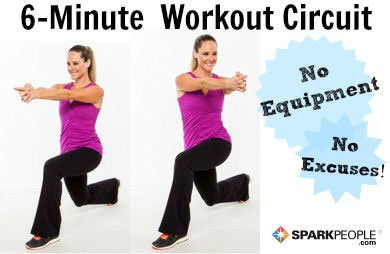 Hey, we're all busy. But that's no reason to let your workouts get away from you. Next time you feel like skimping on exercise to watch TV or meet your friends for Happy Hour remember this: It doesn't take much to get a great workout.
That's why I designed this excuse-proof workout. You can do this simple, 6-minute circuit anytime (it's whisper quiet), anywhere (no gym required) and without any equipment. All that and it'll sculpt your body from head to toe, too.
Read More ›
There's no need for special equipment for a great workout! A good old beach towel can be just as effective at working your muscles as dumbbells, resistance bands or expensive machines. Want proof? Meet "The Towel Workout."
All of these moves can be done with just a towel, which is great because you'll probably need it to wipe up your sweat after you are done.
Read More ›
For some people, safety and form during a workout is a huge priority. For others, it's an afterthought. If you work out without the careful eyes of a trainer or instructor watching your every move, it can be difficult to know if you are exercising with proper form—even when you're really trying to.
Learning how to move with correct alignment isn't just about looking good; it can mean the difference between muscle activation and joint strain—or even injury.
Here are five exercises that are common—and may even seem simple—but are most often performed incorrectly by people of all fitness levels.
Read More ›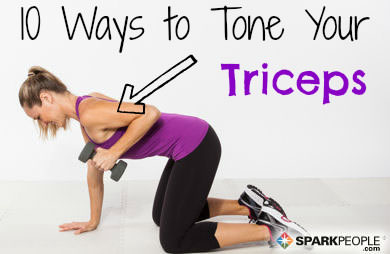 Spring is around the corner, which means you'll be bringing your short sleeved and sleeveless tops out of storage in no time. Speaking of baring your arms: Are yours in tip-top shape? If not, you could help build strength and muscle tone in the most common problem area of the arms—the triceps—by adding some additional triceps exercises to your workout plan.
Read More ›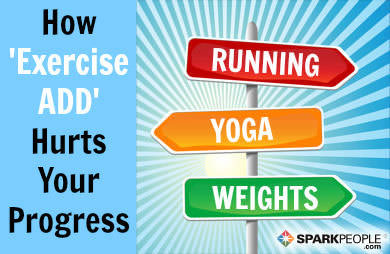 I see it happen all the time on exercise forums or via my friend Facebook: Exercisers (from enthusiasts to newbies) get so pumped up about a particular workout that it's all they can do, talk about or think about...for a while anyway.
After a few days (or a couple weeks if they're lucky), these people are already gung ho for something else. While their enthusiasm and consistency for working out is a
very
good thing, they ultimately end up complaining for not getting results.
But wait: Isn't a good thing to try new workouts to create that "muscle confusion" or get better results?
Read More ›
Exercising isn't always pretty—the sweat, the matted down hair, the locker rooms—but it's definitely worthwhile! Whether you are just starting out or returning after a long break, there are a few things no one ever really tells you about exercise. Even you regular gym bunnies might learn a thing or two from this list—oh how I wish someone had told
me
these when I started working out!
When you can expect them, and know what to do about them, you'll have fewer barriers and hiccups along your exercise journey.
Read More ›
If you've seen enough infomercials in your time, it's easy to get convinced that you need to buy
the latest and greatest in exercise gadgets
or gizmos in order to reach your fitness goals.
The truth is, there's no need to spend a ton of money on fancy equipment or even a gym membership to get in a good workout. In fact, many great workout routines
don't need any equipment at all
. But if you are looking to invest in a few pieces to help you get fit in 2013, there are a few, inexpensive items I'd recommend.
As a personal trainer, I actually train
all
of my clients at home using these six essential items (and they're each cost less than $20).
Read More ›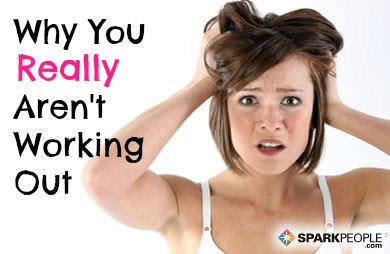 Do you ever get tired of hearing people say that no excuse is a good excuse? If you aren't exercising on as consistently as you'd like to, it could be because you have some real obstacles—not just excuses—holding you back.
So what should you do when you
really can't
exercise?
Here are three, get-started-now action steps to help you overcome some serious fitness obstacles.
Read More ›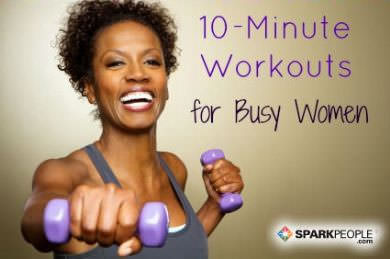 I know you are busy (that's the
number one excuse
I hear from people who aren't exercising regularly), but everyone's got at least
10 minutes
to spare at some point during the day! And, even if you are managing several longer workouts each week, adding in
10-minute bouts of activity
can help combat the
dangerous effects of sitting
for too long during the remaining hours of your day.
Print, "pin" or post this list somewhere you'll see it every day, and next time you find yourself with 10 extra minutes, fit in a little extra fitness—your body (and mind!) will thank you.
Read More ›