All Entries For
healthy food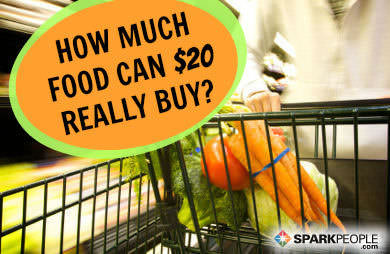 Budget constraints prevent many people from eating right.
"I can't afford to buy healthy food."
"Fruits and vegetables are too expensive."
"Grocery store prices are astronomical."
"It's cheaper to eat fast food."
We hear these "excuses" every day--and they're good ones. But we don't give up that easily and believe any excuse can be overcome. Today we're setting out to prove that healthy eating is possible on any budget.
We compared the cost of unhealthy foods from the drive-thru, freezer section and snack foods aisle to the cost of healthy foods. By making even one of these swaps, you can make room in your grocery budget for a few new healthy foods.
The photos below aim to show the diversity in healthy foods available. Prices may vary in your area (some items were on sale when we shopped), but we think you'll be shocked at how far you can stretch a buck at the supermarket when you buy healthy foods!
Read More ›
Metabolic syndrome
has become increasingly common in the United States and paves the way toward obesity and heart disease for millions of people every year. Since these are two of the most common chronic diseases today, making lifestyle modifications are important especially changes in diet and exercise.
A
new study found
that stone fruits known as drupes contain compounds that could reduce serious health risks from obesity and inflammation found with metabolic syndrome. Since insulin resistance or diabetes, hypertension, cholesterol abnormalities and abdominal obesity affect millions of people every year, this could be a very important finding. Although lifestyle, genetic predisposition, and diet play an influential role, research findings suggesting diet can be turned into an asset instead of liability provides some hope for those seeking to change their medical condition outcomes.
While it is great that stone fruits can help us reach health goals, they only help if we include them in our diets.
Read More ›
When I was little, I had no concept of where my food came from. I just knew that my mom went to the store and came back with lots of things for my family to eat. I never thought about the journey my food went through to make it into the store and eventually onto my plate.
Over the past few years I got interested in starting a garden. I like the idea of growing my own food, and I also like my kids being involved in the process of planting, taking care of, and eventually eating the fruits and vegetables from our own backyard. I think that gives them a much greater appreciation for what food goes through to make it to our table. Last year we started small with two container gardens. This year we are expanding to a small raised bed in the backyard (and who knows where we might go from there!) I let the kids help decide what we are going to plant and they help with watering, weeding, and picking the produce when it's ripe. They get so excited about the food we grow, and would much rather eat it than just about anything else. It's a great way to teach them something and develop healthy habits at the same time.
"
Studies show
that children are more likely to eat the foods they grow, choose at the grocery store, and/or prepare. These activities often expand the variety of foods they enjoy and can mean a wider range of nutrients consumed. It is also a good tactic for children who are picky eaters."
My kids love helping me cook. That's one area where I'm trying to develop more patience. I spend a fair amount of time cooking, but I like to do everything myself so that it gets done as quickly as possible. When the kids help, it slows down the process and speeds up the mess, but it's worth it. My kids are more likely to eat something they helped make because they feel pride in it, and also because they are sure of exactly what's in it. ("Mom can't sneak in some mushrooms or zucchini if she knows I'm watching!")
Whether your children learn about about food through gardening, meal preparation or just talking about healthy eating, parents are the best teachers and examples. Establishing healthy habits early will help your kids develop habits to last a lifetime. Check out
Tips, Tricks and Treats to Teach Kids to Cook
and
A Parent's Guide to Nutrition for Kids
for more ideas.
Do you agree that healthy eating habits begin at home? How do you teach the young people in your life to develop an appreciation for healthy food?
Read More ›
Our original top 10 list was so popular, Healthy Eats readers asked for more. Here are 10 more healthy foods that won't break the bank.
#1: CarrotsCost:
$0.89 per 1 pound bag (about 9 carrots)
The benefits of carrots, "They give you healthy eyes, mom" they always tell me. But beta-carotene has more benefits than meets the eyes. It also helps promote healthy bones, skin and hair. Make carrot soup, add to a stir-fry, or slice into strips for an easy kids snack.
#2: Low fat cottage cheeseCost:
$2.75 per 16-ounce container
This perfect combo of protein, carbs and fat will help keep you satisfied. It'll also give you a boost of calcium with 10% of your daily recommended dosage in every ½ cup serving. If you've been passing this underappreciated food in your dairy aisle, check out more reasons why we love it.
Read More ›
Contest closed! The winners are:

JENIFIREHARP

HOLLY404040

VPOLESKI

Congratulations!
A cool new company contacted us recently, hoping we'd test their product and offer a giveaway. It's called Healthy Surprise, and right from the outset, I loved this idea.
Healthy Surprise
is a subscription-based service that ships a box of healthy, natural, gluten-free and vegan snacks right to your door each month. In lieu of a subscription, you can also give yourself (or a friend) a one-time gift shipment, which is a really thoughtful and fun idea for the healthy eaters in your life. They offer four different packages that vary in size and price, starting at just $33/month (plus shipping) for the smallest package (which includes 16-20 snack servings) and goes all the way up to $333/month (free shipping) for the largest package of 200+ snacks, which might be more fitting for a club or workplace than an individual's home. You don't get to pick and choose what goes into your box, which is part of the fun—hence the "surprise" part, but as a bonus, you'll end up trying foods you never knew you liked and bring the fun back to snacking!
Read More ›
If I offered you lean ground beef with the assurance that it was high in protein, low in fat, and tested to be free from Salmonella and E.Coli, wouldn't you think it was the best beef in town (except if you are a vegetarian of course)? Would you think the meat sounded as good if I told you it contained lean meat "trimmings" and had been treated with ammonium hydroxide?
There has been a lot of talk about
pink slime in the news
recently, even though this isn't new and has been reported about previously. The movie
Food, Inc
talked about it back in 2008. British celebrity chef Jamie Oliver taught about it on his ABC series
Food Revolution
several years later. Last year
Taco Bell faced a lawsuit and a media firestorm
over accusations that they used fillers in their taco meat. So why all the hype now about the use of anti-microbial agents and meat trimmings especially when the USDA has repeatedly cited the process to be generally recognized as safe
(GRAS) with an update as recently as last year
?
Read More ›
Watermelon is a staple on nearly every summer table, but did you know that it's also a powerful and versatile health food: it has less than 50 calories per serving; it is an abundant source of vitamins C, A, and B6; plus, its 90% water, which makes it both refreshing and a natural source of hydration. Use the following ten recipes to spice up your cooking, get healthy, and wow your guests with this sweet summer treat.


Watermelon Strawberry Smoothie
Watermelon Blueberry Banana Split
Spicy Watermelon Marinade
Watermelon and Blueberry Salad with Spinach and Feta
Read More ›
I love vegetables! From broccoli to peppers, beets to zucchini, I'll eat them all, morning, noon and night. I aim to exceed the recommended five servings a day and usually I eat double that many servings.
That said, I'm also on a budget and I try to eat local, pesticide-free, and organic produce whenever possible. I rely on a handy-dandy annual list from the Environmental Working Group (EWG) to help me stretch my food dollars and buy organic versions of the "dirtiest" fruits and vegetables.
The group recently updated their "Dirty Dozen" list, along with the companion list of the "Clean 15."
On which list will you find your favorite fruits and vegetables?
Read More ›
Sandwiches are comfort food, they travel well, and they'll satisfy the appetites hungry, growing boys--and I have a surplus of those in my house. Today I'm sharing two of my favorite sandwich recipes, one hot and one cold. The Greek-inspired tuna sandwich is great for picnics, and the Philly one is a favorite on cold nights.
Big Fat Greek Sandwich
I love a good sandwich, one that's so big you have to smash to fit into your mouth. This one is big on flavor, light on fat! This is a Greek-inspired twist on the New Orleans classic, the Muffaletta. That one has lots of cured meats, plus an Italian pickled vegetable salad. This one gets its tang from feta cheese and a light vinaigrette.
260 calories

8.8 g fat

Read More ›
There are many
cost effective and nutrient rich foods
. Brown rice is one choice frequently selected as a side dish or to stretch a casserole. We have known for a while that fruits such blueberries and blackberries are high in
antioxidants
. New
research presented at the American Chemical Society meeting
has found that black rice might top them both in the cost effective nutritious super food category.
Read More ›