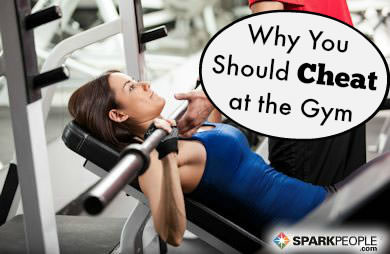 You put on your sweatpants and baggy T-shirt. Throw your hair up into a ponytail and wipe the make-up off your face. You fill your water bottle and head to the nearest elliptical. Headphones in, you tune out the world, focusing on the show you're watching or that new song you downloaded. You set your sights on the console and the clock, watching the numbers—calories, time, and distance—tick up until you've hit your goal on one (or maybe all three). Get in and get out, that's what the gym is to you. You're not there to talk or make friends. You're just there to get through your routine and go home.
But what if I told you that going to the gym could—and should—be a little more
fulfilling
? The truth is that having an affair at the gym happens more than you might think. It can change your mind and your body—and how you feel about yourself. If you've been going through the motions lately, feeling uninspired or tied down, then break free from monogamy and bring the excitement back with an affair!
Read More ›
For those of you avid gym-goers out there, you know how important it is to keep your gym bag stocked and ready to go! If you are anything like me, you also like to stay stylish, even while getting sweaty, which is why I designed my oGorgeous brand of bags, so that I can have a gym bag that is as pretty as a purse! I make sure to pack my bag full of the essentials so that I'm always ready for a workout, wherever I am. Let me share some of my
gym bag must haves
:
Fitness Gloves
These really come in handy when you're lifting weights and want to avoid getting calluses. They're also great as you're developing grip strength.
Read More ›
During the last few years,
ultra-intense workouts
have been gaining popularity—and not just among athletes or hardcore exercisers who are gluttons for self-punishment. Even the relatively unfit and overweight are jumping at the chance to push their bodies to their limits. Why? Some consider it fun. Others feel that is the best (or only) way to really get in shape. Whatever the reason, intense workout programs are attracting a wide variety of participants who have a variety of different goals (whether strength, speed, power, health, muscle tone, weight loss, or looking better naked).
By now you've probably heard of CrossFit (the "sport of fitness") or know someone who has tried it. I stumbled upon
CrossFit videos on YouTube
a few years ago and was immediately intrigued. I would spend hours a night watching people work out competitively and was in awe of their strength and capabilities—not to mention their physiques! I've learned a good deal about CrossFit since then, through my husband and sister-in-law (both of whom are certified CrossFit trainers), friends who do the workouts, and my own research and reading.
As a certified fitness professional with a traditional background (and without any firsthand experience in an actual CrossFit gym), I can certainly tell you that CrossFit is unlike most other workouts and workout programs out there. It strives to be the total fitness package—to help people achieve optimal health and fitness across all measures of strength, agility, speed, power and endurance. (
Read CrossFit's full description here
.) It combines Olympic powerlifting + gymnastics + plyometrics + speed work + weights + time + competition in a way that continuously challenges one's body in new ways. And although it has a reputation of being intense (which it certainly is, no doubt about it), proponents also claim that it's completely "scalable" to every individual's fitness level.
Sounds great, right? Well, could it be too good to be true?
Read More ›
Having
joined a gym recently just for the fitness classes
(which I am still enjoying), I was appalled when I came across an
article talking about a gym in Canada saying that they don't allow skinny people to join their gym
. While I can understand where the founder of that gym is coming from in regards to creating a friendlier atmosphere for those that are overweight, I believe that there are plenty of people that have feelings like they are not adequate enough to be in the gym, including "skinny" people.
Read More ›
It's been a long time since I have taken a workout class at a gym. I normally do my workouts on my own, but I joined a gym a few months ago and want to shake up my workout routines a bit and am now considering going to a few of the classes that they offer. I hate to admit it though, but that makes me nervous and even a little bit scared (even though I have gained a lot of confidence with reaching various goals). What you may not know though, is that I'm not the most coordinated person and I usually have to modify exercises to suit my physical ability/needs, so that is where the feelings of being nervous and scared come in. What if I make a fool of myself in some way (whether it is going the opposite direction and running into someone, dropping a weight if I lose my grip, or just not picking up on what it is that I should be doing)?

Read More ›