All Entries For
guest blog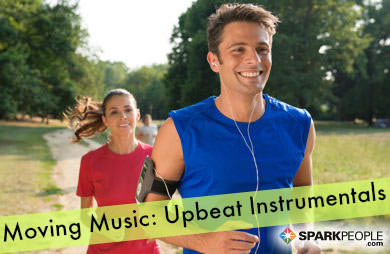 Editor's Note (Nicole Nichols):
Here at SparkPeople, we know just how powerful music can be as a motivator for your workouts, which is why we try to share new music ideas often. My friend Susie (who is an amazing Spinning instructor) uses a lot of instrumental songs in her classes, and I'm always surprised at how motivating and upbeat they are even though they have little to no words—and are often songs I've never heard before. If you are looking for some new fitness music that will push you, inspire you, and help you focus in your next workout (or race), this list is for you! Here are 15 of her favorite instrumental songs that are great for exercise!
Read More ›
Exercise isn't just about burning calories and building strength. It's also about improving productivity and quality of life. But when is
the best time to exercise
? The answer is whenever it best fits into your schedule. One problem with afternoon or evening workouts is that they are often put off by other conflicting responsibilities. In addition, if you exercise too late in the day, it can be hard to "wind down" and fall asleep.
Early morning can be a great time to get some exercise in as long as it doesn't make you late for the rest of your day. As a spine surgeon I have to be "ready to go" with a high energy level by 6 a.m. This doesn't leave time for a lengthy morning workout so we at
MDFitness
came up with a 5-minute workout that you can do right out of bed without disrupting your morning routine. In the time it takes to brew your coffee you can have your metabolism revved up to full throttle and ready for whatever the day throws at you. It works for me and I know it will work for you. We use the same easy-to-follow exercises you will find in our DVD
The Doctors Workout
.
Read More ›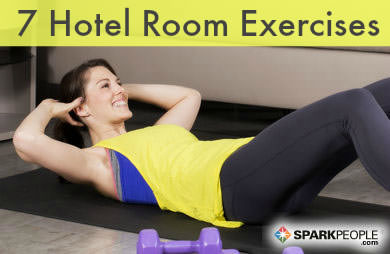 Starting to think about your summer vacation plans? Let's talk about how you might be able to keep your workouts from falling by the wayside.
As a profesional and Olympic soccer player, you'd think that I work out all the time but the fact is, it's not that easy. I'm on the road about 15 nights each month. Often we go from the airport to practice to bed to the game to the airport. Gym? When's that supposed to happen? I've had to figure out how to get my workouts in any time, anywhere. No space? No time? No excuse in my book! It's really not as daunting as you think.
Here are some of my favorite exercises that can be done without any equipment—right from a hotel room!
Read More ›
Are you curious about the term clean eating? Have you ever wondered what it is exactly or whether it might benefit you?
In my experience as a "clean eater," this way of eating can be a fabulous way to improve your health.
Clean eating in the most simple terms means eating real food—foods that are whole (unprocessed) and in their most natural state. In other words, people who subscribe to clean eating try to avoid foods altered or processed by humans or manufacturers.
That being said, there are many different approaches to eating clean, and none of them are wrong. Everyone from carnivores to vegans can eat clean and it doesn't have to be complicated. While some people put lots of strict dieting rules around their "clean" diets, that's not the case for everyone. Eating clean really can be delicious, fulfilling, filling and simple! Here's how.
Read More ›
I thought I knew a thing or two about diet and exercise. For example, I knew how to do a squat, and that avoiding carbs altogether wasn't necessarily a wise thing to do.
Then I enrolled in personal training school and realized just how much I
didn't
know.
To be perfectly honest, I had never really given any thought to the subject of exercise
safety
– and it took getting a formal education to bring it to my awareness.
When you want to lose weight and get in shape, you focus on the important things: what foods to eat, which fitness program to follow and how to balance your calories in vs. calories out. Of course these factors are normal and helpful, but when it comes to exercise—an activity designed to bring you optimal health and well-being—there are hidden dangers lurking beneath the surface if you aren't paying attention.
Read More ›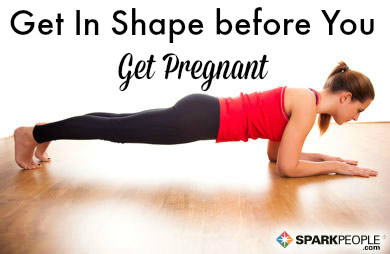 What's the best way to stay in shape during your pregnancy—and beyond? Get in the best shape of your life before you get pregnant! Here are my top six exercise recommendations for preparing your body for a strong and healthy pregnancy and postpartum recovery. Read More ›
Have you ever heard a woman say, "I can't lift weights. I don't want to get bulky." Or how about, "I don't want to gain muscle. I just want to tone the muscle I already have."
These are just a couple of the common responses I hear when I suggest strength training to women who are interested in getting in better shape. Sadly, there are many myths that women believe about muscles and strength training.
Although we've seen a bit of a paradigm shift happening the past few years in which more women are making their way into the weight room, there are still just a few myths that won't die, and I'm going to bust them now.
Read More ›
You have a race coming up—congratulations! Whether it's a 5K or a 50K, you have a lot to be proud of! To make sure your race goes off without a hitch, start here.
When it comes to race day, there are plethora of do's and don'ts to set yourself up for success. While there are a variety of expert opinions on how to approach a race, it ultimately comes down to figuring out what works for
you
—and trust me, I have had plenty of personal trials and errors from which anyone can learn. Here are some of the common nutrition and fitness mistakes even experienced runners make that can be detrimental during the race itself.
Read More ›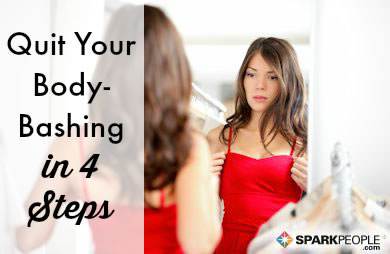 Fat talk. We've all done it. We have all looked in the mirror at one time or another and said negative things about our physical appearance.
In fact, we probably do it so often that we don't even notice it anymore.
We pinch our bellies and grumble about our thighs rubbing together and look at the dimples on the backs of our legs in disgust for years. We say it in our heads, we share it with our girlfriends, and even when our partners complement our bodies, we argue with their assessment. We do it so often that it seems totally normal.
But it's not.
We aren't made to be filled with self-hatred, self-loathing and negative self-talk; yet somehow it has become completely acceptable to be our own worst enemy.
So how can you stop this kind of talk? How can we go from bashing our bodies on a regular basis to thinking more positively and replacing those negative thoughts with loving ones? Start with these four strategies.
Read More ›
One of the best ways to start your day in a healthy way is to take a moment to ground your thoughts by stretching and intentionally breathing. It's amazing what you can accomplish in less than seven minutes to set your day on the right path.
When you stretch deeply, you should always be warm. So performing this series after a morning workout or after a hot shower is optimal. If you do it right out of bed, make sure you stretch more gently.
Here are eight stretches to add to your morning routine to feel strong, flexible and grounded. These exercises cover all your major muscle groups and can be followed any time of day, including after your workouts.
Read More ›
These days,
high intensity interval training
is hot. More and more exercise researchers are discovering that steady state cardio still does a body good—but pushing your body during shorter bursts of high intensity effort can achieve similar—if not better—results in less time. Sure you have to work harder but I prefer to think of it as working
smarter
, taking a 60-minute indoor cycling class, for example, and getting all of the same health and fitness benefits in just 20 minutes. Who's not up for that?
Read More ›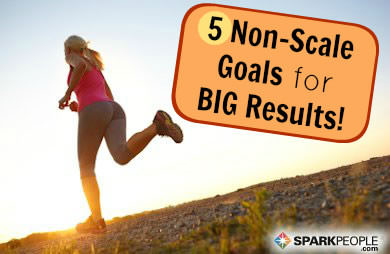 It's no secret that the majority of people who start a new exercise program do so because they want to lose weight, which is a great reason (and motivator) to get fit.
That being said, if your only motivation to exercise is fat loss, you can easily find yourself frustrated and wanting to quit when progress temporarily
hits a plateau
(which it will). That's why setting goals beyond weight loss alone is essential if you're going to stick with a fitness or weight-loss program for the long haul.
And consider this: Setting goals that don't focus on fat loss can actually help you reach your desired weight-loss goal. It's true! (Check out this
SparkPeople success story
of a woman who lost weight by resolving NOT to lose weight!) For example, if you focus on getting stronger, you will likely gain lean muscle mass, which will speed up your metabolism and help you lose more weight. Or maybe you choose to set a goal like walking with a friend several days a week, or taking your dog hiking every weekend. Those goals will keep you active and moving (which is the whole point) and don't hinge on what a scale says to keep you motivated. Over time, you'll be more consistent with exercise, burn even more calories and, of course, lose more unwanted fat.
See? You don't have to be laser-focused on the scale to be successful in changing the scale. Setting other goals can be even more motivating—and just as effective!
Here are five of my favorite types of goals that often lead to weight loss and better health (without focusing on the scale).
Read More ›
Warning:
The images and words in this post could be triggering to anyone who has had an eating disorder. "Strong is the new skinny." "When I exercise, I wear all black because it's like a funeral for my fat.""Skinny is not sexy. Healthy is."
You've probably heard or read the quotes listed above at some point. They're known as "fitspiration" or "fitspo" for short. Fitspo pictures and posters are typically images of extremely fit, lean, and muscular women, with motivational quotes on them like the ones displayed above.
Fitspo is
supposed
to be a healthy alternative "thinspo" (short for thinspiration). Thinspiration images typically display extremely thin women with motivational quotes regarding getting and staying thin. In general, these were first created by online users who wanted to inspire and support women with eating disorders to continue with their disorders and stay as thin as possible.
Yikes.
Good thing fitspo became popular, huh? At least now we have lots of healthy images floating around the web inspiring women to be healthy and strong instead of
skinny
, right?
Maybe not.
Read More ›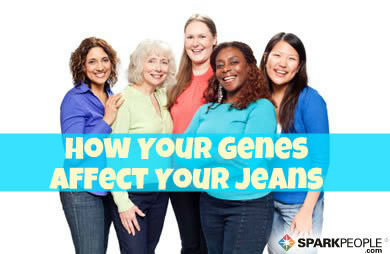 "I am just big-boned. Everyone in my family is big-boned."

"My Mom is heavy. My Dad is heavy. I'll never be anything but heavy."

"My sister has my Mom's lean body and I have my Dad's stocky body, so I will never be lean like her."

At one point or another, you've probably heard your friends or family members utter these phrases. Heck, you may have even said similar things yourself.
So just how much of a role do genetics play in your body shape and size? If you have heavy parents, are you truly doomed to be heavy forever? When your parents are tall and lean, can you get away with eating more—without consequence? If your mom has wide hips, will shopping for jeans always be the bane of your existence?
Tired of the same old exercises? Are curls, raises, rows and squats no longer doing it for you? Fret not, fearless exerciser, for we have a fun workout that will change all of that!
These seven exercises require a little imagination but otherwise no equipment at all. You can do them outdoors, inside a tiny apartment or even on an empty soccer field. As a bonus, this is a workout that your kids will LOVE to do with you—because it feels more like play than exercise. So if you're a mom or dad who needs to squeeze in exercise on top of childcare responsibilities, this is a win-win-win. (The extra "win" is because your little one will become your accountability partner and will ask to do the whole routine with you again and again!)
Read More ›
Read More Entries ›