Here at SparkPeople, we like to sweat--really, really sweat. Whether it's a quick sprint up the stairs after lunch to get the heart pumping, a long run beside the river or a jump-rope-slash-strength-training circuit that results in puddles on the floor, working a bit of exercise into every day is a huge part of our lives and helps keep us feeling healthy and empowered all year long. With Thanksgiving right around the corner, we wanted to tell you what we are thankful for and take a moment to recognize all the inventive ways we workout and the people and things that motivate us to sweat.
Read More ›
If your kid's idea of cooking involves a three-step process of opening, toasting and eating a Pop-Tart, then National Kids Take Over the Kitchen Day (September 13
th
) was probably invented with your family in mind. If you don't already involve your child in cooking, getting him or her started at a young age is a great way to instill healthy eating habits that can last a lifetime (looking at you, college years!). When kids learn to cook healthy meals for themselves, they will likely be less inclined to rely on fast food, delivery or frozen meals as they age. Whether your child is four or fourteen, there is a job he or she can help perform. Little ones can help with washing fresh veggies or scooping ingredients into measuring cups, while older kids can assist with more prep work and even man the stovetop, with supervision, of course.
Read More ›
A great running song needs three elements: Lyrics that bring out the champion diva inside, infectious beats that propel you forward every time the bass drops and that little extra something that makes you look forward to--or distracts you from--all those miles ahead. Now, imagine a playlist comprised of a mix of songs, all containing these three important elements. Imagine what a playlist like that could do for your workout.
Imagine no more! We teamed up with Yes! Fitness Music to create "The Best Running Songs of All Time (Volume 2)" playlist, just for you. After hundreds of fitness fans shared their favorite running songs with us, Yes! Fitness Music combined the top choices with their diverse music library to develop an all-new playlist that is sure to make your run more enjoyable and keep your pace competitive, too. The list has something for everyone, whether you like to have a little dance in your step with Bruno Mars and Taylor Swift, prefer jamming with The Boss or need a bit of rock 'n roll to keep you moving.
Read More ›
Shakira didn't get those world famous abs without dance, which, on its own, is enough to sell us on dancing our way to fitness. Whether it's Zumba, belly dance or just getting down at a wedding, dancing is a legitimate aerobic exercise that burns major calories. You'll work muscles you didn't know you had and get your blood flowing, while simultaneously reducing stress and improving your posture. Still on the fence? Consider this:
Read More ›
The family that gets active together, stays together. Bringing the family together for a day or an afternoon of movement is both fun and offers an opportunity to stay connected even when schedules are hectic. Plus, you'll be instilling great health and fitness values in your children. Make a commitment to unleash your inner child and spend valuable quality time with those you love by trying some of these family-friendly activities.
Zoo Adventure Walk
Lions and tigers and fitness, oh my! Consider taking your family to the zoo for an educational and fun way to get your move on. Track your steps and the distance covered during your zoo adventure by wearing a pedometer or using an app on your phone. Keep the kids engaged by encouraging them to count the number of steps between animal exhibits and the number of different animals they encounter. Plus, the fun doesn't have to stop when you leave the zoo! Back at home, take turns acting out all the different animals.
Obstacle Course
Earn the title of Parent (or Grandparent) of the Week by creating an obstacle course in the backyard or at a local park. All you need is outdoor chalk, a hula hoop, ball, bucket or trash can, cones and a towel to build a fun and challenging circuit. Do each station once, then repeat the entire circuit for a total of ten times through.
Jumping Jacks

10

Hula hoop Try to keep the hoop moving for one minute.
Push-Ups 10-15
Hopscotch Set up the classic game with chalk or tape.
Basketball Bounce the basketball 10 times before throwing it into an empty bucket or trash can.
Toe Touch Hops Reach to the sky, reach down to touch your toes, then swing arms up and jump hop to the sky. Do this 10 times.
Cone Drills With a set of at least five rubber cones, have everyone weave in and out of the cones before running back to the first cone. Repeat this 10 times. If you don't have cones, be creative by using water bottles or washcloths.
Beatle Bug Sit-Ups Start on your back and then bring knees and upper body together like a bug. Stay in this position, then repeat 15 more times.
Bike Ride
Hop on two wheels and go for a family bike ride around the neighborhood or local park.
Jump Rope
Grab a jump rope and spend some time in the driveway as everyone takes turns jumping. Compete to see who can jump the most consecutive times and challenge each other to try new tricks.
DIY Slip and Slide
Spray a large piece of tarp with water and a little baby oil, set the hose at the top of the tarp and you're in business. Let everyone take turns running and sliding as far as they can along the tarp. (Note: If you live in an area with water usage concerns, use a low flow of water.)
Volleyball
Set up your own volleyball fun using a clothesline and ball. Choose teams and play on!
Fire Fly Run
Mason jars and a setting sun are all you need for this fun nighttime activity. Hit your local park or another open space where the fireflies will be out in numbers. Run around as everyone tries to spot and catch the fireflies—just remember to let them go after you catch them.
Flashlight Tag
Arm everyone with a flashlight and head to the backyard to run around as you try to ''tag'' people by shining a flashlight on them.
Dance Party
Gather everyone outside or in the living room for a dance party. Play each family member's favorite songs while you all do crazy moves and express yourself through dance.
How do you get your family moving? Share you favorite family activity in the comments!About the Author
Kim Truman is an all-around trainer and nutrition coach based in Dallas, Texas. She is well-known for her enthusiastic and motivational coaching style, as well as her high-energy workout programs. Discover more about Kim and her mission at
www.kimtrumanfitness.com
.
Read More ›
This year, let's do Mother's Day the healthy way. We love delicious, leisurely brunches just as much as the next person, but how did long lines and too many pancakes become the best way to honor all that mom does? Why not show mom you love her by treating her to a healthy outing, instead? No matter where you live, there are plenty of active activities that will get your blood pumping while you spend quality time with the woman who always remembered to cut the crusts off your PB&J. (Or, if you're a mom yourself, suggest that your kids take you out for one of these fun and healthy events this Sunday.)
Read More ›
It seems like almost every time you turn on the TV there is another award show coming. In January alone, there are the Golden Globes, People's Choice, Critic's Choice, Grammy's (this weekend!) and Screen Actors Guild (SAG) Awards. Later in winter, the always-hilarious Golden Raspberry (Razzes) Awards take place around the same time as the more serious Academy Awards. And throughout the year, there's a host of music related award shows (like the Country Music Awards) and even MTV has their own Video Music Awards and Movie Awards shows. I'm sure I haven't even listed them all...
If you love fashion, celebrity news, or simply think of yourself as a music or movie buff, you'll probably catch at least one of these shows. The performances are entertaining, the jokes and hosts often funny, and the fashion is usually worth seeing.
Many people have dress-up parties or get-togethers to watch these shows with friends, often with lots of drinks and appetizers. But you can enjoy the show—and work toward your healthy goals, too—by incorporating SparkPeople's "Award Show Workout Game" at home or with your friends. This workout plan works with any televised award show! It allows you to watch and enjoy the show while also fitting in a serious workout!
Read More ›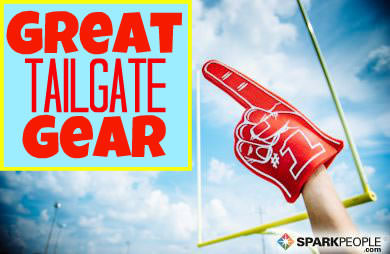 Once you've planned the perfect
tailgate party
, you'll want to stock up on gear to help you celebrate your favorite team and serve up delicious snacks in style.
We've rounded up 10 of our favorite products to make your party even more fun.
(We're showcasing Bengals gear here, since SparkPeople's hometown is Cincinnati, but all the team products listed are available for your favorite NFL teams.)
Read More ›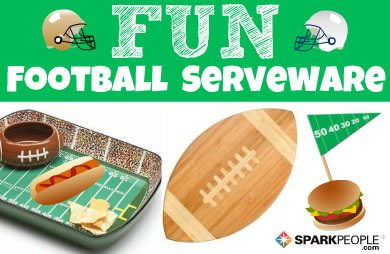 Whether you're having a get together to watch the big game, a Super Bowl bash or a party for your kid's football team, there are tons of great themed accessories available to help bring your
appetizers
to life.
Read More ›
Since your closet is full of workout clothes anyway, why not use this Halloween as an excuse to celebrate your healthy lifestyle by dressing as your favorite fitness personality? There are tons of possibilities, but here are 10 that are pretty easy to pull off.
Read More ›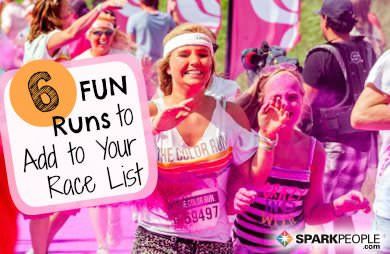 Perhaps you've considered training for a 5K, but the idea of running or walking a traditional race just isn't motivating enough to get you off the couch and out the door. These days, there are a wide variety of races to participate in, from the local run through your neighborhood to some of the more entertaining (and crazy!) runs popping up across the country. Have you ever thought about running from zombies, crawling through mud or sprinting through glowing trees and tunnels?
Fun runs like these can break up the monotony of traditional races, and can also be motivation to pick up the running habit even if you're not that into it. Here's a guide to some of the races gaining popularity as people look for fun ways to get up and moving.
Read More ›
In 1958 WHAM-O introduced the world to a new toy after Arthur Melin and Richard Knerr observed children in Australia playing with bamboo hoops in their exercise class. Upon their return to the States they took what they had seen and invented the plastic hoop, what we now know as the Hula Hoop. What started out as a fad in the late 1950's for kids has now turned into a fitness frenzy 53 years later. And if you don't believe swirling your hips can burn calories and tone your body, think again.
Researchers at the Exercise and Health Program at University of Wisconsin, La Crosse led by Jordan Holthusen, M.S. and John Porcari, Ph.D conducted a
study
of 16 advanced to intermediate female hoopers. And to their amazement, hula hooping expended similar calorie rates and raised heart rates similar to cardio kickboxing, step aerobics and boot camp classes. Although the researchers state that more studies need to be done to determine what the long-term fitness benefits to hooping will bring, one thing is for certain, when we have
fun doing an activity
we are more likely to participate in it. I always say something always trumps nothing, especially when it comes to exercise.
Read More ›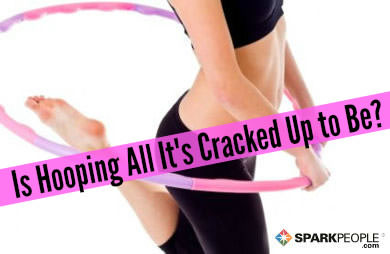 More and more people these days are turning to workouts that feel less like work and more like play. Dodge ball leagues for adults are increasingly popular, and out-of-the-box exercise classes like aerial yoga, circus arts and trampolining (rebounding) are almost as commonplace as kickboxing. Another fun pursuit on the list of fun fitness trends is hooping—as in hula hooping—which you probably used to do as a kid.
SparkPeople alone has almost 600 hoopers in one
SparkTeam
, and the website hooping.org has nearly 8,000
registered members
. Celebrities rave about the benefits of hooping workouts, and actress Marissa Tomei even released a series of
hooping workout DVDs
through Gaiam in 2010.
With the popularity of hooping on the rise, we've received a lot of questions about how many calories it burns and whether hooping can actually take the place of more traditional workouts. There has been very little scientific research on this subject, but I always find that it's best to answer these questions not just with the research available, but also personal experience.
So I gathered several of my SparkPeople co-workers to investigate hooping firsthand. We took a class at
Shine Yoga Center
in Cincinnati, led by hooping instructor
Leslie Kreines
, and were joined by SparkPeople's most famous hooper, member Shelli (MOSTMOM1), who regularly
blogs about her hooping adventures
.
What did we discover?
Read More ›