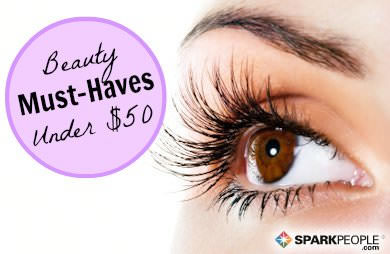 All the hair, makeup and skincare picks that will get you gorgeous on the cheap. The best part? They start at just $3.
Living Proof Perfect Hair Day (PHD), $26. A styling solution that smooths frizz and adds fullness.
Read More ›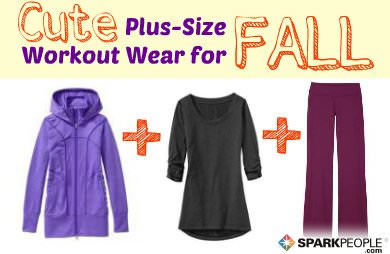 Since I started working at SparkPeople this April, I've gotten into the habit of wearing workout clothes to work on most days of the week. It helps me fit in fitness breaks throughout the day without having to spend time changing clothes. But because I'm wearing fitness gear so much, my old ratty yoga pants and oversized T-shirts just aren't cutting it anymore. If this is what I'm going to wear every day, I want to look cute, too! Luckily, it's getting easier and easier to find cute workout clothes in extended sizes. (I wear a 14 or 16 depending on the brand.)
Fall
is a tricky season for exercise clothes. It can be quite cool in the mornings but then warm up throughout the day. There are also sometimes weeks of lingering summer heat or sudden, overnight cold snaps. At least that's what it's like here in Ohio. If you don't like the weather, just wait 24 hours and you'll get something completely different! My strategy is to dress in layers and to always keep some of my summer clothes in the rotation until the first freeze of the season. Here are some of my current favorites and some things I'm putting on my list for fall shopping.
Read More ›
Trim Your Top Half
Visually pare arms and chest with these upside tips:
Live in V-necks -- camis, tees, cardigans, anything and everything. The downward diamond shape elongates you. Just be sure to stop short of major cleavage; it looks tacky at any size.
Wear a minimizer bra. Seek out styles that dip low in front to go with your V-necks. (If you've never been professionally fitted, do it ASAP at your local department store.)
To cover less-than-toned arms, pick three-quarter-length sleeves. Check that the body of the shirt or sweater is tapered -- you don't want an allover blousy effect. Read More ›
Check out the latest cuts and colors. (As in, no more shopping blues!)
Colorful Jeans
Playful and surprisingly flattering, colored jeans are a fun addition to your denim wardrobe and this season's biggest trend. Avoid a junior feel by wearing with a shirt and shoes in neutral shades.
Jeans, Aéropostale, Aéropostale stores and aeropostale.com, $27. Shirt, Old Navy, oldnavy.com, $27. Sweater, Uniqlo, Uniqlo stores, $90. Shoes, Frye, thefryecompany.com, $158. Bag, Lodis, lodis.com and 707-433-8189, $158. Necklace, Topshop, topshop.com, $45. Bracelets, Ted Rossi, tedrossi.com, (top to bottom) $94, $98, $98, $98.
Read More ›