At about 70 calories apiece, eggs are a sensible way to get protein into your diet. But eggs aren't just for breakfast; who hasn't enjoyed a plate of simple scrambled eggs as a quick and easy dinner?
Still, scrambled eggs need a little something extra if you're going to make a fine meal out of them. Here are 10 ways to take this humble dish from so-so to so good!
How to Make Great Scrambled Eggs
In our book, the best scrambled eggs are soft and creamy, not firm and dry. For a single serving of scrambled eggs, warm about 2 teaspoons of olive oil in a nonstick skillet. Use a fork to stir two eggs, just until the yolks are broken up (no need to whisk them silly). Pour the eggs into the skillet; let cook over low heat for a minute and then use a wooden spoon to stir the eggs, creating soft curds.
Gently cook and stir until the eggs until they're creamy, and take the pan off the heat just before you think the eggs are done (they will continue to cook off-heat). Season with salt and pepper.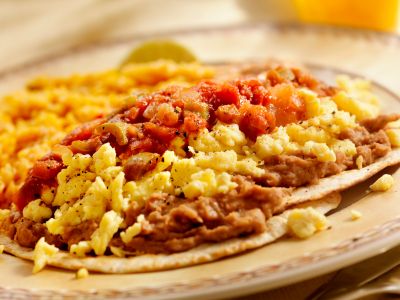 Scrambled Eggs with Beans and Salsa
Warm some canned beans and a bit of diced bell pepper while you're scrambling your eggs, and top this Tex-Mex favorite with nonfat Greek yogurt and prepared tomato salsa.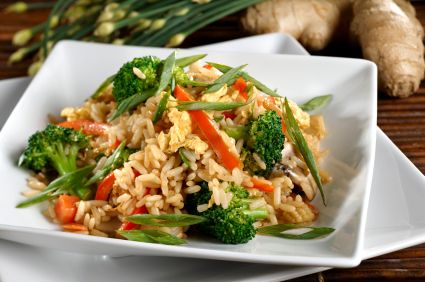 Fried Rice with Egg
Scramble an egg until it's firm and a little dry, then slice it and add it to your favorite fried rice recipe. We love Chef Meg's healthy version of fried rice.
Read More ›
Whether you serve it for breakfast, brunch, lunch or dinner,
quiche
can be a healthy, go-to meal that all in the family will enjoy. That is, after you give is a drastic yet easy makeover.
Traditional quiche--with its ingredient list of fatty meats, too much cheese, whole eggs, and heavy cream--should stay away from your kitchen, but a new healthy, flavorful, and versatile quiche will fit right into your healthy eating plan.
Let's compare a traditional quiche recipe with a simple slimmed-down version that will save over 500 calories per serving.
Read More ›
Nestle eggs into a spicy tomato sauce and bake them for a light and easy supper. Serve over pasta or with crusty whole-wheat bread for dipping.
Why did the chicken cross the road? To take a vacation from all the egg laying. Funny to me and you but not the chickens.
When chickens first became domesticated animals, the only time you actually ate then was if a hen stopped laying eggs or on a holiday when no meat could be found. If you ate an egg-laying hen, you ate the business.
My family has a long history of raising chickens for eggs. Back when my great-grandmother was raising hens, the birds--omnivores by nature--ate grain and roamed outside to peck for proteins in the form of bugs and worms. Times certainly have changed from Ma's day.
Read More ›