All Entries For
easy meals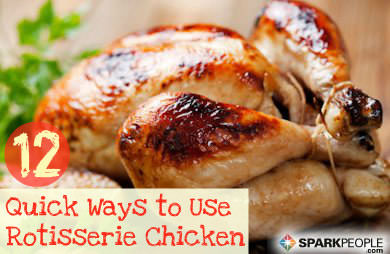 That lovely, roasty aroma hits you when you walk into the grocery on your way home from work and you spy a display case of rotisserie chickens near the checkout aisle. Of all the convenience foods on the store shelves, this one's a good choice—a simple roast chicken, a good tossed salad and a loaf of whole-grain bread can make a satisfying, healthful and easy dinner.
A store-bought roast chicken can easily feed a family of four—and there's more you can do with it than simply slicing and serving. Shredded or diced roast chicken can star in all kinds of easy meals.
For these meal ideas, start with a store-bought chicken, or try
this slow cooker version
.
Read More ›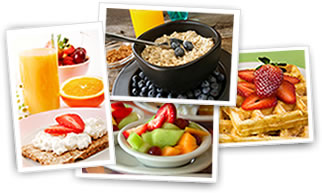 Are there times that you feel like you're stuck in a rut with your current meal plan or that you just don't know what to make for certain meals? If so, then the
Mix and Match Meal Planner
may be just what you are looking for!
The Mix and Match Meal Planner is a tool that is very easy to use and can help you plan out healthy meals that meet your nutrition goals. Planning out your meals ahead of time can help you stay on track a lot easier than if you wait last minute to decide what you might eat. If you are anything like me and you don't like to cook and/or would like to find some quick and simple meals, then the Mix and Match Meal Planner may be just the thing to help you get on track (and stay on track) with eating healthier meals overall. This interactive feature allows you to choose the food items that you like, but it will also make sure you pick the right items to make it a complete meal that is healthy and tasty.
With all the different options available in the Mix and Match Meal Planner, there are numerous meals that you can create to give your meals quite the variety. You can not only save time with your meal planning, but you can also say goodbye to boring meals!
Read More ›
Though it's just been available for a few years here, miso paste has been around for centuries. Though the first iteration, made in China almost two millennia ago, was made from fish bones, it was used much in the same way it is today. The ingredients have changed (thank goodness!) and miso today is made from fermented rice, barley, soy beans and even my favorite,
buckwheat
. Though its primary flavor is salty, miso can be very subtle or complex with fruity, salty, and umami notes. The darker the miso the more flavor and depth it will add to the dish.
Miso, like yogurt, kimchi, and sauerkraut, contains probiotics, which aid digestion by creating microbial balance in the GI tract. Those delicate probiotics lose their effectiveness if miso is boiled.
Read More ›
For busy families, sandwiches are the greatest thing since sliced bread.
Read More ›