Sauces can make or break a dish, both in taste and in nutrition. Take the classic cream sauce, for example. Delicious, yes. Healthy, no way! The ingredients are usually white flour, butter, and heavy cream, with some whole milk added for good measure.
Thankfully, we can improve on the classics to make them a welcome addition to the healthy kitchen.
Let's edit the name ever so slightly. Rather than a
cream
sauce, we're creating a
creamy
sauce.
Rather than heavy cream, start with flavorful liquids that have little to no salt, such as homemade stock.
I often make a quick stock by pouring boiling water over dried mushrooms, which serves two purposes: the steeping liquid becomes the stock, and the mushrooms add texture to the sauce. When combined with a roux, that flour-and-fat combo that is cooked to create a thickener, the thin stock yields a velvety sauce the plenty of "mouth feel"--no cream needed.
Thankfully, you can re-create a "creamy" taste and texture with foods that are low in fat and calories. Swap heavy cream and whole milk for skim milk, unsweetened soy or almond milk, silken tofu, nonfat Greek yogurt, or (my favorite) evaporated 2% milk, which is what I used to trim the fat in
Chef Meg's Light Alfredo Pasta with Veggies
. The end result is a creamy dish that's light enough for summer, which is great because it pairs so well with all those garden-fresh vegetables!
Read More ›
Ladies and gentleman start your grills! Grilling is an excellent way to cook lean meats and add a lot of flavor without a lot of fat.
Burgers are the go-to meat for most of us, but to keep your meal healthy, reach for extra lean ground turkey. Turkey burgers are lean enough to grace the grill every night of the week, but their leanness also makes them a little bland on their own. Let's take a closer look at turkey, and talk about ways to keep this bird burger juicy, healthy, and delicious!
Read More ›
Who can pass up a moist and tender barbecue sandwich, pulled chicken simmered in a slow cooker until it's falling apart, or, my favorite,
Kentucky Burgoo
, with several tender cuts in one bowl.
These recipes, while quite different in ingredients, are all ideal for the slow cooker, and they yield the same fork-tender, falling-apart meat. What's the secret?
What do all three of these recipes have in common? What's the common thread?
Let's shift from the art of cooking to the science for a moment. That common thread is collagen, the connective tissue in meat.
We all know that meat is basically bundles of muscle cells, with fibers embedded within that allow the animal to move. Connective tissue connects cells and tissues within the meat, like support hose or an athletic bandage. As you move, the fabric stretches and moves with you, supporting your movement. As the animals grow the muscle bulks up and the connective tissue toughens, offering more support.
Read More ›
It's National Burger Month and you're probably wondering why SparkPeople is celebrating a food with such an unhealthy reputation. The reason is that SparkPeople sees beyond the calories, fat, and sodium to a tremendously fun and flexible vehicle for healthy eating. Each component—the patty, bun, spreads and toppings—provide opportunities for customizing to your tastes and nutritional needs. We've gathered our best tips and recipes to help you build a better burger, your own Spark burger.
Read More ›
Did your grandmother ever tell you not to eat shellfish in the months that don't contain a letter "R"? Once upon a time, dear grandma would have been right, but that old wives' tale is no more.
The months that don't contain the letter "R" just so happen to be the hot summer months--May through August. Before the days of refrigeration, reports of illness due to bad shellfish were high, but now you can eat shrimp, mussels, scallops, and clams year-round.
That doesn't mean that you don't need to worry about shellfish going bad after you bring it home. How do you know if your shellfish has spoiled? The nose knows. If you smell ammonia or iodine, make chicken instead!
Aside from the occasional shrimp dish, most people steer clear or cooking shellfish at home, but it's easy and delicious. Learn how to choose, store, prep and cook your favorite shellfish.
Read More ›
Turn cooking into a family affair by promoting your kids to assistant chefs. Here are some quick and easy ways to get them involved.
Help them plan.
Let your children create the menu. Teach them how to plan a balanced meal. Plan around what's in season and make it a goal to include lots of fruits and vegetables. My kids and I love to use
Zisboombah.com
to plan balanced meals.
Make it fun and educational.
Learning to cook is fun because it's hands-on and experiential. You can cover a whole range of topics, including math (measure ingredients), reading (recipe instructions), fine motor skills (cooking techniques), and science (chemical and physical reactions).
Read More ›
Those who are close to me know that I'm not one to brag. But today, as I look out my kitchen window and prepare for my favorite holiday feast of the year, I am reminded of my days riding the greatest
Thoroughbred
in history,
Man O'War
. OK, so I brag
sometimes
.
For those of you that know horseracing history, I am sure the numbers are working in your heads now. That can't be right. (Or, "she looks great for her age!") Man O'War won 20 of 21 races just after World War I, how could she of possibly ridden that horse?
Well, this is what happens to the truth when we brag, it gets shaded. I rode the statue. I grew up surrounded by horse and grain farms in central Kentucky. Man O'War was born and died near my family's farm. On beautiful spring days after picking wild strawberries and asparagus, we would make our way to the tall statue and saddle up. Man O'War's remains have since moved to the Kentucky Horse Park in Lexington, Kentucky. Sadly, you can no longer saddle up and ride Man O'War, but you can take a short drive to Louisville to enjoy the fastest two minutes in sports, the Kentucky Derby.
Some folks throw Super Bowl parties. We throw a Derby party.
Read More ›
Nestle eggs into a spicy tomato sauce and bake them for a light and easy supper. Serve over pasta or with crusty whole-wheat bread for dipping.
Spring gardens, local farms, and markets offer nature's gifts year after year, such as greens, berries, asparagus, radishes, and peas. What better choice can you make for your own health, than to dedicate a sizeable space on each plate this season to healthy and delicious salads? Have fun and get creative, trying new combinations of lettuce, vegetables, fruits, and nuts. Add lean protein to your salad and enjoy it as a main dish. Salad is a great way to get multiple servings of fruit, move away from the tempting and heavy comfort foods of winter, not to mention that salads are high in fiber, vitamins, and minerals. Here are our favorite springtime salad recipes from
SparkRecipes.com
.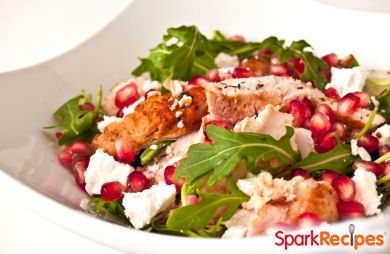 Pomegranate Chicken Salad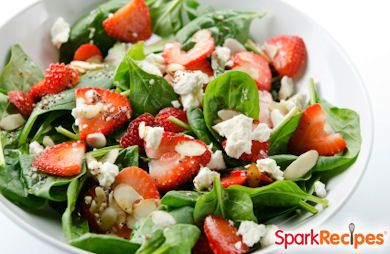 Spinach-Berry Salad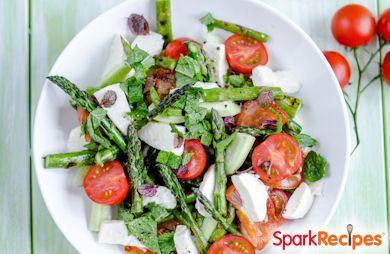 Almond Chicken Salad with Asparagus
Read More ›
I have a teenage son. He is your typical high-schooler; he has his driving permit, participates in some school sports, and plays in the high school band. He is striving for complete independence from his parents, yet is secretly still glad to have mom and dad around most of the time. He often hangs out with his friends in my basement, playing pool, air-hockey, and euchre. My husband and I have nick-named them the ''basement boys.''
So a few weeks ago, three of the ''basement boys'' decided to arrive on my front doorstep at 4:30 pm. Their plan was to capture my son, eat at the local pizza place and then head to the basketball game. I, on the other hand, had a better idea and invited them to stay for dinner and then go to the game. Luckily, I had prepared a large pot of soup and had enough to feed the crew. They agreed to stay for our evening meal.
Read More ›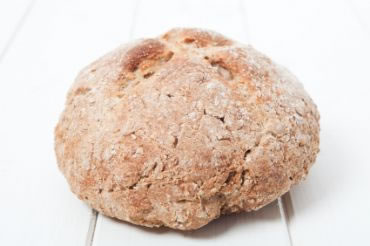 I love to cook. My inspiration comes from fond memories of cooking with my two grandmothers in their respective kitchens. They taught me to cook from scratch and find joy in family recipes that have been passed down from generation to generation.
St. Patrick's Day is a favorite of mine, since it's my mother's birthday and reminds me of my Irish heritage, too. This year, my daughter and I went to my grandmother's house to learn the family soda bread recipe, which came from County Cork in Ireland by way of my great-grandfather's cousin. I learned that soda bread is simple to make--it doesn't require a rising or even much kneading—and the ingredients are easy to find. In the great tradition of Irish families giving their family soda bread a unique "twist," I like to substitute coconut oil instead of shortening and whole wheat flour for all purpose flour. I also add Flaxseed Meal for a nutritional boost. Soda bread pairs nicely with any savory dish and the leftovers taste great toasted with jam for breakfast.
Read More ›
Biting into a perfectly crispy fried shrimp is so satisfying. The 10 grams of fat per serving? Not so satisfying. This dish has all the crunch, with much less fat.
Minutes to Cook:
15
Number of Servings:
4
Nutritional Info
Servings Per Recipe: 4
Calories: 193.7
Total Fat: 2.9 g
Cholesterol: 172.3 mg
Sodium: 243.4 mg
Total Carbs: 12.8 g
Dietary Fiber: 1.4 g
Protein: 28.0 g
Tips
Edamame are young soybeans. Find them in the frozen food section shelled or still in their fuzzy pods. If you can't find them shelled, thaw them and shuck them as you would peas or beans.
Wasabi is Japanese horseradish. Find it in paste or powder form in the Asian section of most supermarkets. Use it sparingly--it's potent. Here, we've softened the bite with sweet edamame and fresh spinach.
When breading the shrimp try to use only one hand for the wet ingredients and one hand for the dry. You will avoid lumps in the breading.
Read More ›
Who doesn't love the taste of warm and chewy pizza? Turns out, it does have a place on a healthy plate. Here's how!
Read More ›
I want to pass on all my family favorites to my kids--without all the fat and calories. Now, it's a passion of mine to make those delicious comfort foods healthier.

Read More ›