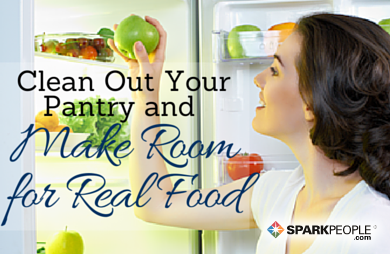 How many times a day do you open your pantry or fridge hoping that something new, healthy and filling will appear? Does your kitchen seem messy, cluttered and full of unhealthy foods? Do you want to make over your pantry and fridge, but aren't sure where to start?
We are here to help! Make a pledge to rid your pantry and fridge of unhealthy items and to re-stock it with real foods using the following doable steps.
Part with the Unhealthy Non-Perishables
It's easy to promise yourself that you'll eat better, but you're setting yourself up for sabotage if you don't physically remove the unhealthy foods from your house. Go through every single item on your kitchen shelves and get rid of or donate anything that is overly high in sugar, sodium, artificial colorings or preservatives, or with a long laundry list of ingredients that you can't pronounce. Many condiments fit this bill—consider how much you and your family enjoy them and whether or not you can find substitutions for these items. Only keep those foods that you truly think you can continue to eat in moderation.
Read More ›
If you hate having a designated cleaning day, but love having a clean house, it can seem that the only solution is to hire a cleaning service. But that can be expensive, and many people who hire others to do the dirty work for them often end up cleaning before the cleaning staff arrives anyway! You can avoid spending an entire day cleaning the house if you break the housekeeping chores up into about 20-minute segments each day of the week. This will let you maintain a pretty clean house much of the time without having to spend your entire Saturday scrubbing.
Here we've broken up most of the cleaning necessities into shorter sessions you can fit into each day of the week—with one cleaning-free day off to enjoy your spic and span house!
Read More ›
Clutter can get out of control in a hurry. Odds and ends get stashed in a junk drawer to remain for eternity. Mud rooms become places where muddy shoes land and never leave. Nightstands breed glasses of water and hand lotion and books. And bookshelves, well, they become catchalls for way more than novels.
So you want to declutter and maybe donate a few things to charity or gear up for a garage sale, but where on earth do you start? The thought of decluttering the entire house is understandably overwhelming. But we've got a process to help you break this massive task into manageable pieces: a 30-day plan to less clutter.
Depending on the severity of your personal clutter, some tasks may be best suited for longer weekend projects or divided into smaller tasks (such as a garage clean-up). But some are smaller and easy to fit into any day. No matter how long it takes you, each item on the list will have you one step closer to a cleaner house and a lighter outlook on life.
Read More ›
It's the most wonderful time of the year...
I've been softly singing that tune for the past two weeks in anticipation of my three teenage sons and me going back to school. Yes, I love my boys and have loads of fun home with them in the summer, but it's time. I look forward to the weeknights that everyone is home by 9 p.m. (no more late baseball games!) and fast asleep before 11--mom, too. My days will soon be filled with bright-eyed budding chefs to be learning how to hold a knife properly, fillet a fish, and shop for the best quality foods.
With school just around the corner, my family, much like yours, needs to get its act together. Early fall is a perfect time of year to get organized for school and home. Even if you are not sending anyone off to school this list will help you gain control of your home before the holidays are upon us and it really gets crazy.
Read More ›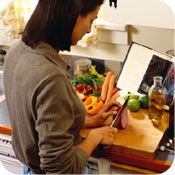 With a title like "Use It or Lose It," I could be discussing anything from fitness, brain power, or your health spending account. Rest easy, I talking about food and your pantry. According to the U.S. Bureau of Labor and Statistics the average American spends more than $6,000 on food each year. Do you know how much food the average American throws in the garbage due to spoilage?
We waste 27% of food fit for consumption
! That's a lot!
My goal for 2012 is to make small changes in my pantry and ingredients that I buy so that I pitch less food this year. After taking an inventory of my
pantry
,
refrigerator
and
freezer
, my creative cooking juices started flowing. I've come up with these "livable and lovable" tips to help you use up your food.
Read More ›