All Entries For
childhood
Do you remember elementary school recess? Can you conjure up vivid images of your play time?
I think I jump-roped around the globe over the course of my elementary school recess hours. The traditional, two-people-hold-one-jump rope game was my forte. I can even hear the song in my head: "Strawberry shortcake, cream on top, tell me the name of your sweetheart..." The group then sang out a letter of the alphabet with each jump. Hopefully, if the boy you "liked" started with an S or T or W, you would be able to jump long enough to land on the right letter.
As children, we looked forward to running free during that period of time during the day. No hall pass. No permissions needed. Little teacher interference. Fresh air. Pure and simple play. That was the 1970s and 1980s for me. Over the course of the past two decades, however, fewer children have been able to experience the freedoms of recess.
Perhaps the biggest contributor to the decrease in recess for children has been increased academic expectations. In a nutshell, in came academic standards and out went recess. It made sense to many: If there are higher demands academically and more accountability of schools, teachers, and children, then recess (the perceived "perk") must go.
The problem: Children need recess!
Read More ›
Even though I consider myself to be a parenting expert, with multiple degrees on my wall and years of research under my belt, no textbook or research study could ever prepare me for my role as a parent.
A couple of weeks ago, my 8-year-old son had an outburst (that's what I've termed it), which could be likened to a 3-year-old tantrum with a 13-year-old attitude. I told him to go to his room. He answered, ''I am
not
going to my room.'' I tried to calmly explain that there would be consequences for his behavior. To this, he responded, ''I don't
care
.'' I reminded him that his behavior was rude and inappropriate. He replied, ''No,
yours
is.'' Through all of this, he went between being defiant and crying. We covered a lot of ground. As I went along, I searched my brain using terms like ''discipline,'' ''defiance,'' ''authoritative parenting.'' My searches eventually came back with ''no results found.'' I was at a complete loss.
Read More ›
Back in the 1980s when I was playing high school and college sports, there weren't a lot of healthy options when my teams would travel to tournaments or meets. Standard options at concession stands included hot dogs, chips, candy, and soda. Back then, bottled water was nowhere in sight.
McDonald's
was the typical bus stop choice on the way home because they were the only fast food chain coaches could count on. Meals were burgers that came with fries and a soda. To substitute milk for the soda would cost you extra and courtesy cups for water were the size of three ounce
Dixie bathroom cups
. Many times my mother would send me off with a snack of nuts and raisins or orange segments to try and balance things out.
My college volleyball coach selected
Wendy's
as her restaurant of choice when we were on the road each weekend because they were the only fast food option back then with a salad bar. Coach didn't pay for soda, fries or desserts like a Frosty out of the team budget, which helped a little. However, it was still a choice of a hamburger or the salad bar as our meal option. Today we know that not every salad bar is diet-friendly but back then only the nutrition majors like me knew
the strategies for salad bar survival
.
Unfortunately not that much has changed today. Busy lives continue to make healthy eating a challenge for a young athlete. Weekday practice schedules cause families to grab
Food on the Run
on their way to the next event. Parents spend weekends sitting at soccer and football fields or ball diamonds causing children options like "walking tacos," candy or chips from the concession stand or the after game snack provided by a team parent.
With snack food and hectic schedules continuing to influence young athletes for several decades, it isn't any surprise that an article published online in April for the
Journal of Nutrition Education and Behavior
found that parents tend to be dissatisfied with the healthfulness of food offerings at youth sport settings. Here are some tips to help keep your young athletes active and healthy at the same time.
Read More ›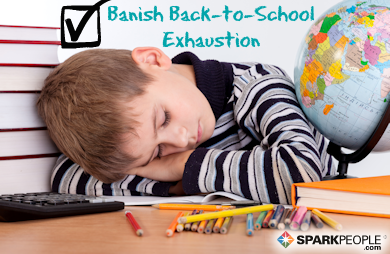 Parents quickly learn this equation every school year: New ideas + new skills + new routines = a tired and cranky child.
My oldest son was so exhausted every day after his first week of preschool last month that I thought he had a virus. Then I saw a storm of tweets and Facebook posts from other parents in similar situations. There were stories about kindergarteners suddenly becoming holy terrors every day at school pick-up, teenagers eating the contents of the refrigerator and then passing out, and elementary students reverting to their toddler bedtime. I realized my son wasn't sick; he was learning.
His brain was working so hard on his new skills and routines that there was no extra room for anything else. It's the same reason babies experience sleep regressions when they're learning a new developmental skill, or why my 2-year-old is extra stubborn as he wraps his head around potty-training. Adults experience this, too. Have you ever managed to control your temper during a truly awful day at work, only to snap at your family once you got home? Now, imagine you're a 4-year-old learning how to follow classroom rules, or a 12-year-old encountering algebra for the first time. Or, worst of all, a 16-year-old facing the looming pressure of college requirements, as well as the daily gauntlet of high-school halls.
It's no wonder our kids come home exhausted and cranky.
So, how can we help them? Each child is different. Some might need a quick after-school snack to re-energize them for the evening. Others might need a nap or quiet time on their own. Here are five things to try to get your little learner on a more even keel.
Read More ›