All Entries For
chef meg's video
Those who are close to me know that I'm not one to brag. But today, as I look out my kitchen window and prepare for my favorite holiday feast of the year, I am reminded of my days riding the greatest
Thoroughbred
in history,
Man O'War
. OK, so I brag
sometimes
.
For those of you that know horseracing history, I am sure the numbers are working in your heads now. That can't be right. (Or, "she looks great for her age!") Man O'War won 20 of 21 races just after World War I, how could she of possibly ridden that horse?
Well, this is what happens to the truth when we brag, it gets shaded. I rode the statue. I grew up surrounded by horse and grain farms in central Kentucky. Man O'War was born and died near my family's farm. On beautiful spring days after picking wild strawberries and asparagus, we would make our way to the tall statue and saddle up. Man O'War's remains have since moved to the Kentucky Horse Park in Lexington, Kentucky. Sadly, you can no longer saddle up and ride Man O'War, but you can take a short drive to Louisville to enjoy the fastest two minutes in sports, the Kentucky Derby.
Some folks throw Super Bowl parties. We throw a Derby party.
Read More ›
Nestle eggs into a spicy tomato sauce and bake them for a light and easy supper. Serve over pasta or with crusty whole-wheat bread for dipping.
One of the earliest lessons my parents taught me was to eat what's in season. Being from a farm family, you quickly learn that if food is not harvested at its peak it either goes rotten in the field or becomes a meal for birds, insects, or the Earth.
That's why we eat fruits and vegetables fresh when they are in season. That means you'll eat your weight in asparagus in May, strawberries in June, pepper and corn in July, and tomatoes in August.
After eating tomatoes every day for a month, you might be tired of them in late summer, but don't you long for them during the cold winter months?
But wait, you can still enjoy the harvest if you follow the rules that mother Nature gives to the animals: pack away some of your harvest for the off season. You don't have to be a farmer's daughter to enjoy the bounty of the harvest. Check out your farmers market or even your local grocery store during peak growing months and purchase good quality fruits and vegetables then have a freezing party at your home. If you are too busy to freeze peak fruits and vegetables at home, no worries. You can find good quality frozen fruits and vegetables at your local market.
Read More ›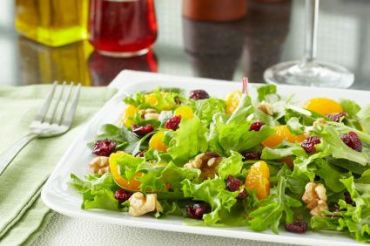 Salads are a staple of any healthy eater's diet. Chef Meg turns the season's freshest ingredients into light meals and fresh side dishes.
Read More ›
For busy families, sandwiches are the greatest thing since sliced bread.
Read More ›