If you enjoyed a cup of coffee this morning, you have already started the day on a healthy (and possibly more productive!) note. Not only does a cuppa Joe deliver your trusty a.m. caffeine boost, but it also may reduce the risk for certain health problems and can improve bodily functions. Check out the top eight health benefits of consuming coffee.

Increased Alertness and Energy Levels
Coffee contains caffeine, which is responsible for the increased alertness you feel once your first cup has kicked in. Caffeine is a stimulant, meaning that it increases heart rate, respiratory rate and metabolic activity. As a result, more body cells respond to nerve impulses, which improves energy levels.

Stronger Cognitive Functioning
When consumed in small amounts over a period of time (such as two hours), the gradual increase in caffeine heightens the amount of impulses within the brain cells. As a result, the brain recognizes stimuli faster and with more resolve.
Read More ›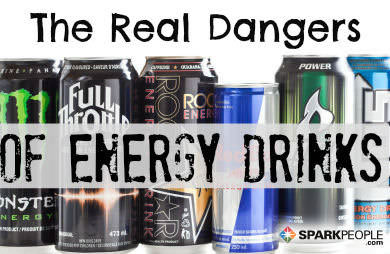 Recently my teenage son and I found ourselves killing time at the grocery store while waiting for the pharmacy to fill a prescription. Surrounded by an array of protein supplements and energy drinks, my typical "tell mom only what is absolutely necessary" son was full of questions and comments.
Our discussion about energy drinks was interesting--and somewhat disturbing--on several levels. As any mom knows, it is important to not pass judgment or show signs of shock if you want the conversation to continue. This little discussion led me to the following conclusions:
Energy drinks are very popular with teens and young adults (no surprise there)

It is a generational thing: I have my coffee; they have their energy drinks.

Shop-lifting the energy shots (the small, concentrated bottles, including 5 Hour Energy, which I've written about in the past) is common. Some stores are placing these under lock and key.

Savvy marketers have convinced our teens and young adults that energy drinks can provide them with a mental and physical edge. Therefore they are being used in large quantities both on a daily basis and before academic testing and sporting events.
All this got me thinking again about the energy drink phenomenon. This fast-growing beverage category now reaches
more than $10 billion annually
.
But what is the impact on the health of adults, teens and children?
Read More ›
Editor's Note
: Coffee, tea and caffeine. Sometimes you hear how horrible they can be for your body. Other times you're told that you're not drinking enough of them. What's the truth?
Today we are excited to share a fun and interesting infographic about the health benefits of coffee and tea from our friends at
Greatist.com
.
Read More ›
Fall is in the air, which means that the coffee shops are starting to roll out their pumpkin-flavored treats.
Starbucks' infamous Pumpkin Spice Latte
officially hit stores this past week, much to the joy of orange squash aficionados everywhere. Though this seasonal latte may be tasty, how does it stack up to a plain old
Starbucks Vanilla Latte
in terms of nutrition? Both lattes (size ''grande'') are made with
2% steamed milk and flavored syrup
. So, is there really that much of a difference?
Is there a winner in this battle of the bean, or do both drinks stack up pretty equally?
Read More ›
Does the hot and humid weather this summer have you reaching for iced coffee instead of your favorite hot brewed variety? If so, are they having a positive or negative impact on your weight goals? Although an iced coffee can be as simple as brewed coffee over ice (usually around 15 calories as with Starbucks Grande Iced Caffe' Americano), there tend to be many choices and varying degrees of nutritional value when you order them on the run. If you are enjoying frequent iced coffee drinks and having difficulty reaching your weight goals, there could be a connection.
Typical recommendations when ordering iced coffee drinks and trying to limit calories is to select the smallest size, request skim milk, and hold the whipped or chocolate topping. Sometimes it can be very difficult to remember to keep everything straight when you are trying to order in a hurry. Here is a quick list of nine 16-ounce choices that can help keep you cool while helping to maintain your waistline.
Read More ›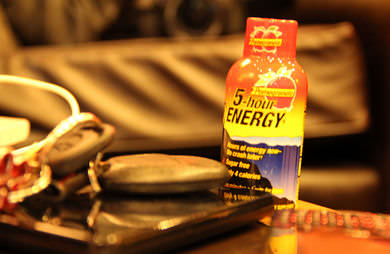 (Photo credit: Flickr)
The break room was set up with my presentation displayed on the large white wall, handouts neatly stacked on a corner table. The alarm sounded and 100 assembly line workers hustled into the room. They each grabbed a packed lunch, found a seat, and prepared to devour their meal along with the ''lunch and learn'' topic of the day. Exactly 22 minutes later, they were all out the door and back to work. This scenario took place five times throughout the day to assure that all shifts received the same information.
These are not the folks who live a sedentary nine to five lifestyle, pushing pencils and attached to a computer screen. Rather, these folks are working very early mornings and graveyard shifts…lifting, toting, screwing, wiring, welding, and painting. This work forces the body to develop an unnatural alarm clock, accompanied by many missed family functions and numerous stress-related health complications. These folks are trying to make ends meet, feed the family, and pray daily that their line doesn't get moved out of the country.
As I talked with these men and women about feeding their families healthy foods, the question that surfaced again and again each and every shift was: ''Hey Becky, What do you think about the 5-Hour Energy Drink?''
Read More ›
Since I was a teenager, caffeine and I have had a tumultuous relationship. (
I'm not the only one
.)
I started taking caffeine pills and drinking coffee (bottled Frappucinos, mostly) at 16. An overachiever, I was suffering from an eating disorder, and the caffeine helped keep me energized when I wasn't eating. I was also mourning the loss of a close friend, who had died in a car accident. The caffeine pills kept me from having to deal with my grief, as I never sat still or had time to think.
Some of my friends knew about my habit, and many of them partook in the pills as well. We didn't think there was anything wrong with them.
It took me over a year to realize the damage I was doing to my body. After I passed out for the
second
time, I decided to give them up. I collapsed as I walked out of AP English. My heart was beating way too fast, my vision went blurry, and the world faded to black.
My doctor diagnosed me as having anxiety attacks, which was only half the story. I realized I needed to cut back, both on caffeine and in life. I prioritized, quit a couple of activities, and swore off the pills.
In college, I pulled all-nighters fueled by coffee, soda, chocolate-covered espresso beans. You name it, I drank it to stay awake during not only late nights spent studying but also spent laying out and editing the college paper.
Not surprisingly, the anxiety continued.
My first real job was on the news copy desk at a large metro daily. I worked 4 p.m. to midnight five nights a week and sometimes worked 5:30 p.m. to 1:30 a.m. I drank diet soda like it was my job, and when I went to the bar after work (the only place to socialize after work when you work second shift), I opted for rum and diet cola, which aggravated my anxiety. The work was mentally challenging, and the tight deadlines made it quite exciting but stressful at times. My panic and anxiety worsened.
Throughout the next few years, I continued to combine anxiety medication and caffeine. I didn't connect the two until just a couple of years ago. I swore off coffee and, coupled with some other major life changes, my anxiety dissipated.
Read More ›
Popular
energy drinks
like Monster, Full Throttle, and Red Bull have helped create a $7.6 billion United States industry over the last decade. Continued growth is expected with an anticipated growth to $19.7 billion in sales by 2013. These drinks typically contain the stimulant
caffeine
as well as other ingredients such as taurine, guarana and B vitamins all claiming to provide energy. The term "energy drinks" was created by beverage industry companies but is not a category currently recognized by the
United States Food and Drug Administration (FDA)
or the
United States Department of Agriculture (USDA)
. There is limited evidence that these drinks improve physical or mental performance, improve mental fatigue or alertness. It is also unclear in the literature whether any improvements were the result of caffeine, the other herbal ingredients, sugar present in some drinks, or some combination of these ingredients.
Now two new energy drinks tempt us with the appeal of 100 percent vegetable and fruit juice in the new
V8 Fusion Energy
and
V8 Energy Shot
drinks. Offered in tempting flavor combinations such as pomegranate/blueberry or peach/mango some are already on shelves in over 2,400 Wal-Mart stores. Is the new mix of well-known vegetable juice with caffeine, vitamins, and green tea a source of energy packed
fruit and vegetables servings
you should including in your healthy eating plan?
Read More ›
More than likely, you have heard the health claims about green tea. Perhaps you have seen products containing green tea extracts on store shelves and read the claims of antioxidant benefit. You may also have read reports that
green tea makers are in hot water with the FDA
for making "unsubstantiated nutrition claims."
With so many things flying around, it can be difficult to decipher fact from fiction. Here is some basic information we hope will help you decide where green tea fits in your
healthy beverage
options.
Read More ›
You enjoy a cup of coffee with your breakfast, a glass of tea in the afternoon, a sports drink as you recover from your workout and a few pieces of chocolate to sooth your sweet tooth after dinner. Nearly 80 percent of people around the world consume caffeine on a daily basis. Adults in the United States and Canada consume an average of 250 mg of caffeine each day whereas those that live in Sweden and Finland consume around 400 mg per day. People in the UK enjoy caffeine in a range somewhere in between with an average daily intake around 300 mg and the average adult consumes most of their caffeine from coffee, tea, soft drinks, chocolate and medicine. The estimated intake for children is between 150-200 mg per day mostly from soft drinks, sweets, and sports drinks. Do you know how much caffeine you get in a day?
Read More ›