All Entries For
body image
About seven years ago when I was pregnant with my first son, I was on a plane visibly embarrassing my husband as I laughed my head off (loudly). The reason that I was laughing was because I was reading Jenny McCarthy's
Belly Laughs
, in which she tells new moms about all of the amazing changes that come with pregnancy and the time right after. Now that I am the mom of two handsome boys, I can definitely relate to Jenny--and I love to share my own stories with new mommies in my pre and post-natal fitness classes in Los Angeles. Here are some things nobody tells you about your post-natal body that I've learned from personal experience. My intention is to bring laughter and levity to some crazy changes that the gift of motherhood brings.
Read More ›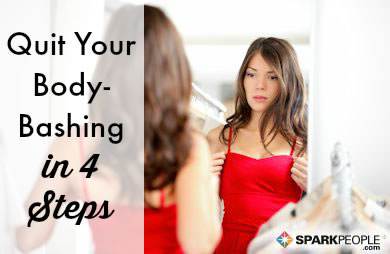 Fat talk. We've all done it. We have all looked in the mirror at one time or another and said negative things about our physical appearance.
In fact, we probably do it so often that we don't even notice it anymore.
We pinch our bellies and grumble about our thighs rubbing together and look at the dimples on the backs of our legs in disgust for years. We say it in our heads, we share it with our girlfriends, and even when our partners complement our bodies, we argue with their assessment. We do it so often that it seems totally normal.
But it's not.
We aren't made to be filled with self-hatred, self-loathing and negative self-talk; yet somehow it has become completely acceptable to be our own worst enemy.
So how can you stop this kind of talk? How can we go from bashing our bodies on a regular basis to thinking more positively and replacing those negative thoughts with loving ones? Start with these four strategies.
Read More ›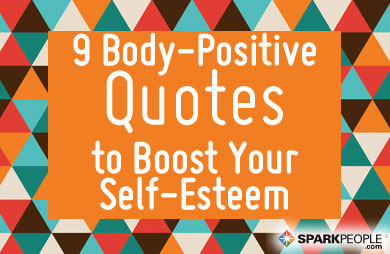 No matter how much time you put in at the gym or how thoughtfully you nourish your body, everyone suffers from body-image issues from time to time. When you need a little boost of self-esteem (and who doesn't), here are 9 of our favorite quotes and mantras. (Each quote is a separate image so, if you find one you really like, you can right click it to open in a new window and print it out.) Be sure to "Pin" this page to revisit when you need to be reminded that you're good enough as you are (right now) no matter what!
Read More ›
Picture this: It's time for your weekly weigh-in, and you are confident that you've lost a pound or two. You've eaten very well this week and have been even more consistent with your exercise than you usually are. You take a deep breath, close your eyes and step on the scale, your heart skipping a beat. You brace yourself, open your eyes, and… your heart sinks into your stomach and you clench your fists. Your weight is up one pound since last week.
What's going through your mind? Is it a frenzy of horribly
negative self-talk
? Do you feel like a worthless failure who can't do anything right? Do you swear and stamp your foot and move the scale to another spot on the bathroom floor in the hopes that the number will change?
If you've had any (or all) of these reactions after a disappointing weigh-in, you're not alone. But think about how crazy that roller coaster is! Why should a number on a scale make you feel so nervous—and then so painfully defeated when it isn't what you had hoped for? Why should a number on a scale ruin your day and make you say horrible things to yourself that you would never dream of saying to a friend?
Read More ›
Warning:
The images and words in this post could be triggering to anyone who has had an eating disorder. "Strong is the new skinny." "When I exercise, I wear all black because it's like a funeral for my fat.""Skinny is not sexy. Healthy is."
You've probably heard or read the quotes listed above at some point. They're known as "fitspiration" or "fitspo" for short. Fitspo pictures and posters are typically images of extremely fit, lean, and muscular women, with motivational quotes on them like the ones displayed above.
Fitspo is
supposed
to be a healthy alternative "thinspo" (short for thinspiration). Thinspiration images typically display extremely thin women with motivational quotes regarding getting and staying thin. In general, these were first created by online users who wanted to inspire and support women with eating disorders to continue with their disorders and stay as thin as possible.
Yikes.
Good thing fitspo became popular, huh? At least now we have lots of healthy images floating around the web inspiring women to be healthy and strong instead of
skinny
, right?
Maybe not.
Read More ›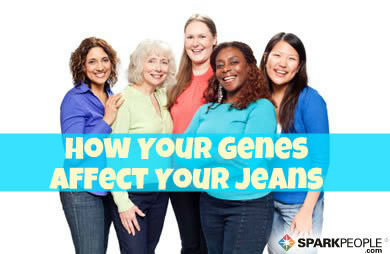 "I am just big-boned. Everyone in my family is big-boned."

"My Mom is heavy. My Dad is heavy. I'll never be anything but heavy."

"My sister has my Mom's lean body and I have my Dad's stocky body, so I will never be lean like her."

At one point or another, you've probably heard your friends or family members utter these phrases. Heck, you may have even said similar things yourself.
So just how much of a role do genetics play in your body shape and size? If you have heavy parents, are you truly doomed to be heavy forever? When your parents are tall and lean, can you get away with eating more—without consequence? If your mom has wide hips, will shopping for jeans always be the bane of your existence?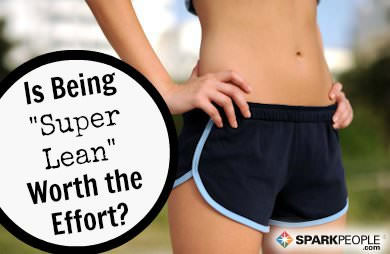 Say what?! Is being really lean really worth it? This probably sounds like a crazy question coming from a trainer who helps clients reach their fat-loss and physique goals.
Before we get started, let me say that I realize this is a very ambiguous question. ''Really lean'' is relative, and I will tell you up front that I don't have an answer for you. Only
you
have that answer for
you
. This blog post is simply intended to help you realize a few things:
1. Everybody is different.
2. Some of us can maintain leaner physiques than others.
3. Going
beyond a healthy level of leanness
for YOU is a stressor.
4. It's not normal, and it may not even be healthy, to walk around shredded all the time.
5. How lean do you want to be, and will you sacrifice what it takes to get there?
Let's explore each of these.
Read More ›
Do you have any exercises you really don't like to do when other people might see you?
I do.
In fact, at one time or another in my weight loss project, I've had a lot of them. When I was at my highest weight, it was swimming, or anything else that involved not wearing a shirt. Don't ask me why--it's not as though you couldn't tell how big I was when I
was
wearing a shirt.
When I took up stationary biking, I was always very careful, at first, to avoid the recumbent models and stick to the uprights. After catching a glimpse of myself in the mirror on a recumbent bike, I thought my body had the same basic shape as a Hershey's Kiss.
Even after I got down to my lowest weight, I hated to use an elliptical machine without wearing sweat pants. Whenever I built up to a good speed while wearing shorts, the loose skin on my legs started flapping so loud you could hear it on the other side of the gym.
I guess you could say that I had a pretty big problem with negative body-image, to put it mildly.
But things have gotten quite a bit better for me in this department, thankfully. These days, I rarely worry about how other people might see me enough to let that restrict my activity (otherwise, you'd never catch me riding my bike in compression shorts).
Read More ›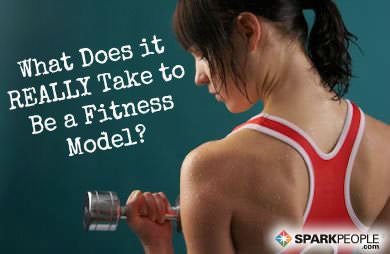 My good friend Kelly Booth is a
NSCA-certified
personal trainer and fitness instructor. We met in college (since we had the same major) and worked together as trainers and fitness instructors during school. Kelly has always been fit. She has toned arms, a trim waist, and can kick my butt in the weight room. She even trained for a marathon and ran it all by herself. Obviously, she's dedicated to fitness.
A few years ago, Kelly shocked her friends and family when she decided to compete in a women's figure competition. Unlike female bodybuilding, figure competitors aren't as muscular—they're strong but feminine. But according to most people's standards, they're still pretty ripped. Kelly looked great and was already fit, so I wondered why she wanted to change her body so much. Even though they look like the epitome of fitness, male and female body builders alike do some not-so-healthy things—food restriction, dehydration, overtraining and more. Luckily, Kelly is a smart girl and an experienced trainer. She also had her best friend on board to train with her, as well as an experienced coach to guide her through it.
Over the course of several months, I watched as her body transformed—she developed larger, stronger muscles; reduced her body fat; increased her definition; and suffered through some major dietary restrictions (I've never felt to guilty about eating in front of someone!) to reach her goals. I'll never forget when she told me,
"I have abs now; it's kind of disgusting,"
she laughed. After seven months of hard workouts and diligent dieting, she placed sixth in her class during her very first competition! Go Kelly!
I realize that most of you probably don't want to be body builders or land the cover of a muscle magazine. But most of you DO want to drop body fat, increase muscle tone and look better. I think we often compare ourselves to the women on magazine covers and then lament about our fat thighs or belly rolls in comparison. But what does it really take to look like THEM? And more importantly, is looking like that worth the suffering it takes to get there? I decided to interview Kelly about her experience, and she told me straight up, without sugarcoating it, exactly what how hard it was to stick to her strict diet, what her workouts were like, and how she felt about her body before and after her transformation.
Read More ›
I don't know about you, but for the past several years clothes shopping has become more of a headache than the nice enjoyable activity it once was. Sadly, for me the fun is long gone and is replaced with countless hours of frustrations. There was once a time I could go into any store, pick something right off the rack, make a purchase and go home. But not today. That would be too easy.
Like a hunter searching for his prey, I head out early in the morning just as the stores are opening while I still have the energy for what I presume to be a day long mission. After trying pants after pants, hour after hour, store after store, I find myself literally worn out heading home more times than not dejected and empty handed.
While the styles and trends do count for many of my frustrations--I am not a BIG fan of the low rise trend--just finding a size has become a chore. In one store I can easily be a size 4, in another a size 6, and yet another I could wear a size 8. And let's not even talk about online purchases without knowing beforehand my size in a store. Why is that?
Well the answer lies within a sales tactic that clothing manufacturers discreetly call
vanity sizing.
Read More ›
A couple weeks back I saw a commercial from a local cosmetic surgery company that caught my attention and surprisingly I am still thinking about it. It was not a new company being advertised but the commercial content was new information and the approach must have contained the right sixty seconds of information.
After hearing the advertisement for a non-surgical procedure that could help me "lose weight from those problem areas for good," I went to check out the company website to learn more.
I have never given serious thought to cosmetic surgery. For people that have lost a great deal of weight leaving excess skin, it makes sense. Since I do not fit into that category, I have never really given it much thought and certainly not as a weight loss method. I have my problem areas like most people. At my thinnest and most fit as a college volleyball player, I had a small lower abdominal "pooch." After having children, it remains my biggest problem area. Additionally, I have a body type where I gain weight first in the mid-section and lose it last from that region. I have really been working on my core this year and have lost a few inches, which is rewarding. However, my six-pack remains hidden in a soft-sided cooler and probably always will.
Read More ›
Let's face it: Losing weight can be hard work. It requires patience, dedication, and the drive to make permanent healthy changes in your life. It's not always fun to head to the gym instead of watching your favorite show on T.V., or turning down the French fries at dinner and opting for a side of veggies instead. Those who make healthy choices are able to look at the bigger picture and know that these choices aren't always easy, but will leave them better off in the long run. Knowing that it is hard work, would you be willing to trade time to get the body you've always wanted? A new survey says some women are willing to make that trade.
Read More ›
I grew up playing school sports and taking phys ed class, so I've been in my share of locker rooms. But now that I'm an adult, the only locker room I encounter is at the gym. And to be perfectly honest, I'm really—I mean REALLY—uncomfortable changing in the women's locker room.
I'm beginning to wonder if I'm the odd woman out or if I'm normal after all.
Read More ›
I always used to think that if I was skinnier, I'd be happier—not just with my body but with my life in general. Many of us believe that weight loss is the answer to many of our problems and pitfalls. We think that when we lose weight we'll not just feel more confident, but we'll land a mate, improve our marriages, be more successful, have more friends, or just feel happier in general. For a lot of people weight loss—or, rather, being thin—is the golden ticket we've been waiting on.
But many people who have lost any significant amount of weight will probably be quick to tell you that even as a thinner person, life doesn't change that much. You may have lost weight—and that's great for a lot of reasons—but you are likely the same person with the same outlook, same personality,
same level of overall happiness
. Weight loss alone won't cure you of your body hatred, your lack of confidence, your shy personality or your low self-esteem.
I battled body hatred for many years. It compelled me to diet and exercise until
I lost too much weight
. I liked the attention I received, but my life really didn't change in any significant way. I still didn't feel like I still was good enough.
Read More ›
Posting anything on the internet can bring a lot of comments and feedback -- some positive and some negative. I wonder though, if it weren't for the anonymity of the internet would the same people that leave negative comments and feedback say the same thing in person? I doubt that they would, so when you get brave people to post blogs and videos, they open themselves up to a lot of scrutiny. Our very own Coach Nicole
experienced this several years ago
with comments made about her on her
YouTube workout videos
. I don't know if I could've taken those negative comments as well as Coach Nicole, but I didn't believe one word of the negative comments that were posted.
Read More ›
Read More Entries ›