This journey to a healthy lifestyle is a worthwhile, but at times, difficult endeavor. If you're dealing with an eating disorder on top of a weight issue, it can feel downright impossible to reach your goals.
Most of us are familiar with the eating disorders anorexia and bulimia, but I would like to focus on an eating disorder that is actually more common. This diagnosis is rarely discussed on diet and exercise blogs and not given the attention that it deserves, which is not surprising. After all, eating disorders are typically suffered in secret.
What am I talking about?
Binge eating disorder
Let's discuss this medical condition in detail so that you can understand the diagnosis, and, if you think you are affected, you can seek the help that you need.
Read More ›
This blog is dedicated to my team, The ~Indygirl Challenge, who told me they wanted to know how to get past the desire to satisfy that instant desire versus stay track for a long-term goal. I'm not going to fib: This is a tough one!
I used to think I wanted to reach my goals more than I wanted anything, but obviously not. I wanted to cope more, as an emotional eater. The world is very full of emotion-causing events--some good, some bad. I needed to learn other ways to cope with my emotions. (I blogged about Dealing with Emotional Eating last week.)

I also had to want to reach my goals more than I wanted to feel the food in my mouth, taste its deliciousness and feel overly full. That last part is VERY important. I've discovered I can have the food and all the wonderful sensations it brings, but with portion control and rules. For me, certain foods can only be eaten when I'm away from home, such as candy bars, fast food, donuts, and anything else that would hinder my efforts and trigger a binge. Then I allow myself ONE small or standard-sized item, and leave it at that. Once I track it, it is added to my SparkPeople Food Tracker for the day and I move on.

Most of all, I had to want something worse than I wanted the food. In my case it was freedom from my room/house. I had been stuck in it for a few years and really wanted out and back to a life of going to movies with my husband, shopping with my girlfriends, and working again. I was very lonely. Sitting at home alone in pain is one of the biggest triggers for me to overeat. I desperately wanted out of the situation.

As my journey started, I gained friends on SparkPeople. They cheered me on as I wrote blogs and expressed exactly what I was going through. I now NEED SparkPeople more than I NEED excess food. The people on the site help me with my emotional eating by always being there and taking time to stop by my page, even when I don't always have the time to reply back. When I'm coping with heavy emotions, someone cares. That makes a difference.
Read More ›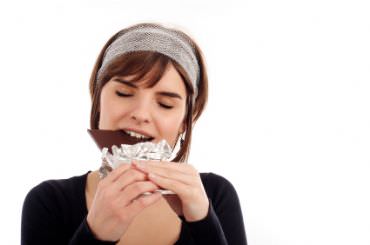 Have you ever had a bad day and then headed home only to blow your calorie count out of the water? How about those days when you are so frustrated that you can't even wait to get home and repeatedly hit the vending machine for a treat?
Emotions of any kind can bring on the cue to our bodies to want food. If we are joyful, we celebrate with cake. In times of sadness we take casseroles to comfort the grieving. In anger, we punish ourselves by eating everything in sight. Often times we console our own sadness, loneliness, or boredom with food.
Since times of old, there have been celebrations with food, and it has been at the center of a society. No wonder it is so engrained in us to desire it. Society as a whole is very centered on eating and dieting.
How do you fight it?
Read More ›
By Beth Donovan (~INDYGIRL)
Binge eating has always been one of my biggest obstacles to overcome in losing weight. For me, once a binge is triggered and I take that first bite, Iím farther from stopping a binge than before I took the first bite. That first bite puts me into a frenzy and I forget all of my good intentions, aiming instead for a blissful food coma. That feeling of everything being better, calm, okay, safe and warm washes over me and I forget the guilt that will ensue for a few minutes. Tomorrow is another day, I reason. I can do better then. Deep down though, I know tomorrow will be full of regret, feelings of failure and doubt that I can ever pull off this weight loss/ fitness goal of mine.
With the help of SparkPeople and therapy, I have learned to have more control over my binge eating. I have lost 144 pounds to date and it hasnít been binge free. Iíve had my setbacks and struggles too. Iíve controlled my binges by using various techniques in this article and by using Spark Streaks. Streaks are consecutive days of doing something. I would like to share some of the things Iíve learned and gathered from SparkPeople and various forms of therapy with you.
How do you prevent a binge? How do you stop one once it starts? Those answers are very individualized, as not one answer will work for everyone. If you have tried different things in the past and given up, donít throw in the towel yet. There are many more things to try.
I went to Over Eaters Anonymous, which offered the advice to ďAvoid that first compulsive bite.Ē When I asked how I would know what bite was compulsive, I was told that it was the one I knew would send me into that frenzy that I was telling you about. Prevent the first compulsive bite and you prevent the binge.
Another technique I learned was called HALT. It reminds you to ask yourself if you are hungry, angry, lonely, or tired before reaching for food as a comforting tool. These emotions are strong binge triggers, so eating for the sake of eating while feeling them is not a good idea. Figure out what you are really feeling and distract yourself for a little while to address the problem mentally. Once you know why you want to eat and what the root cause is, do something about it or decide to not. Make it your choice, your decision; put things in your hands again. You are now in control.
With emotions and eating as well as anxiety, there is a pattern I learned from my therapist. First you start with an event that causes an emotion. That emotion can be dealt with, stuffed down or raised to panic or anxiety. As binge eaters, we tend to stuff it down with food. Then the binge upsets us and we feel guilt and shame. Those new emotions become a new event. That causes new eating behavior to cover the emotional overload and then we eat more. Once again the shame kicks in and we begin a spiral downward into a binge that leaves us feeling full of shame and remorse by the end. Compulsive overeating and binge eating disorder are finally being recognized as official eating disorders that can be treated just like anorexia and bulimia. Donít be afraid to ask your doctor for help if you need it. These eating disorders are just as serious and as unhealthy as their thinner counterparts. The difference is that there is a stigma attached to them because society as a whole is still unwilling to see people of size as being little more than out of control of their eating or lazy. This stigma keeps people in the dark about the gravity of their compulsive overeating and binge eating disorder. If your doctor is not familiar with these terms, and you know you need help, ask to be referred to a therapist who deals specifically with eating disorders besides anorexia and bulimia. Mention the terms ďcompulsive overeatingĒ and ďbinge eating disorder.Ē
Read More ›