All Entries For
better than storebought
Editor's Note: This is a part of a series about how to re-create some of your favorite healthy foods at home.
A double-dose of blueberries (frozen and dried) gives these muffins extra flavor, and whole-wheat flour adds fiber. Although they're not the oversized, mile-high sugar bombs you might find at a gourmet bakery, these double-blueberry muffins are pleasantly light-textured in spite of being made with nearly half white whole-wheat flour. 
At just 125 calories each, these blueberry muffins make a not-too-guilty treat to start your day. Add a carton of low-fat yogurt, and you have a satisfying and delicious breakfast of under 300 calories. (Compare that to a "low-fat" blueberry muffin from your favorite coffeehouse, which has 430 calories!)
Read More ›
Baking mix is an easy pantry staple—because it includes leavening and shortening, you can quickly transform the mix into pancakes, biscuits or quick breads by adding liquid (usually milk and/or eggs).
Did you know how simple it is to make your own? This
Homemade Multi-Purpose Baking Mix
incorporates whole-wheat flour and costs about the same (about 15 cents) per serving as the national brand. It has about 15% fewer calories and 70mg less sodium per serving, as well. It is sugar- and dairy-free.
Keep this
Homemade Multi-Purpose Baking Mix
in a plastic container or bag and refrigerate it up to 6 months. Substitute this in place of the name-brand store-bought baking mix. For example, it works well in a classic
streusel-topped coffee cake
.
Here's how to use your baking mix!
Read More ›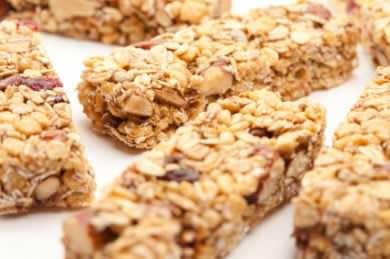 Editor's Note: This is a new series about how to re-create some of your favorite healthy foods at home.
Granola bars are a healthy on-the-go snack, but some packaged versions contain high fructose corn syrup, preservatives and sweet ingredients that negate some of that nutritional benefit. This homemade granola bar recipe includes whole grains, natural sweeteners, healthy nuts and dried fruit, with protein and fiber to keep you going. Even better: The recipe is super adaptable. You can adjust the amount of brown sugar to suit your taste, and add any combination of dried fruit you like, or omit the fruit. Neither rock-hard nor super soft, this crunchy-chewy granola bar lives up to its good-for-you reputation.
Read More ›